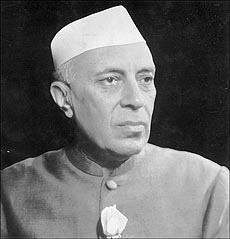 Jawaharlal Nehru
By Illa Vij
JAWAHARLAL Nehru, fondly called Chacha Nehru by children, was born on November 14, 1889, to Motilal Nehru and Swaruprani. Jawaharlal did not attend school like other children of his age — he was tutored at home by an English governess and , later, by English tutors. Their house, Anand Bhavan , was full of happiness and joy. Motilal kept a variety of pet animals and birds, hence Jawaharlal's love for animals grew and he enjoyed being amongst them.
At the age of 16, he was sent for studies to a school in England. He later went to Cambridge. He graduated in natural sciences. In 1912, Jawaharlal returned to India. His showing at the Bar disappointed his father. Nehru had become a barrister but he disliked his profession. He had great love for England and the English. Even when he fought for his country, he did not lose respect for the English. His mannerisms were quite western. In fact,he was a blend of the East and the West.
He was married to Kamala, a lovely Kashmiri girl. Kamala had not been educated the way Jawaharlal's sisters had been. Initially, she felt lost in a family that enjoyed a western style of living, but very soon she learnt to speak English and adjusted to their way of life.
In 1916, Nehru met Mahatma Gandhi and gradually came under his influence. Nehru's desire to set his country free was strengthened and he set an aim for himself. Nehru and Gandhi agreed on basic issues. Their common desire was to see India become independent. Many of the Mahatma's unworldly ideas, however, seemed too impractical to Nehru. The years that followed were a period of riots as well as demonstrations.
Jawaharlal's father also joined the movement for freedom. Both father and son, and other family members spent many terms in jail. Nehru called for non-payment of taxes to the British. Huge bonfires were built and clothes imported from England were burnt. Nehru's daughter Indira, at the age of 4, had to part with her favourite doll! (Indira Priyadarshani was born to Kamla and Jawaharlal in 1917).
A long period of Nehru's life was spent in prison-- 11 years in all. Even little Indira organised a band of youngsters called the "Monkey Brigade".
In December, 1929, Jawaharlal Nehru became president of the Indian National Congress. He was then about 40 years old. He remained a close associate of Gandhi, especially from 1930 to 1947, when India finally got her freedom. In prison, Nehru spent his time cheerfully and usefully.
He wrote many letters to Indira, which concerned world history and stories of his own exciting life. Nehru's written works have become literary classics.
He had his share of stresses too. He lost his wife in 1930. Kamala, who participated in the national movement for freedom, had been suffering from T.B.
On August 15, 1947, India became an independent country. Jawaharlal Nehru became her first Prime Minister. He remained at that post for almost 17 years, guiding the countrymen and helping India face the numerous challenges that came along with freedom. He travelled the length and breath of the country, comforting and guiding millions who were initially homeless and jobless. Children held a special place in his heart.
He loved children, animals and above all mankind. He wanted the backward and religion-obsessed people to attain a scientific temper.
His physical energy, fiery temper and dedication were directed towards building a new strong country. His sense of diplomacy and vast knowledge of international affairs made him a successful Prime Minister.
On May 26, 1964, Nehru was flown to Delhi from Dehra Dun where he had gone for a short holiday. He had suffered a stroke. The next day, at 1.44 pm, he died, leaving behind millions in grief.