Premier educational centre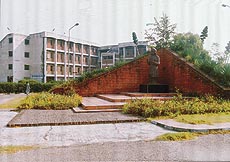 THOUGH purely an agricultural district, Rohtak town can in no way be considered educationally backward. The town has today become the premier educational centre in the state.
Besides a university, Maharshi Dayanand University set up in 1976, the town boasts of 27 degree and professional colleges. Almost every major community has set up its own educational institution, which are open to students of other communities as well.
The town has nearly 70 primary, middle, high and higher secondary schools to cater to the needs of its population and that of the neighbouring villages. Over a dozen of such schools are exclusively for girls. While less than a dozen of these schools are affiliated with the Haryana Board of School Education, the remaining are affiliated with CBSE.
The first Government College in this town was established in May, 1927. This college was transferred to Maharshi Dayanand University in the 80s so as to enable it to get recognition from the UGC. The Government College for Women, now called Indira Chakravarty Government College for Women, was founded in 1959.
The All-India Jat Heroes Memorial College was established in 1944 and Vaish College in 1946. The foundation stone of Vaish College was laid by Mahatma Gandhi during his visit to Rohtak in 1945.
The Gaur Brahman Degree College was set up in 1970, though the Gaur Brahman Vidya Parcharni Sabha was constituted in 1919 and it had started a Central High School in 1920.
The post-Independence years have witnessed a pressing demand for extension of educational facilities, and to meet the demand of a new social order. With rapid strides in the field of science and technology, it was natural that education also became more and more science-based.
The economic liberalisation policy introduced in the country in the nineties has also had its impact on the educational requirements. A number of technical and professional institutions have come up here to meet new circumstances and needs.
The first professional institute, Medical College, was set up here in June, 1960. It functioned at Patiala as a guest institute of the Government Medical College, Patiala, till January 25, 1963, when its staff and students were shifted to Rohtak. Prior to it, Shri Mastnath Ayurvedic Degree College was established at Asthal Bohar (3 km from here) in November, 1958, in a palatial building.
Besides 16 degree colleges, the town today has two engineering colleges, two ayurvedic colleges, a dental college, a pharmacy college, three B.Ed. colleges and a Sanskrit college. The Gaur Brahman Vidya Parcharni Sabha proposes to set up another dental college, and the foundation stone of this institute was laid by Chief Minister Bansi Lal on November 8 last.
— J.S.