6-acre theme park for SAS Nagar
CHANDIGARH, Dec 26 — With the Archaeological Survey of India submitting the project report on its proposed Archaeological Theme Park at SAS Nagar to the Punjab Government, the long-awaited project appears to have taken off.
Unceremonious scenes at PU meeting
CHANDIGARH, Dec 26 — Unceremonious scenes marked the last Panjab University Senate meeting here today with appointments issue consuming bulk of the time.

A brother (extreme left) and father (with hands covering his face) of Mr Rakesh Kataria sit crestfallen at their Mani Majra residence on Sunday as they had no news about the welfare of Rakesh and his wife, Puja. — A Tribune photograph
Prayers for couple's return
CHANDIGARH, Dec 26 — The parents of Rakesh Kataria and Pooja, the newly-wed couple from Chandigarh aboard the ill-fated IC 814 flight of Indian Airlines, are praying for their safe return here. Married early this month, Rakesh and Pooja had in a quick decision made it to Kathmandu before returning home here after their honeymoon trip to Goa.
'Make encroachment a criminal offence'
CHANDIGARH, Dec 26 — Encroachment on government land should be treated as a criminal offence, a paper on encroachments prepared by the Municipal Corporation of Chandigarh has suggested.
Family awaits body's arrival
CHANDIGARH, Dec 26 — Almost three weeks after a city resident, Swaran Singh, who had been living in Dubai for the past seven years died, his family is still awaiting the return of his body.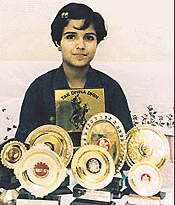 City student for Boogie Woogie
CHANDIGARH, Dec 26 — Vanita Jagdish, a standard IX student of Stepping Stones, Sector 9, has been chosen to be featured in the dance programme Boogie Woogie on Sony channel.
Deputationist as board Controller opposed
SAS NAGAR, Dec 26 — The filling of the post of the Controller of Examination of the Punjab School Education Board through deputation recently has again become a bone of contention between the Punjab Government and employees of the board.
Training programme for youth held
CHANDIGARH, Dec 26 — A unique programme of Rotary Youth Leadership Awards organised jointly by the Rotary Chandigarh Shivalik and SAS Nagar concluded today.
Bus moves sans driver
SAS NAGAR, Dec 26 — In a bizarre incident, a bus of the Chandigarh Transport Undertaking, which had been parked with its engine on in Phase XI, started moving all of a sudden, making the people around panicky.