Convents don't convert
By Kahkashan Naqvi
THE Christian bashing which began last year reached a horrendous high on January 22, 1999, when Graham Staines and his two young sons Timothy (8), and Phillip (10) were burnt alive in Manoharpur, Orissa. Our collective conscience desperately seeks answers. After a series of scams in which political leaders of every hue and description have let us know that corruption is rampant in society, now violence is raising its ugly head under the guise of religion and culture in Mahatma Gandhi's India.
A minuscule minority, known so far for its centres of learning and healing tasks performed by its founder (Jesus was a teacher and healer par excellence), has been jolted to find itself on the covers of magazines and the front pages of national dailies. All this happened so slowly and gradually that it left most right thinking individuals dazed and at a loss as to how best to rationally explain the phenomenon.
For years missionaries from most of Europe, the Americas and Australia have been working facelessly in countless premier schools, colleges and hospitals, old-people homes, among the lepers and the dying and providing yeoman services in sectors desperately required in a developing, poor and over-populated country.
We three sisters and a brother, too, entered the portals of one such hallowed institution of toddlers. And passed out 14 years later as young adults on the threshold of life ready to give our best to the world we were stepping into.
Why I say so is because school was a second home and the nuns and priests foster parents, who helped to protect and chisel us into young men and women capable of handling life and its challenges.
If home was protective, so too was school, and today, when we look back, we realise what a cocooned existence life was for us. And yet we were given no crutches and helped to walk, hop, skip and jump, for after all, we were preparing for the roller-coaster of day-to-day life.
Who are the men and women who flit on my mind's canvas when the word Christian is mentioned?
Mother Aquin took a crying four-year-old clinging to her father's trousers very matter-of-factly and soon joined a group of similar bleary-eyed girls and started a flurry of activity in sand-trays and plasticine, which made us forget the world outside the four walls of our classroom.
Mother Brenda, was a constant figure during the junior school days. The classroom, the assembly, the playground, the dining hall, the dormitory and even the infirmary, you name the place, and she could be found there, making it her business to ensure that all was well in our world.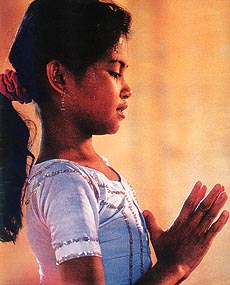 Today after being a teacher for over 18 years myself I still never fail to marvel how she managed to play the multiple roles of teacher, parent, nurse and administrator so well. How many individuals were there rolled together in one slim, tall and graceful lady, my father always described as an angel walking on earth. Yes, she also had time to interact with our mothers and fathers and put them totally at ease about their precious children. And her day had the same number of hours — 24. However much I nudge my memory I do not recollect a single instance when she was sullen, miserable or angry with us for no rhyme or reason. Of course she hauled us over the coals but her sense of justice must have been very well honed indeed. I do not remember an instance when the punishment was not justified.
Sister Lucy flitted from class to class with a big bouquet of daffodils which had been specially flown down from Kashmir so that her children could visualise the beauty of the flowers which made Wordsworth write his immortal poem. The year she taught us, "As You Like It" was the 18th year she did so, yet her English classes were memorable. One sat rapt and you could hear the proverbial pin- drop silence because she was such a wonderful teacher, who made whatever she taught come alive. She had our complete attention and her excellent communication skill made whatever she taught easy and fun.
Sister Cyril, with her boxes of lizards and "League of Goodness", was ever smiling and very approachable. Just the sort of person to look after a flock of adolescents, about to leave school. We were made to do our bit without feeling saint-like about it. (Very matter-of-factly the children of the fourth class employees learnt to read and write years before a P.M. coined the phrase, "each one, teach one". Action, indeed, speaks louder than words.)
Sister Joseph Michael organised our graduation years, as well as escorted us all over UP for hockey and basketball matches. Yes, it was she who indulged us in Ayodhya! It was a Tuesday and a lot of our teammates wanted to visit the mandirs which made the city famous. It is another matter that my sports career was nipped in its infancy because my grandmother would not have her grandchild return so late at night whatever the school or the teachers had to say. It was enough that she put up with her son's and daughter's-in-law's new notions of educating the girls and that too in an institution run by foreigners of another faith. She feared that, we would soon become Christians.
Those were the first murmurs, if you could call them that, I heard, about the fear of conversions.
In the 70's criticism could be heard from political platforms also. Leaders like the late Charan Singh publicly denounced these educational institutions but privately were definitely aware of their worth. Otherwise how else can one explain the paradox — for their own children they made a beeline to these institutions but spoke against them from the public platform.
The thrust of the anti-English agitation again is too well known to merit repetition. Successive political leaders continued to target missionaries by attacking English. In the late 70s, I remember Sister Noa facing difficulty getting her visa renewed. Subtle and not so subtle pressures increased for admission of wards.
I myself was a mute witness to some of these underhand tactics. The year 1981 saw us posted in Lucknow. I was delighted with the idea of admitting our daughter to my very own school. As usual the visitor's room was overflowing. An ex-student and ex-staff member joined the crowd. A few minutes later a DSP and two constables sauntered and were amazed to discover that despite their uniform they were treated like the so many ordinary mortals awaiting their turn. This was too shocking for them to stomach. A pan-chewing constable in a loud whisper asked his boss for permission to kidnap a couple of girls "to make the system fall in line" — law-keepers wanting to become law breakers just for the privilege of an out of turn admission!
Little did they know that the people they were dealing with were made of sterner stuff. Pressures were meant to be resisted on principle. Once the Water Department issued an inflated bill, just because a sundry official's ward had been refused admission. The then Principal, Sister Jude, not only refused to pay the exorbitant sum but was willing to close down the school rather than buckle under pressure.
In December, 1968, the pack of geography papers for the ISC exam did not have the required question paper. It just contained the maps, photograph and topographical sheets. After being in the examination hall for half an hour, father Cyril, the then Principal of St Francis, decided to send the children home. It being a Saturday, we were told to take the exam on the coming Monday.
As the exam had already been conducted elsewhere in the country, some enterprising students managed to get the paper from the nearby city of Kanpur.
Our Principal, Sister Carmel, came to invigilate on the fateful day. As she started to give out question papers a gasp escaped a student in the hall — 'It's the same paper". Her face went beetroot red. She wrote to the board and had the geography paper re-set for re-examination in February.
These were the high principles of honesty and integrity which made these individuals great educationists and wonderful human beings. They actually practised what they preached and were role models of the highest order.
Some of my best years have been spent teaching in the institutions of learning run by missionaries who made India their home and gave themselves to successive generations of school and college children. Today their numbers are dwindling. St. Edward's, Shimla, has been handed over to the Diocese and Tara Hall has been sold and is Sacred Heart now. The quality of teaching has been going down as a result. A few very old nuns and priests remain to hand down the legacy to our countrymen and women.
Memories remain of giants in the field. Sister Eithna, with a most delightful lisp, managed to get a chit of a girl, a mere graduate, reach for the stars and teach her first batch of ICSE students, English. Sister Bernadine insisted, she could teach geography to another such batch. And of course, she was right.And Brother Meridith was always at hand to help any teacher who struggled to teach the subject. Sister Claudine, a Spanish nun, was an exquisite needle woman who taught girls to make their beds and knit and sew.Till date my knitting is as neat on the wrong side as it is the right side up. And how can one forgot Sister Agatha who manned the St Bede's kitchen and never forget to make me a packet of sehri,"the very early morning hour meal during Ramzan.
As far as religion is concerned I voluntarily went for Mass and Benediction till I learnt my own prayers. Once that happened, my prayer mat and a copy of the Holy Koran were respected and I was allowed to go up to the dormitory for my mandatory prayers. I still see no contradiction in wanting to spend some moments in a chapel or church even today. The quiet atmosphere does make it a welcome refuge from the commotion of the world.
It remains a mystery to me why anyone should target a community which has tirelessly contributed in priority sectors like health care and education so diligently and facelessly.