The corporate playwright
Gurcharan Das is a celebrity in the literary world not only as a playwright but also as a non-fiction writer, remarks Prabhjot Singh
FOR Chandigarh-born Gurcharan Das, the journey from the corporate world to the literary world has been smooth. After a distinguished stint as a top executive in Procter and Gamble's Richardson Hindustan, Das is a celebrity in the literary world not only as a playwright but also as a non-fiction writer.
His next book to be published by Penguin India, and to be released simultaneously in New York and London, is about miracles that take place in India everyday.This book, the title of which is still to be decided, will be out in the year 2000.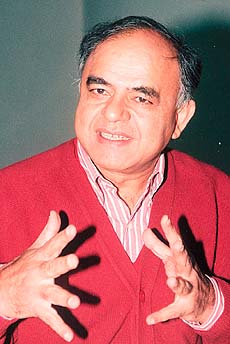 His last book, "A Fine Family", published by Penguin, has been the second best selling book after Shoba De. Shyam Benegal is now "scripting and casting it" for a TV serial to be telecast on Star TV later this year.
"A Fine Family" is the story of three generations of a Punjabi family which in pre-partition days lived in Lyallpur (now Faisalabad) before it moved to Shimla and after the 1975 national Emergency in the country shifted its base to Mumbai.
"It is superficially based on my family as it has real life characters," he says in an informal chat with this correspondent during his brief visit to the city. "Before this book, I did three plays," he says.
"After studying philosophy at Harvard, I came back to Chandigarh in 1964 empty handed. I was never sure whether I wanted to be a philosopher or not. Though I had gone to Harvard on a scholarship, my parents were not very happy. I wanted a break. I turned around India. One day I saw an advertisement of Richardson Hindustan and applied and got a job as a management trainee. It was like a man who comes for a dinner and stays on.
"I was sure that one day I was going to write a novel and for theatre.
"There are people or executives who are 'weekend golfers'. I have been a little different. I started as a weekend writer. I would write on weekends, starting from 6.30 in the morning until 4.30 in the afternoon.
"As a 23-year-old executive-turned-weekend writer, I finished writing my first play — Larins — about the British in Punjab. The story of this play revolved around Rani Jindan, Sham Singh Attariwala and Henry Lawrence. It won a big prize from Oxford University Press. It was on BBC.
"My second play was on Meera Bai. It was staged in Lamama, the famous theatre in New York. It was 'incredible" as Bhajans of Meera Bai were in rock music.When I wrote this, I was 26.
"Nine Jakhoo Hill", which is still being staged by Yatrik, has already been shown in Delhi, Mumbai, Calcutta, Shimla and Dubai. This play is basically about the changing middle class. It is a Jacobian play.
And finally came my first major novel. By that time I had risen to the level of managing director of my company. At 37, I was one of the youngest Managing Directors after having been around for less than 15 years.
"In 1994, when I felt I was financially free, I decided to be a full-time writer. Before this decision, I had risen to be a global manager in the company and was made Vice-President-cum-M.D., Worldwide Strategic Planning. I really enjoyed this position and was among a select band of Indians who did so well. I was in the USA for some years before I wrote to Dr Manmohan Singh and came back and settled in New Delhi.
"I wanted to help in furthering economic reforms. I started writing a regular column in a national English daily. It started getting a good following and started becoming a movement as it was about new values, different than the values endorsed by the media. I have been trying to project that global economy is a friend and not an enemy.
"Every-body is listening to the background noise of democracy but no one is listening to music. This has prompted me to write my new book about miracles that take place in India everyday.
"I shall narrate to you an incident. I was travelling from Chennai to Pondicherry and stopped on way in a Tamil Nadu village where a young Tamilian boy served us coffee. The boy, Raju, told us that he was doing a 'summer job' and that he earns about Rs 450 a month which he spends on computer training at a nearby village. Raju wants to be in computer business and aims to become "Bill Ga" (Bill Gates) as he had seen a TV interview of "Bill Ga", the richest man of the world. This type of miracle is happening everyday in India.
"A lot of it has to do with entrepreneurial miracles. It is non-fiction in narrative form about where we have come from and where we are going. It is not about politics but about economics. This answers questions on how come we got into collective madness as a nation of 'licence-permit raaj'. Who is responsible for it ? — Jawahar Lal Nehru, Indira Gandhi, Babus or someone else?
"Ours is an optimistic economy. Even the reforms we have done are creating a revolution. This is what people do not realise. Even in the middle of the present recession, our economy is growing by 5.5 per cent. Nothing can stop India, not even politician.
"We have released forces, and have set them in motion. They have their own momentum. Our population growth rate has started to come down from 2.2 per cent in 1980 to 1.7 per cent now. By the middle of the 21st century, it will stabilise.
I am sure by 2025, India's middle class will be 50 per cent of its population. And after 3000 years of poverty, I am sure, we are going to conquer poverty in the 21st century. This is the future we hold for our children.
"For me the event of 1998 was November 7 when the Prime Minister, Atal Bihari Vajpayee, announced privatisation of Internet to break the monopoly of the Department of Telecommunications. That is the music we have to listen to.
"We need three things — dynamic market, education and governance. East Asia has already shown the way. The example of South Korea is before us," says Gurcharan Das, holding an olive branch to the Indian economy of the 21st century.