On the road to Kargil, Dras
A salute to the spirit of infantrymen
By Amarinder Singh
WHILE we continue to be glued to our television sets as military spokesmen brief us on day-to-day operations in Dras and Kargil, and while newspapers are filled with pictures of soldiers in body bags, and funerals taking place with full military honours, our thoughts go out to the bereaved families of our officers and men who died serving the nation.
An epitaph by A.E. Housman comes to mind: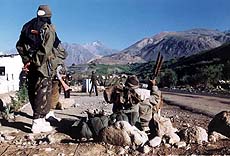 Here dead we lie, because we did not choose to live and shame the land from which we sprung. Life, to be sure, is nothing much to lose; But young men think it is and we were young.
While tales of courage abound and officers and men continue to volunteer to serve their country in the ongoing operations, what perhaps fails to hit home to the average reader or viewer is the inhospitable and desolate part of the country in which our soldiers are operating and the extreme hardship that they have to put up with.For those who have not seen or had any experience of this terrain, it is a difficult task to understand it.
The road fromSrinagar to the Indus valley and Leh, the capital of Ladakh, passes over the dominating Zoji La Pass at 11,432 feet.Starting fromSrinagar, the road winds its way up the Sind valley to Sonamarg, 52 miles to the north.From Sonamarg, a road goes east to a village called Baltal, which stands on a road junction.From here a road goes east up to the Zoji La Pass and another to the south leads to the holy Amarnath cave and further to the tourist resorts of Shesh Nag and Pahalgam.
After crossing Zoji La, situated on the rugged and virtually impassable Pangi range, the road continues for 2 miles through an open valley, at the same altitude,with craggy mountains as high as 6,000 feet above the floor of the valley on either side. The road then reaches an open plain called Gumri which stands at the head of the Gumri Basin and at the far end of which is Machoi.
From Machoi, the road descends 8 miles to a large pasture called Minamarg at the far end of which lies the first village east of the Pass,Matyan. Five miles beyond Matyan is Pindras and another 8 miles on is Dras, standing at 10,609 feet.This is the coldest place in India. In winter, temperatures occasionally fall as low as minus 50°C. There is no vegetation of any type other than small alpine scrub and bushes which can be seen occasionally as one drives along.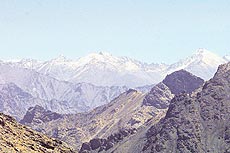 From Matyan, a track leads to the north-east to the Mashkoh nullah which finally ends up at Dras. FromDras, the road continues to Kargil, then down to the Indus river.
The Pangi range, running north-west and south-east of the Zoji La Pass, is virtually an impenetrable barrier. Starting on the south bank of the Indus river close to Gilgit, the first prominent and dominating height is the massive mountain, Nanga Parbat. Between the Nanga Parbat and the Zoji La Pass, this impassable range permits just one crossing, the Burzil Pass, which connects Gilgit to Gurais and then down to the Kashmir valley. It is the area that was captured in a gallant action by a two battalion group in 1948-- I Grenadiers and the 2/4 Gurkhas.
To the east of the Pangi range lies the great Deosai plain in Baltistan.A plain only in name as it is somewhat lower, but sharp craggy mountains rise from it in steep jagged-edged ranges. Dras and Kargil are situated on the south-eastern edge of this plain, along the Srinagar-Leh road. The Deosai plain then ends in the east, on the west bank of the Indus river.
To the east of the Indus lies the Ladakh range and to the north of this the Karakoram range on which is situated the famous Siachin and Baltoro glaciers. Further north is the well-known mountain, Mount K 2.
The only approach fromPakistan into these rugged mountains dominating the Srinagar-Leh highway is from Pakistan to Gilgit and then along the Indus valley to Skardu. From here and from Parkutta, Marol and other such small towns along the Indus, all familiar names from the Kashmir operations of 1947/48, tracks penetrate the mountain ranges on the Deosai plain and these too are few and far between.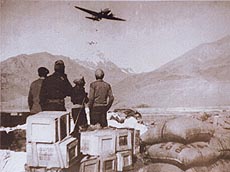 Those of us in our service days who have had an opportunity of serving in these or similar areas, are well aware of the impossibility of this type of terrain. Patrols which we went on to reconoitre routes in unchartered country ended up in nine cases out of ten being abandoned, as one came up against sheer rock faces, impassable even to trained mountain troops.
Defensive positions established on those mountain tops, which could be reached by these few available tracks, had to rely entirely on mules, and in some cases on human porterage, when certain inclines mules too could not negotiate. All this for the bare essentials of existence such as water and food, not to mention heavy weapons and ammunition. Sending unacclimatised troops to these heights led to its own problem of mountain sickness (pulmonary oedema). Once a soldier succumbs to this curse, he has to be immediately evacuated to a lower altitude for treatment. Death can also result in a matter of hours.
In May 1965, Pakistan attempted one of its periodic forays into Indian territory, the Rann of Kutch. The Indian Army responded with operation Ablaze to push them out, which we successfully did.While Kutch was the focus, the Army Commander, Western Command, Lt Gen Harbaksh Singh, to whom I was ADC, decided to tidy up our line and push the enemy off two posts overlooking Kargil, Pt 13620 and 'Black Rocks'. The 121 BrigadeGroup at Kargil responded, and 4Rajput and 1 Guards captured both these positions after bitter fighting and after taking heavy casualties.I was in Kargil then and asked for permission visit to a friend, then with1 Guards, Lt R.P. Singh (since retired as a Major-General) up at 'Black Rocks'. I had recently left 4 Mountain Division after having served for two years between 12,000 and 16,000 feet and I remember how steep and impossible that climb was.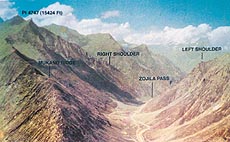 Today we see press reports of 'pincer' movements and other military jargon being bandied about by well-intentioned, though militarily ill-informed, journalists.Quick-moving armour battles may have 'pincer' or other movements but not where each mountain has to be tackled separately. The old maxim known to infantrymen since the grim and bloody battles of the North West Frontier in the twenties and thirties is that 'those who hold the heights have already won half the battle' is the order of the day. Why we lost these heights in the first place is another story and some day we shall hear of it. In the meantime, each mountain must be fought for, or if possible, isolated by cutting off the means of supply, called 'line of communication' (LoC) in military parlance, thereby starving them at the top.
Each mountain is perhaps held by a section (10 men) or a platoon (40 men) and that in itself is a formidable opposition. In virtually all cases, one cannot deploy more than few men, perhaps a section, along a razor-sharp ridge. The final approach as one reaches the top where the enemy defences are would in some cases be even narrower. In such cases, even a single well-placed medium machine gun would be enough to wreak havoc on an attacking force. In 1965, during the famous "Haji Pir' operations, three battalion attacks on successive nights by 4 Rajput, 19 Punjab and 7 Bihar on the formidable 'Bedori' feature held by a platoon of Pakistan's 6 Azad Kashmir failed. Once again, the final approach was along a razor-sharp ridge.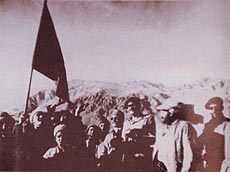 Infantrymen are perhaps the least glorified soldiers of any operation of any army the world over. In this age of speed and missile or laser technology, air forces or swift armour operations appeal more to an average civilian's mind. In Kargil, however, it is the infantrymen's war and they continue to fight relentlessly against heavy odds, the elements, a well-entrenched enemy shooting down at him while he struggles up the steep and rugged mountains carrying loads of sixty to seventy pounds. Once wounded, evacuation is an impossibility while the operation is on, and many die quietly without urgent medical attention being made available.
General Francisco Franco, the Spanish dictator in 1922, once described an infantry soldier as follows: 'Infantry men are they who, in the frosts and storms of night, watch over the sleep of camps, climb under fire the highest crests, fight and die, without their voluntary sacrifice receiving the reward of heroism'. How relevant it is to Kargil 77 years later.
Today, there is a general wave of support sweeping the country for our defence forces, particularly the Army, in its most difficult task. I have, however, witnessed such support and sympathy in the wars of 1962, 1965 and 1971, but sadly once operations are over, the soldier is forgotten. There could be no finer tribute to his sacrifice than for us to help the families of those who have fallen, not only in the short term but to implement long-term measures as well by providing education and later jobs to their children. If each industry would adopt a couple of families for this purpose, our dead would rest in peace. We, that are left behind, owe it to them. If we do so, we can feel satisfied that we have done our duty to the best of our ability.
Laurence Binyon's immortal epitaph on the memorial to the unknown soldier of the Great War of 1914/18, at London, aptly sums up the national feeling today. The young officers, JCOs and men of our army, who have laid down their lives and will continue to do so till our territory is cleared of all intrusion, must never be forgotten.
They shall not grow old.
As we that are left grow old;
Age shall not weary them,
Nor the years condemn.
At the going down of the sun
and in the morning
We will remember them.