VJs turning to acting
FIRST it was Ruby Bhatia who flew the coup. The glamorous VJ left Channel V to become a much in demand TV star and anchor. Then Maria Goretti began her forays into the ad world with Coke doing some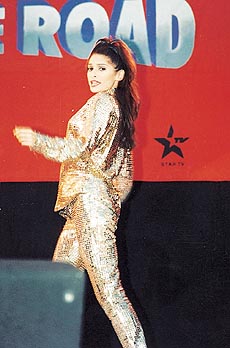 high profile TV commercials featuring her. Maria now has a host of ads and is also said to be waiting for the right role to make her Bollywood debut.
Of course Malaika Arora got her big break when she did the famous Chaiyya Chaiyya number with Shah Rukh which had all the males panting for more.
Now it seems to be the turn of Sophiya. The VJ who once sang the superhit single, Kamasutra is now available for a cameo in any film and against any star. As a starter she's done a sizzling number in the Sunjay Dutt directed film, Khoobsoorat. And those who have seen her dance say that Sophiya will soon be giving Malaika a run for her curves!
Serial reruns
Heard the latest from Doordarshan? Senior bureaucrats at Mandi House have found yet another way of patting themselves on the back.
Any time a journalist talks too one of the high-ups he is gently coaxed into a conversation on how DD seldom repeats its shows. "We leave that job to our competitors," is the well rehearsed reply.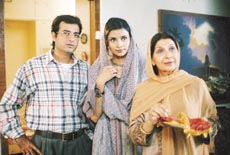 Of course, to a large extent DD can take credit for spawning a whole industry of repeats. From Mahabharat and Ramayana to busy telecasting repeats of old Doordarshan serials.
Latching on to the growing trend, the smart producers have been making a killing out of the repeat mania re-selling their serials to private channels at exorbitant rates.
So much so, that now when a new serial is made for Doordarshan, producers simultaneously start sending proposals to private channels. Sometimes repeat deals are struck even before the programme is aired on Doordarshan. Double bill for the serial makers, no doubt.
A big Rahasya
Very much like Lord Krishna who made him so famous, Nitish Bhardawaj moves in mysterious ways. These days the star and former BJP MP is so involved in his serial, Geeta Rahasya that he has little time for anything else.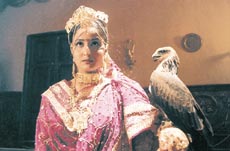 But it is his casting which is leaving people mystified. For example, he first selected famous Gujarati actress Ketaki Dave amidst much fanfare. But curiously, he dropped her soon afterwards and replaced her with little known Bollywood star, Lata Sabharwal.
Now it's time for an all-important character to be introduced. It's Maya, the narrator of Geeta Rahasya. Nitesh has short-listed Rekha, Dimple Kapadia and Jaya Bachchan for the role. But his heart seems to be set on Rekha and he is planning to make her an offer she can't refuse.
But that may not be necessary. Considering that Bollywood is not keeping her busy enough these days, Rekha may not need too much persuasion!
Plumbing the depths
Look how things change. Time was, a couple of years ago, when almost four million viewers sat in front of their television sets every Friday to see the exploits of Paa Jee in Colgate Top Ten.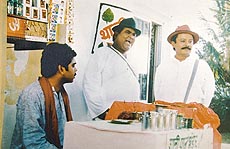 But a year later, Satish Kaushik, the inspiration behind the show made an exit to direct the Bollywood hit Hum Aapke Dil Mein Rehete Hain. With him left his talented co-star, Pankaj Kapoor.
The two were replaced by Shakti Kapoor and Saurabh Shukla. And that's when things started going wrong. Classy humour gave way to innuendoes and crass double speak and the show was soon on shaky ground.
Alarmed at the dropping TRPs the producers replaced Kapoor and Shukla with Farooque Sheikh and Navneet Nishan who are currently trying their hand at comedy. But all in vain. That's because Satish Kaushik had set a benchmark which others just couldn't match up to.
Though the programme still airs every week, Colgate Top Ten has lost its comic edge and is itself lost in the plethora of other countdown shows. Will Satish Kaushik and Mohan Kapoor return to resurrect it? Only time will tell. If they don't then the best is definitely behind the show.
The truth is out there
It's television at its best. A medium for social messages with a measure of entertainment thrown in. At least that's what Manoj Nautiyal, the maker of Lekin Woh Sach Tha has come to realise.
Recently Nautiyal had a dinner invitation from a very unexpected quarter. Former Arunachal Pradesh Chief Minister Apang and his son Amok who is now the Tourism Minister of the state invited Nautiyal over to thank him for his serial which has immensely benefitted the people of Arunachal.
Lekin Woh Sach Tha which gives scientific explanation to the so-called miracles in nature has been a runaway hit in the northeast state where blind beliefs are still rampant. The former Chief Minister said that the serial was an eyeopener for the people of the state and they had started understanding things which were once considered beyond explanation.
As a mark of his gratitude, Apang has invited Nautiyal to shoot a few episodes in Arunachal with a view to banishing some age old blind beliefs which have hampered the progress of the people.
"I feel honoured," says Nautiyal and adds, "the response to the series has been phenomenal and I'll certainly go to any place where I am invited. Arunachal is the first destination." Considering the amount of myths which abound in India, Nautiyal sure seems to be going where no man has gone before.
Towards a cyber world
Imagine a world where computers dominate all aspects of human life. Everything is monitored by computers, run by robots and processed through machines. The fear of police states and automated highways is not as far-fetched as it used to be.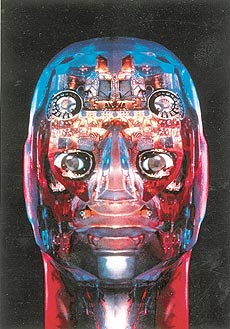 This vision is quickly becoming a reality — a reality that to some seems dark and ominous. With society facing the millennium, computers have become an everyday part of human's lives. Discovery gives a vision of this new world in Cyborg City.
Some speculate that in the 21st century, people will become more like cyborgs since they may wear computers on their dresses. Video communicator wristwatch, automated "smart" homes and cars, portable offices and robots to help at home.
How will computers really take over human lives? For an answer, switch to Disco-very on Sunday, July 18 from 9 pm to 10pm Cyborg City showcases the amazing possibilities of the computers in the coming century.
— Mukesh Khosla