Withering harmony
By Vimla Patil
ELA is a young Gujarati married woman with two beautiful children under five. Eight years ago, she was in the US, her life devastated and fractured after her quick divorce from her Punjabi husband. "I had just three torturous months of marriage," she says, "My father and my ex-father-in-law were close friends for over 20 years. They did business together, travelled together on holidays and invariably had a drink together whenever they could snatch a 'happy hour' together. The two families grew together and we children were friendly. The two fathers, somewhat publicly, dreamt that one day, their children would marry and make them relatives rather than just friends. With this goal in view, 'uncle', as I called my father's friend, would bring his son to our home and wink at me, though I was too young to understand his motives.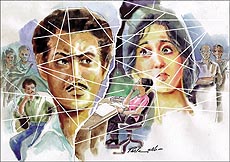 "Uday, his son, was at Harvard when the two fathers got serious. Uday was called to India and we were given every opportunity to meet and talk about a possible marriage. At 21, I had little or no idea about what marriage entailed. I fell madly in love with the concept of marriage. I felt that if both families wanted this union so badly, it could only bring happiness to all concerned.
"One year later, we were married and though Uday was a Punjabi and I a Gujarati, we settled well in the US. Within weeks however, I found that Uday was lazy, miserly and dependent on his father for even a minor decision. His father, 'uncle' to me, would phone every so often and offer solutions and even tell him how to 'keep a wife in her place'. I had never experienced such a situation. We would fight constantly and one day, Uday disappeared under his father's advice to another job in an unknown city without leaving his whereabouts behind. My parents rushed to the US, settled me in a job and then I filed for divorce. My parents felt that a man who could run away from his wife was likely to repeat his behaviour and leave children too if and when they came. At 23, I was totally devastated. It took me three years to consider marriage again. I was wooed so well, that I took another risk with a second marriage. Today, I am married to a wonderful man and have two children. My life is full, my career is going places and I am busy enjoying my children and home".
Ela's story is not really unusual. For one reason or the other, marriages are breaking up today within a few months of their rather elaborate celebration. On the one hand, the concept of romance and love is commercialised through the proliferation of Valentine's Day cards, explicit music videos and romantic films. On the other hand, however, young couples find themselves incompatible within a short time and have no qualms about separations or divorces.
There are many reasons for this developing situation. First and most important is the fact that young, educated, upmarket parents give their sons and daughters the freedom to choose their life partners with a no-holds-barred attitude. For example, a celebrity politician mother says: "My children are free to choose their partners. Whoever they bring home, our job is to say Tathastu, or so be it". With luck, this attitude works out. But when things don't work out, the lives of not only children, but also of the entire family become fractured. The reasons for the break-ups are legion. Inter-religious, inter-state or even inter-community marriages are stressed when cultures and life-plans don't meet and merge. If both the husband and wife are inordinately proud and unrelenting in their religious, cultural or traditional beliefs, they get into hard-line situations where compromises become impossible. Young people in love are so besotted with each other to begin with — just like the singing, dancing heroes and heroines of Hindi films — that they think their love will overcome any differences or setbacks.
In reality, when the sexual passion has been consummated and on the wane, the differences assume gigantic proportions unless one party agrees to surrender to the lifestyle of the other. Marriages where great class, educational value and lifestyle differences occur, need greater efforts to succeed. The stress outside the home — at work or in business — is so much today that more stress at home or in the marriage becomes unbearable. With men and women mingling freely at work and at leisure the temptation to stray away from a stressful situation overcomes cultural taboos and relationships break down like a house of cards. Infidelity, particularly on the part of husbands, is therefore a major cause of divorces today. Women, always riddled with double standards in morality, are at last prepared to throw out a constantly erring husband or become promiscuous themselves.
Secondly, says a prominent social worker, the major new cause of the increasing number of divorces in the middle and upper middle class is the changing attitudes of young girls and their parents towards women's status within marriage. Young, upwardly mobile parents do not think of their daughters as paraya dhan anymore and are often willing to take up cudgels on her behalf at the slightest sign of marital injustice done to her. This attitude shows up in the wedding celebrations itself when a bride's parents demand equality and the right to have a say in every aspect of the ceremonies just like the ladkawalas. The bride herself, too, openly says and behaves to show that the bridegroom is not 'doing her a favour' by marrying her as was the belief in the past. Indeed, in her upbringing and education, she is taught that she is 'no less' than her bridegroom and is an asset to the matrimonial family and the true Lakshmi of her new home. Her parents, she feels, must gain 'a son', the same way as his parents gain a 'daughter'. To wit, a young girl, wooed by her boyfriend, says while accepting his proposal that her parents are 'not looking for a son-in-law, but as son'. And if later, it turns out that the groom or his family treat her or her parents as 'ladkiwalas' or somewhat 'less important' than them, then there is hell to pay.
Today's daughter-in-law is as vociferous as the mother-in-law of yesteryear. Additionally, today's educated and often working mother-in-law bends over backward to accommodate a young girl, who has been romanced and brought into the family by her son through an arranged or love marriage to disprove the theory that all sasus are horrible, cruel creatures. In other words, a young wife goes into marriage with her 'attitude' and is in no mood to compromise more than her own judgement or upbringing allows. Divorces often come about because of these new uncompromising attitudes. If the bride leans towards her parents constantly and creates a situation where the husband has to perforce choose between his parents and her family, tensions build up and the explosion is not far away.
Tensions and resulting divorces in modern marriages come from various reasons. Obviously, the most common is the inability of one partner to satisfy the other sexually. Our society presumes that the purpose of every marriage is sexual activity and procreation. If the husband is impotent or sexually lazy or even uses withdrawal of sexual relations to harass his wife, this can be an adequate ground for divorce. Widely publicised is the torture piled upon a bride for bringing inadequate dowry to her matrimonial family. Such torture is also a sure ground for divorce. Gone are the days when brides hung on to their marriages for fear of ignominy and social censure. If they are humiliated for dowry, they often quit and fight out the battle of their Streedhan in the courts which are now sympathetic to women's issues. Thirdly, to make a working woman the bread winner of the family and deprive her of all earnings to torture her is also being accepted by the country's courts as grounds for divorces. Such cases have brought to light the increasing tendency of Indian husbands to drink, gamble or indulge in vices and fun-times at the cost of the hard earned money of the wife.
Yet other judgements of the court have shown that a husband forcing his wife to commit immoral acts such as having sex with his friends or for money is a ground for divorce. Physical and mental torture, verbal abuse and constant humiliation are acceptable causes for divorce, both for men and women. With domestic violence on the increase, and with intrepid women also innovating methods to pile mental torture upon their husbands, this ground has been cited in many a divorce case countrywide. Lastly, the courts in India have held that an abortion without the husband's consent is also a ground for divorce because the father also has an equal right to his unborn child. In all divorce cases heard by the High Courts or the Supreme Court of India, there is a clear respect for women's rights and equality but at the same time, the law requires that both partners make concerted efforts to make a go of the partnership which they have accepted willingly for a lifetime.
Yet others cite the growing financial independence of young girls as a cause of higher incidence of divorces in India. Highly educated and qualified women today earn hefty salaries with attractive perks. Though the husband enters the marriage with every intention of honouring her ambitions and supporting them after the first flush of romance is over, her importance in her profession and in society or her glamorous appearance become the bane of the marriage. Suspicion and sarcasm rule the relationship and it breaks soon. As an example, one can discuss here the well celebrated marriage of V Channel VJ Ruby Bhatia and cameraman Nitin Bali. They worked together for a short while on the BPLOye show and fell in love. They got married, with Bali swearing to support Ruby's career. But when he constantly suffered in comparison, the marriage slowly caved in and ended in a recent divorce. No amount of repair work, with Ruby promoting his music video and even acting in it, helped the marriage to survive. In many cases, the wife's transferable job, her late working, her total dedication to her job or profession and to top all this, her arguments that she has as much right to her career as the husband, hack away at the roars of the marriage, leaving it in shambles.
Probably the most common cause of the growing number of divorces is the fact that urban and rural Indian families of the upper class and middle class do not seem to mind a divorce in the family anymore. Parents and friends of a young man or woman are very supportive of the break-up of a bad marriage and there is no stigma attached to either party. The old adage that a woman goes to her sasural in a doli and comes out only her arthi is no more operative. Rather than suffer from a bad marriage or stew for a lifetime in a rotten relationship, a man or woman prefers to leave the ugliness and agony behind and make a new beginning. The chances of remarriage for men are good and for women, they are improving steadily. After all, some of the most famous and talented men and women of our age have gone through divorces, survived and found happiness in a second marriage. Anupam Kher, Kiron Kher, Ramesh Sippy, Mohammed Azharuddin, Manoj Bajpai of Sathya, Shobha De and Javed Akhtar have all been divorced and lost nothing in life. In the best families in India, daughters have returned to their parents to avoid getting burnt in a bad marriage. Middle class divorces are too innumerable to even merit a discussion.