Tuesday, January 18, 2000,
Chandigarh, India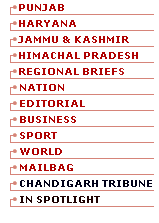 S P O T L I G H T
Port workers' strike
NEW DELHI, Jan 17 (PTI) — Over one lakh workers in 11 major ports will go on an indefinite strike from midnight tonight demanding better wages following failure of talks with the Government even as the Centre called in the Navy as part of its contingency plan to deal with the situation. The federations are demanding among other things wage revision every five years and awarding of house rent allowance and city compensatory allowance with retrospective effect from January one, 1998.
5 crore bank robbery
AIZAWL, Jan 17 (PTI) — A group of six armed dacoits today robbed more than Rs five crore from the State Bank of India branch in Mizoram's southern town of Lawngtlai, police said. Superintendent of Police CID-Special Branch, Shanliana, told PTI here that the robbers, armed with pistols and rifles, entered the branch in Lawngtlai district in the evening and fled with the money in a jeep.
Pak blast kills 8
KARACHI, Jan 17 (AP) — A powerful explosion shattered a congested neighbourhood in this southern port city today, killing at least eight persons (six, according to Reuters) and wounding 31 others, the police said. The explosion, which was a time bomb hidden in a fruit cart, destroyed three shops and sent an electrical power pole crashing to the ground, they said. The explosion occurred near a bus stop.