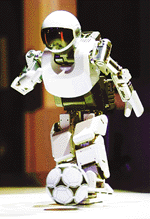 Voice-recognition technology enables it to respond to about 20 verbal instructions and reply with a vocabulary of about two dozen words.
"Hello everybody, my hobby is soccer," the mechanical critter said in an introduction in Tokyo.
SDR-3X is the latest brainchild of Sony's Digital Creatures Laboratory, which produced last year's surprise hit: Aibo, the cyber-puppy. Sony has sold more than 45,000 Aibos and last week unveiled an updated model of the robot-mutt that will go on sale at US$1,420 each.
Sony has yet to decide on a price for SDR-3X, which shares much of the same technology as Aibo, but a prototype is said to have cost as much as a car.
Toshi Doi, president of the Digital Creatures Laboratory, said robots had considerable commercial potential because they would soon be able to help with housework.
"In about five years' time, most entertainment robots are going to be humanoid types," Mr Doi said. "And there will be less distinction between entertainment robots and those carrying out useful tasks." Japan has surged ahead in developing humanoids and mechanical animals for entertainment and welfare.
Last week, Honda unveiled the world's most advanced anthropomorphic robot, Asimo, which is capable of extremely smooth movement as well as face identity and voice recognition.
Matsushita is developing a line of techno-pets that will provide company and give medical advice to elderly people living alone.
NEC is working on a sophisticated egg-shaped messenger robot that will roll around the home passing on email messages.
But SDR-3X comes closest to a sporting robot. Next year, Japan will host the first international robot games, where SDR-3X will be looking to put its victory celebrations into practice.
— By arrangement with
The Guardian