Woman of substance
She is devoted to her family, yet committed to a cause. That's Kavita, played by Smriti Malhotra, in a new afternoon soap of the same name. Airing Monday to Thursday, 3.30 p.m. on Star Plus Kavita is about a young, middle class gutsy woman.

Kavita..... A woman struggles for justice



She falls in love and marries Rishi, son of a rich businessman. But she realises that Rishi's mother, a highflying socialite, didn't want a working daughter-in-law. She quits her job for the sake of keeping the family together.
And then, as in most Balaji Telefilm soaps, the inevitable happens — Kavita witnesses her best friend being raped at her sister-in-law's house. She decides to fight for justice even at the cost of losing her family. And that's exactly what happens.
Unfazed she decides to fight out her battles all alone... she's confident that truth and justice will prevail. But will it? Will the culprit be caught or will he live happily ever after confident of the tardy pace of justice? Tune in to Star Plus for answers.
Carry on Dr Juhie
She's modelled for Ponds, ICICI, Baazee.com, Cadbury's Ariel and Nestle before she was offered Pankaj Udhas's music video Kya Mujhse Dosti Karoge. From then on there's been no looking back for Gurdeep Kohli.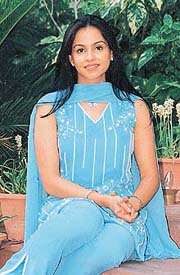 Gurdeep Kohli: There is no looking back for her

Her girl-next-door looks and a disarming smile got noticed almost immediately and it wasn't long before she was offered the cameo of Dr Juhie Singh in Sanjivani Wednesday at 9 p.m. on Star Plus. Says the model-turned-TV star, "I love working in serials because they give me a chance to express myself freely."
Kohli claims her versatile acting skills have not gone unnoticed and she has been 'bombarded' with offers. Some of the more apparent ones are from Bollywood — Ken Ghosh's Ishq Vishq Pyaar Vyaar and an untitled one from Rajshri Productions.
However, she says she is very careful about choosing her roles because as she puts it, "I am so young, I want to take my own sweet time getting there on top. I don't want to get lost in the saas-bahu genre so early in my career." At least someone out there has the grit to thumb down Ekta Kapoor!
Sporty times
The spirited Harsha Bhogle is back with his ever-popular sports quiz. But this time the format and the teams have both grown in number.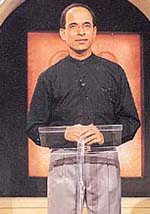 Harsha Bhogle on School Quiz 2002

School Quiz 2002 Monday to Friday at 5.30 p.m. on ESPN-Star Sports had a participation of over 2,000 students from 17 cities as far flung as Bhilai, Indore, Mangalore, Bhopal, Udhamgamdalam, Tezpur, Vijaywada, Gangtok and Shimla. Students appeared for a written exam that tested their skills, retention powers and presence of mind.
Finally 27 top teams from each of the four zones were selected for the final phase of On-Air quizzing, giving every one of the 216 participants a chance to test their knowledge of sports against solid competition.
The prizes this time are also galore with the biggest being a once-in-a-lifetime chance for the winning team to be part of any sporting extravaganza being shown on ESPN Star Sports, live from the place of action.
So get ready. The action is not just happening in the West Indian fields, it's happening at ESPN-Star Sports as well. And who knows, you may be among the fortunate few to share the dais with Geoffery Boycott or Sunil Gavaskar!
Political capsule
It's a programme that reflects the cut and thrust of debate as Indian journalists treat viewers to their in-depth and radical viewpoints on the big issues of the day.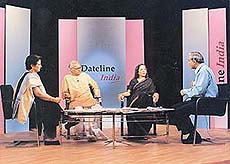 Tavleen Singh on Dateline India: Debating on burning issues

Dateline India on BBC World every Friday at 10 p.m. invites three thought provoking journalists to debate and discuss the issues that have dominated the week. The panel is chosen to ensure a wide range of perspectives. "The show presents an analysis on national issues,"says a BBC World spokesperson.
While top journalists will participate in the show, it will also serve as a platform to showcase the emerging talent in the media whose insight, keen research and depth of knowledge will add greatly to the viewer experience and allow for an entertaining debate.
The show is made all the more absorbing by presenter Tavleen Singh who brings the fire of her print columns on to the television.
Music on the air
This will be music for the ears of discerning western music fans. They can now tune in to CNN's new weekly show The Music Room Sunday 7 p.m. to hear and see musical talent from unknowns to Grammy winners, performing live and explaining their inspirations.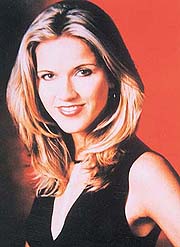 Sasha Rionda anchoring CNN's Music Room: Great listening

The show features in-depth coverage of the world's leading artists and showcases upcoming talent, exploring their craft, their plans and sometimes their frustrations. Artists appearing on forthcoming shows include Fatboy Slim, Natalie Imbruglia, Kylie Minogue Alanis Morissette and more.
Features include a look at rising and emerging talent and coverage of music from around the world. It features charts from the Americas, Europe and Asia covering new album releases and delving deeper into issues such as copyright piracy, artists' relationships with recorded labels and the latest technology.
Anchored by 24-year-old Sasha Rionda, a Swiss Mexican who speaks Spanish, English, German and French, the show is backed by a website www.CNN.com/themusicroom featuring special articles on artists appearing in the show, background information, biographies and programme details. So tune in for some riveting music.
— Mukesh Khosla