But Sehwag, who is built like a robust Jat, seems to be doing much more than just copy the great man. It is said now that he has the right technique and a very good hand and eye co-ordination which enables him to virtually collar the bowling. Well, almost like Tendulkar or even better. It is, therefore, time that he be treated like a separate individual.
However, just for comparison sake Sehwag's mannerisms, batting style, height, weight and even the range of shots are Tendulkar-like. If Tendulkar cuts powerfully, so does Sehwag. Actually he is one step ahead, he can even cut over point for a six — a shot managed rarely in international cricket. The cover drive off the back foot; the punch through midwicket area; the straight drive and the use of wrists to send the ball crashing into the square-leg area are similar to that of the maestro. Besides this, Sehwag has so far shown a kind of solidity that is associated with Rahul Dravid. Sukhwinder Bawa, coach of Sehwag's teammate Yuvraj Singh, says shots like the cut and pull are nowadays the benchmark for a successful international batsman and Sehwag plays both the shots to perfection. He, however, warns: "Comparisions with Tendulkar can be made only after Sehwag plays for a few more years. It is too early as of now."
Even as comparisons do not seem to end, Sehwag has got off to "flyer," as they say in cricketing terminology. Such a start was also achieved by Tendulkar when he had arrived on the scene in 1989. Then the media — thanks to the Mumbai brand of thought that good batsmen are bred only in the western metropolis — had broken into a song and dance announcing the arrival of the saviour of Indian cricket.
No such special sobriquets — other than the usual like Najafgarh ka Tendulkar — were reserved for Sehwag even though he has done better than what Tendulkar did in the initial phase of his career. Sehwag has silently made his efforts count in face of adversity — against top class bowling and on bowler-friendly pitches. His style of batting is more like the one displayed by the carefree Sachin Tendulkar in the early part of the last decade. It can also be characterised as the hard-hitting, flamboyant "Jat brand" used by Kapil Dev with telling affect. Today, Sehwag is as permanent a feature of the Indian side as the big three — Tendulkar, Rahul Dravid and Saurav Ganguly.
In 1984, Mohammed Azharuddin also got off to a fine start stirring the imagination of the public. However, it was against an insipid attack led by David Gower on flat Indian pitches. Sehwag, on the contrary, showed his mettle against South Africa and England in their respective countries on bowler-friendly tracks.
Today Sehwag's name is on everyone's lips. The first comparison between him and Sachin started in the series against South Africa. It was his debut match at Bloemfontein. On fast bouncy tracks, the South African paceman had sent back Dravid, Ganguly , VVS Laxman and SS Das to have India reeling at 4 for 68. In walked Sehwag to join his childhood hero, Sachin Tendulkar. Reportedly, Tendulkar's first lines to Sehwag were: "I know you're tense. You're never going to be this tense again, so enjoy the moment." And enjoy Sehwag did as he matched the maestro stroke for stroke. And a final comparision came when Tony Grieg, during the recently concluded Champions trophy in Sri Lanka, said: "There are two Tendulkars out there, one of them is called the Sehwag."
Punjab Junior Selector and former Ranji Trophy player, Monish Aggarwal, says: "I will definitely not compare him with Tendulkar as yet but he is doing better than other youngsters in the team." Sehwag would do himself and the Indian cricket a world of good if he copies Tendulkar in one aspect— keeping his head on his shoulders despite the fan following and the great amount of success which has come his way. "I am told he has a cool head and does not get carried away," adds Aggarwal.
After this auspicious start to his career, Sehwag was in the centre of a controversy which had threatened to split the cricketing world. In the very next match at Port Elizabeth, Sehwag was one of the six players who were suspended by referee Mike Denneses. A major controversy followed with BCCI chief Jagmohan Dalmiya and ICC boss Malcolm Speed locking horns. The next series between Indian and England played in 2001 and 2002 was under threat. The deadlock was broken at the eleventh hour, a deal had been negotiated between the ICC and the BCCI. Dalmiya agreed that Sehwag would be left out of the team. Earlier, he had been named in the squad as a direct challenge to ICC's authority as the governing body of the game after the furore in South Africa. The dropping of Sehwag was described as a "victory for common sense" by the England Cricket Board Chairman, Lord MacLaurin.
Dalmiya said: "Cricket had to survive. In the larger interests of the game, Sehwag had to be dropped for the first Test match at S.AS Nagar." The young man was traumatised but did not say a word and his silence displayed wisdom. He was called in for the next match and he scored only 20. In the next, he got 50 and followed it up with another 50. Sehwag, by now, had found his groove. And on the last tour to England, he was asked to open and he scored 84 at Lords only to get out to a rash shot off Ashley Giles when he could have gone on to get a hundred. He followed up with a hundred on the bowler-friendly track at Trent Bridge.
Actually in one- day cricket, Sehwag made a disastrous debut against Pakistan at SAS Nagar in early 1999. After having got out for a single, he was hammered for 35 runs in the three overs that he bowled. He was then shortlisted among the 19 probables for the 1999 World Cup in England but did not make it to the final squad. Playing in Sri Lanka in the year 2000, Sehwag was promoted to open the batting in the absence of Sachin Tendulkar. Sehwag hammered a 70-ball ton against the hapless Kiwis in the tri-series. That innings secured his place in the Indian one-day team. Sehwag was among the several youngsters who had been given a chance by the cricket authorities and he was not doing particularly well. He had scored only 169 in 14 matches at an average of 16.90. The change came during the Australia tour of India in 2000-01. In the first one dayer at Bangalore, Sehwag helped himself to a quick half-century before scalping three crucial wickets to play a leading role in India's victory. Man of the Match in the first one dayer, Sehwag was forced to miss the rest of the series because of a fractured finger.
Of late, he has blossomed into a bowler in the one -day format of the game and has ably filled in the fifth bowler's spot.
His dream runs can be attributed to his technique, luck and opportunities that he has got. There is no doubt that Sehwag has definitely arrived. It is time he is left alone to be himself. He is in the top slot.


Who is the best?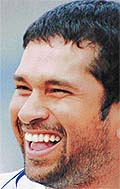 A good launch to a career does not mean a player will keep on going at the same pace. There can be hiccups and pitfalls. The biggest example is that of Mumbai's Vinod Kambli. Comapred to his arrival into cricket, Sehwag is streets behind. Going by the records, Kambli is closer to Gavaskar in Test cricket. And in one- day cricket – a format of the game not relished by Gavaskar—Kambli was as good as Sehwag. In Test cricket, Kambli had started off in the year 1993 with two double centuries. In his first 10 Tests, he had scored 937 runs in 11 innings at a Bradman-like average of 93.90. He hit four centuries and three fifties. Within the next three years, Kambli lost his form and was forgotten with his only claim to fame being that he was a childhood friend of Sachin Tendulkar. A former cricketer adds, it is important for Sehwag to hold his head firmly in place and learn to cope with fame as Sachin Tendulkar has done.



After 10 Test matches:
Sehwag has three centuries, which is second to Gavaskar and Vinod Kambli (four each) and same as Mohd Azharuddin (three)

His average of 53.30 is just behind Gavaskar (61.12) and Kambli (93.70)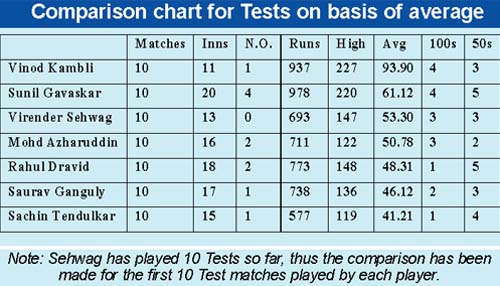 After 43 one- day internationals:
Sehwag has 1252 runs and is behind Navjot Sidhu (1541), and Saurav Ganguly (1348).

Is comparable to Rahul Dravid (1280), Sachin Tendulkar (1262) and Vinod Kambli (1250