Here are snatches of their conversation we overheard:
Asterix: That's a funny hairstyle you've got.
Tintin: Pardon me for saying this, but it isn't half as funny as your headgear.
Asterix: You may laugh at it, but don't forget that the sight of it used to scare the daylights out of the Romans.
Tintin: Yeah, I have heard about your exploits, how you were a big thorn in Caesar's flesh.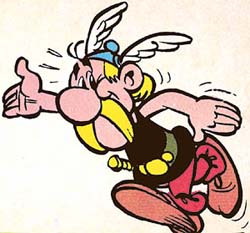 Asterix: I cut him down to my size. He came, he saw, he conquered all but my village in Gaul.
Tintin: I must admit that you give me an inferiority complex, sir.
Asterix: What complex? I guess it's not one of those lousy things designed by Roman architects.
Tintin: No, it isn't, I assure you. What I meant was that your heroic deeds totally outshine my own.
Asterix: Don't feel small, lad. You too are a hero. Is it true that without any magic potion, you hunt down bad guys the way my pal Obelix catches wild boars?
Tintin: It is not at all easy, sir. The crooks of the modern world are very crooked, very violent.
Asterix: I would love to show them the stuff I'm made of.
Tintin: You have no idea how dangerous they are, sir. If they are not stopped, the world will soon go to the dogs. (Dogmatix and Snowy bark in unison on hearing this derogatory remark).
Asterix: All the more reason for us to join hands. What do you say?
Tintin: It would be great to have you along on a top-secret mission. You see I am hot on the trail of the world's most wanted terrorist. His name is Sama B. Dalen, better known as Uncle Sam.
Asterix: I'm sure this uncle will find two heroes too hot to handle. Let's get cracking, by Toutatis!
Tintin: Don't shout, sir. This mission is supposed to be a hush-hush affair.
Asterix: Oh I'm sorry. I hope nobody has overheard all this.
Tintin: Just keep quiet and give a big smile to the visitors. Once this exhibition is over, we will start Operation Enduring Fun.
Asterix: Okay, mum's the word — even though I never had one.
Tintin: Neither have I.
Asterix: Et tu, Tintin? Then cry, Asterix. Boo-hoooo—
Tintin: Ssh!!!