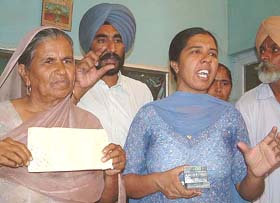 Veerpal's in-laws ready to accept her
Bathinda, May 30
Another twist was added to the story of Ms Veerpal Kaur, a resident of the district, who was allegedly deserted by her NRI husband, when her in-laws today refuted the allegations of dowry demand and said they were ready to accept her in the family.
(From left) Ms Harpal Kaur, mother, and Ms Balwinder Kaur, sister, of Mr Napinder Singh at a press conference in Bathinda on Friday. — Tribune photo Kulbir Beera

Dalit fears threat to life in Haryana
Dadwan (Dhariwal), May 30
Mr Harbans Singh, a Dalit youth from this village, feels insecure even in the presence of security guards, provided to him by the Gurdaspur police on the directives of the Punjab and Haryana High Court, whenever he attempts to go to Haryana to collect his cash and gold ornaments.
Ex-Dean threatened me: VC
Patiala, May 30
Punjabi University Vice-Chancellor Swarn Singh Boparai today accused a former Dean and senior university teacher, Dr Dalbir Singh Dhillon, of threatening him during a meeting with him yesterday and told the teacher that he would not be able to grant an audience to him in future.
DENTAL COLLEGE ADMISSION RACKET
Police gets university records
Mansa, May 30
The case pertaining to the admission racket in Khalsa Dental College, Nangal Kalan, took a new turn after the police succeeded in obtaining the records of Punjabi University relating to the admissions in the BDS course after making efforts to get the same for four years.


Cong leader's call to party workers
Faridkot, May 30
Mr Bal Mukand Sharma, vice-president, Punjab Pradesh Congress Committee (PPCC) and former minister, has exhorted party workers and leaders to sink their differences to strengthen the party at the grassroots level.


PSEB to save Rs 350 cr: Ratra
Amritsar, May 30
The Chairman of the Punjab State Electricity Board, Mr Y.S. Ratra, has said that the Board will save Rs 350 crore during the current year on account of improved efficiency and cutting down losses.
'Raju exploited Cable TV operators'
Amritsar, May 30
The Cable TV Operators Welfare associations today criticised the statements of Dolly, wife of Mr Sarabjit Singh Raju alleged prime accused in the multi-crore sex scandal scam.
Police remand for electrical inspector
Patiala, May 30
A local court today remanded Punjab Chief Electrical Inspector Tirlok Nath Sharma in police custody till June 4.
Sex racket: Chawla for CBI probe
Amritsar, May 30
"Shakti" an organisation of women has come to the help of the women victims of sex scandal. President of the organisation Mrs Lakshmi Kanta Chawla told newsmen that with the unearthing of the sex and extortion racket has brought into focus the plight of poor girls who became victims of machinations of the rich and the powerful who exploit them for business.
Report filed to rights panel in bribe case
Malerkotla, May 30
The state Vigilance Bureau has submitted its report to the Punjab State Human Rights Commission regarding the bribe money demanded by a doctor of the local Civil Hospital for the treatment of a patient.
Mann to meet Aziz
Phagwara, May 30
Mr Simranjit Singh Mann, MP, president, SAD (A) will soon meet the Pakistan High Commissioner designate, Mr Aziz Ahmed Khan. He said our party hoped that one day the Sikhs would directly deal with Pakistan diplomatically through Wagah without Delhi's meddling.
NGOs urged to check female foeticide
Fatehgarh Sahib, May 30
"Sex ratio in the state is a matter of concern and it is all the more alarming in the district, which has 751 females for every 1,000 males between the age group of 0-6, where as the ratio of state is 783, which is lowest in the country," said Ms Daisy Walia, district president of the Association for Social Health in India, while addressing a seminar organised by the association to create social and health awareness among women.


Illumination of 12 km of road is company's centenary gift
Ropar, May 30
As a novel gift to the people of the area and its employees Asron-based multinational company DSM Anti Infectives India on its 101st anniversary has decided to provide street-light on the 12 km stretch of the Ropar-Nawanshahr road from Ropar headworks to Paniali village.
Survey to identify physically challenged
Fatehgarh Sahib, May 30
The District Red Cross Society has initiated a special survey to identify the physically challenged in the district to provide them artificial limbs, tricycles, hearing aids and the other equipment to make them self- dependent, said Mr S.K. Ahluwalia, Deputy Commissioner.
33 pc seats for women in village poll
Faridkot, May 30
The district administration here has reserved 33 per cent seats for women, including that of Scheduled Castes category for sarpanches in 181 gram panchayats in Faridkot district.
CSIO Director opens conference
Fatehgarh Sahib, May 30
Dr R.P. Bajpai, Director, Central Scientific Industrial Organisation (CSIO), Chandigarh, inaugurated a two-day national-level conference on "Open Source Software and Technologies — Bridging the digital divide" at Baba Banda Singh Bahadur Engineering College here today.
BKU (E) to hold dharnas
Bathinda, May 30
The Bharatiya Kisan Union (Ekta) said today that it would hold dharnas against the anti-farmer policies of the Punjab Government, under which farmers of various villages were being arrested for not repaying the loans taken from agricultural development banks.
On alkaline water for seven years
Faridkot, May 30
As many as 8000 residents of Beehlewala and Maansingh Wala in this district have been drinking alkaline water for the past seven years. Three filters of water works at Beehlewala village constructed 25 years back, got damaged in 1996.
8-hr power supply for paddy transplantation
Patiala, May 30
The Punjab State Electricity Board (PSEB) has decided to start eight-hour uninterrupted power supply to Bathinda, Ferozepore, Faridkot, Muktsar and Amritsar districts from tomorrow to facilitate the early transplantation of paddy in these districts.
Poor seeds for contract farmers
Bathinda, May 30
Mr Ajmer Singh Lakhowal, state president of the Bhartiya Kisan Union (Lakhowal), said here on Wednesday the seeds being supplied to a section of farmers under the contract farming scheme were of poor quality.


Kashyap, Lakhanpal leave for USA


FCI official arrested
Bathinda, May 30
The Vigilance Bureau today arrested Gurjant Singh, a Technical Assistant of the FCI, posted at Kotkapura, for accepting a bribe of Rs 50,000 from rice mill owners.
Murder accused kills self, body found
Bathinda, May 30
Bhushan, a resident of Rampura town of the district, who was an accused of murdering one-and-half-year-old son of his friend, committed suicide and his body has been found from a distributary near Lehra Bega village.
PCMS opposes medical teachers on contract
Chandigarh May, 30
Terming the Punjab government's move to fill 400 vacant posts of teachers in various medical colleges in the state on contract basis as unjustified, the Punjab Civil Medical Services (PCMS) Association has said that this would go against the interest of the patients as well as medical education.
SHO 'beats up' student leaders
Sangrur, May 30
Leaders of the Punjab Radical Students Union (PRSU), led by Sanjiv Mintoo, state secretary of the union, today met the Sangrur SDM here and demanded strict action against the Bhawanigarh SHO Sukhminder Singh for keeping allegedly Bahal Singh and Harbans Sonu, leaders of the PRSU, in "illegal" custody last night and "beating up" them.
US scholarship for SLIET student