Harbans Lal's men hold protest meeting
Fatehgarh Sahib, July 9
Supporters of the sacked Minister Dr Harbans Lal, organised a meeting of party workers at Sirhind town today in protest against his dismissal from Cabinet as well as to extend support to the family.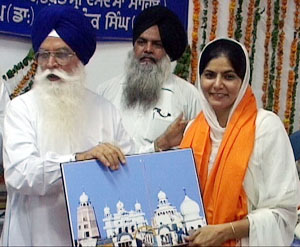 SGPC President Kirpal Singh Badungar honours Dr Barinder Kaur, Principal of Mata Sahib Kaur College, at Talwandi Sabo on Wednesday. — Photo Kulbir Beera
Punjab rejects Centre's formula on poverty
Chandigarh, July 9
Abandoning the earlier formula of declaring the families with annual income less than Rs 20,000 as the ones living below the poverty line ( BPL) in the rural areas, the Union Government has adopted new criteria to identify such families.
Sonia leadership issue 'not negotiable'
Chandigarh, July 9
The three-day Shimla summit has not only reaffirmed ideas, vision and the leadership of Mrs Sonia Gandhi but given a categorical message to people of the country that if the Congress returns to power with or without coalition partners , she will be the Prime Minister.
PSU sell-off 'under review'
SAS Nagar, July 9
The Finance Minister, Punjab, Mr Lal Singh, announced that the recommendations of the Punjab Public Sector Disinvestment Commission were being reviewed, after which only five of the 29 public sector units (PSUs) recommended for disinvestment would be up for sale and the remaining would be put back on the track.


HIGH COURT
'Murdered' man walks into court
Chandigarh, July 9
Nearly 17 months after Jharkand resident Rakesh Mirdha, working in Batala district, was "murdered" for having "illicit relationship" with two girls, the "deceased" today walked into the Punjab and Haryana High Court seeking security cover.
PSEB staff unions withdraw strike call
Patiala, July 9
All employee unions of the Punjab State Electricity Board (PSEB) have decided to withdraw the two-day strike slated for July 9 and July 10 following talks held between the board management and the unions recently.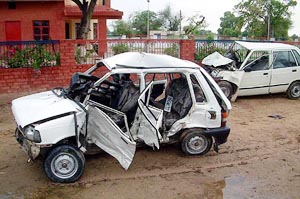 Two cars stand damaged after a collision near Kot Shamir village, 12 km from Bathinda, on Wednesday. One person was killed and seven others were injured in the accident. — Photo Kulbir Beera
Vigilance for withdrawing reinstatement orders
Chandigarh, July 9
The Punjab Vigilance Bureau has sought the withdrawal of the reinstatement orders of two officials of the Punjab Nursing Council, who were placed under suspension following their arrest in a question paper leakage case.
Punjab finalises raj samman scheme
Chandigarh, July 9
The Punjab Government has finalised an ambitious raj sanman fellowship scheme for honouring eminent persons for their valuable contributions in the fields of art, literature and culture.


Mentally sick chained for 3 years
Sangrur, July 9
Mr Bikar Khan (35), a patient of psychiatry chained to a beam in a room for the past three years in Badrukhan village near here, was brought today to the local Pingalwara, a branch of the All-India Pingalwara Charitable Society, Amritsar, by the Pingalwara authorities, including Mr Tarlochan Singh Cheema and Mr Rajesh Kumar, honorary chief administrator and branch incharge, respectively.
Hospital is their home for the past 58 years
Amritsar, July 9
Two mentally challenged persons, Sawan Singh and Rama both in their 90s who were admitted to a mental hospital (Borstal Institute) in Lahore before Independent, are still in the Dr Vidya Sagar Mental Hospital, where they were shifted after the partition.
Talhan: SC panel for action against erring officials
Jalandhar, July 9
Mr Bijay Sonkar Shastry, Chairman of the National Commission for Scheduled Castes and Scheduled Tribes, today said he would ask the Punjab Government to take stern action against those officials, whose laxity led to deterioration of situation in Talhan and caste clashes.
Cultural troupe back after winning hearts in UK, France
Amritsar, July 9
The college girls cultural contingent won the hearts and acclaims during their 14-day tour to England and France. The Principal of the BBK DAV College for Women, Mrs J. Kackria, who led the cultural troupe was accorded a warm reception at the college campus here today.



College girls wave to the crowd on their return to Amritsar on Wednesday, after a two-week cultural tour to England and France. — PTI photo
Firing incident: clean chit to cop
Patiala, July 9
Despite a complaint filed by Punjabi University that a Punjab police Inspector had fired rounds in the air after consuming liquor outside hostel number six at around 2.45 am on Monday, the local police has given a clean chit to Inspector Manmeet Singh Dhillon. It claimed that investigations had revealed that a single shot had been fired "accidentally" on the occasion.
Kurali to have dairy development centre
Kharar, July 9
The Punjab Government has chalked out a comprehensive plan to develop the villages in the state as model villages. This was disclosed by Mr Jagmohan Singh Kang, Animal Husbandary, Dairy Development and Fisheries Minister, Punjab, while addressing a function organised at Morinda to felicitate the newly elected panches and sarpanches of Morinda block.
Corporators take Commissioner to task
Patiala, July 9
The general house meeting of the Municipal Corporation today saw corporators taking the Municipal Commission to task for passing a water chlorination work order by keeping the Mayor in the dark, besides demanding the later recommend suspension of water supply Executive Engineer M.M. Syal.
Bitta opposes Lahore bus service
Amritsar, July 9
Former Youth Congress President Maninderjit Singh Bitta today favoured bullet-for-bullet policy in Kashmir to fight the Pakistan-sponsored terrorism.
Stop harassment of doctors: IMA
Phagwara, July 9
A delegation of the Indian Medical Association (IMA), Punjab, led by its state president, Dr Kuldip Singh, yesterday called on the Punjab Chief Secretary, Mr Rajan Kashyap, and the DGP Punjab, Mr M.S. Bhullar, and apprised them of the incidents of harassment of doctors in the wake of the death of a patient and the subsequent registration of a case against the doctors concerned under Sections 304 and/or 304-A of the IPC.
Choe breaches not plugged
Hoshiarpur, July 9
A portion of a mini bypass constructed on the left side of a protection guide bundh on the Nasrala choe between RD 9000' to 10000' was washed away during the recent floods in the choe causing the suspension of vehicular traffic.
2 women electrocuted
Sangrur, July 9
Three people, including two women, were electrocuted in two separate incidents during the last 24 hours.


Surprise check by DC
Kapurthala, July 9
The Deputy Commissioner, Kapurthala, Rakesh Kumar Verma, today conducted a surprise check on the District Transport Officer (DTO) and found many discrepancies in the functioning of the department.
Punjab adopts Singapore sanitation model
SAS Nagar, July 9
Punjab has decided to go the Singapore way in ensuring that citizens don't taking it easy when it comes to sanitation and public health. Issuing fresh instructions for the implementation of the Punjab Municipal (Sanitation and Public Health) Byelaw 2003, the Department of Local Government has asked various municipal bodies in the state to fine up to Rs 1000 for every violation of the law and up to Rs 500 per day for regular violation.


Rice mill owner arrested
Kapurthala, July 9
The police today claimed to have arrested an owner of Zamindars Rice Mills Dhilwan on the charge of committing a fraud of Rs 50 lakhs with a government-owned procurement agency.
Two booked in murder case
Kapurthala, July 9
The police has arrested Gurdeep Singh and Arwinder Kumar, both of Bholath village involved in the murder of Amru, a married woman of Ibrahimwal village in Bholath police station.
Drug addict kills nephew, injures sister
Patti, July 9
A drug addict Harjit Singh, resident of this border township killed his nephew and injured his sister here.


Teachers fail to spell 'tuition'
Kharar, July 9
Imagine the state of the higher education in government schools in Kharar, where a majority of teachers in high schools cannot spell the word "tuition" correctly.
School staff seek salary
Nawanshahr, July 9
The Democratic Teachers Front and The Ministerial Staff Union respectively in separate press statements issued here on Tuesday have said that salary bills of thousands of teaching and non-teaching employees of government schools in the district were not being entertained by the local Treasury officer, Mr SN Makker.