Singled out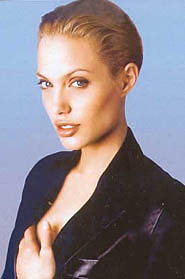 Angelina: Back in circulation
She has been red-hot property after Lara Croft Tomb Raider. Daughter of Oscar-winning star Jon Voight, she is already in the Hollywood hall of fame for her stunning performance in Girl, Interrupted that fetched her an Oscar too.
But three years ago, when Angelina Jolie eloped with actor and writer Billy Bob Thornton, who at 44 is 20 years her senior, it was the start of a nightmare for her family.
Ever since then the media has indulged in slander, dubbing it as Americaís most dangerous marriage. It was a weird union where the two slung thick chains around their necks with lockets containing each otherís blood. One of their prized pets was a garden rat. Angelina gifted Bob a tombstone for his birthday.
Not just the family, entire Hollywood was scandalised by their dalliances. The marriage affected her career as she stopped accepting movies.
Now, comes the divorce that everyone expected. And Jolie is once again concentrating on her films. But more importantly, as she says, "Iím single and ready to mingle".
My left foot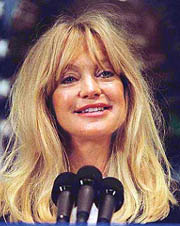 Goldie: Bootís on the other foot
Though he may be an on-the-go actor, when it comes to keeping his live-in lover Goldie Hawn happy Kurt Russel is all at sea. Or so he discovered on a recent trip to Toronto, where Goldie stopped at a sleek shopping mall.
After two hours, Kurt was so exasperated that he left her in the mall and headed straight back to the hotel. But the actress ran after him and the two disappeared in a haze of dust in their swank limo.
Next day, Goldie discovered that she had walked out of the shoe store in such a hurry that sheíd picked up two left foot sandals. No one knows for sure where she threw them. Perhaps at Kurtís face.
Scent of a woman
In his new book Star Material, Kiefer Sutherland says that the best role he ever played was in the 1999 hit Woman Wanted opposite Holly Hunter.
"I was thrilled to be offered the role of a city-slicker who cons women and then leaves them heart-broken. I loved playing this role. It was so unusual, so original."
There are other reasons he enjoyed doing the film, quips a studio hand," Heís been playing this kind of a role in real life as well!"
The trailer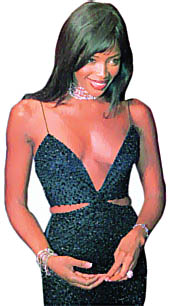 Naomi Campbell: cozy relationship
Action superstar Jean_Claude Van Damme and supermodel Naomi Campbell have started to share a snug relationship. The two have ensured that they stay within sight of each other now that they will feature in Van Dammeís directorial venture Night Attack.
The offer to act has made Campbell ecstatic and the two seem to be acting out their love scenes before the film has started. They have been spotted together in New York and of all the places in Hong Kong where they went searching for locations.
He and Campbell share some common interests though. One being their interest in investing in restaurants. While he has bought a Planet Hollywood franchise, she is already involved with her Fashion Cafe eatery with supermodels Claudia Schiffer and Elle Macpherson. Now thatís having the pie and eating it too.
Warren beautiful
Warren Beatty, though never quite a shooting star, had always been one of the Hollywood steadies so far as his career went. But right now even he is worried about the future. His despondency stems from his last flop, Bulwurth opposite Halle Berry.
Beattyís despondency is understandable. A lot of effort had been put in to make him look better, younger. There was the soft focus, the careful lighting that went easy on his wrinkles during close-ups.
Though all that failed to make him look beautiful it failed to raise his stock. The Irving J. Thalberg award winner and once contender for US. Presidency is now being laughed at in Hollywood circles, not because his film went down, but for his not-too-successful effort at looking young.
Newsmen Features