M A I N N E W S
USA, Canada plunge into darkness
New York, August 15
Some 13 hours after the major electricity failure in the northeastern USA, New York, and southeastern Canada, power was slowly being restored to some areas in the early hours today.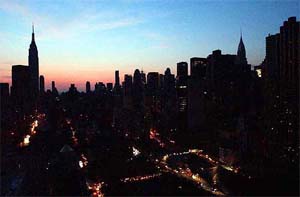 Cars try to navigate way through New York City during a blackout that hit steamy US and Canadian cities on Thursday. — AP/PTI photo
US television news channel CNN reported that lights were starting to come back on in parts of Manhattan about 5.00 am (2.30 pm IST).
The New York subway system was not expected to be operational in time for the morning rush hour and New York Mayor Michael Bloomberg advised commuters to stay home from work on Friday.
Many commuters never made it home the evening before as the electricity blackout struck shortly after 4.00 pm (1.30 am IST) just before the rush hour.
While hundreds of thousands took to the streets and walked home, television pictures from New York showed many people sleeping the night in subway stations and hotel foyers.
Initial fears that the power grid had been struck by terrorists were quickly ruled out.
Despite echoes of the terrorist attacks of September 11, 2001, the city remained calm. Only isolated incidents of looting were reported, in marked contrast to the last major power outage in New York in 1977 which saw widespread looting over more than 24 hours.
According to media reports, up to 50 million people in the USA and Canada were affected by what is being described as the biggest power failure in the history of North America.
Reverberations of the power failure were also felt around the world as flights to and from the affected area were cancelled or diverted.
The cause of the massive collapse of the power grid, from Ottawa in southeastern Canada, as far south as Pennsylvania and west to Ohio, was still unclear on Friday. The Niagara Mohawk Power Corporation announced its power grid was overloaded.
US President George Bush called for modernisation of the electrical grid, which experts declared to be antiquated, given the technology-driven surge in demand.
But as the root of the blackout was being investigated, US and Canadian officials traded blame for the failure.
The office of Canadian Prime Minister Jean Chretien said a lightening strike or fire at a power plant near Niagara Falls, New York, caused the blackout but US officials denied the possibility and said the blackout began in Ottawa.
It could take days for investigators to pinpoint the cause of the problem that spread over the interconnected, cross-border electrical grids, experts said. — DPA