SCHOOL BUZZ
Burning issues come under scanner
Smriti Kak
Blue Bells school beat 28 other schools to win the 1st Dr Amidas Goradia Inter-School Debate. Dr Goradia scored the highest marks in the first five-year degree course in Allopathic system of medicine in 1858, making him the first doctor to qualify in India.
Organised by the Indian School, the debate saw students put forth their views on issues like 'Gender equality is a myth even today', 'MTV, 'Mixed values and materialism-the new mixed generation' and 'Indian nationalism is not an illusion'.
Sarthak Prakash and Aparna Mudiam of Blue Bells were the best team and were followed by Utsav Das and Anirudh Sharma of Air Force Bal Bharti, Subroto Park.
The best speaker trophy went to Bini Philips of Mater Dei, Aman Kumar if Springdales, Dhaula Kuan and Aakriti Pahwa of the Indian School were first and second runner up.
The best interjector trophy was bagged by Payal Bathija of Blue Bells. Certificates were given Shahana Sheikh of Sardar Patel and Shruti Goyal of Jesus and Mary.
Comonomics Carnival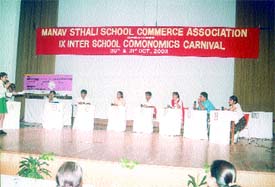 Students participating in the 'Comonomics Carnival' organised by the Commerce Association of Manav Sthali.
The Commerce Association of Manav Sthali school organised the 'IXth Manav Sthali Annual Inter-School Comonomics Carnival'. The two- day event saw participation by 38 leading schools.
The carnival was inaugurated by the country head, Samsung Telecom, Mr Anuj Kapoor. He dwelled on the issues of concern under the WTO and applauded the students for their in depth knowledge of issues related to the WTO and the ability to discuss them.
The carnival provided a common platform to the students to interact on current developments in the field of Commerce and Economic. HAM or 'Half-a-Minute', was where students tried to out wit each other. Other events included panel discussion on WTO, seller to customer (S2C), based on creativity and salesmanship and ad-mart, the ability to churn out winning advertisement.
Ms Vijaya Ghose, editor, Limca Book of Records, was the chief guest on the second day. Tushar Arora of the host school stood first in the panel discussion, followed by Pavini Singh of Sanskriti School and Shatnam Ray of Gyan Bharti.
In HAM, the first prize went to Manvi Jain of the host school, while Kthyati Gupta of St. Thomas and Aditya Pujari of Sardar Patel Vidyalaya won the second and third prizes respectively.
In S2C, the first prize went to Sonam Jain and Yoshit Bhamba of St. Thomas, Pulkit Khanna and Kriti Awasthi of Sardar Patel Vidyalaya and Nakul Kapoor and Sujoy Jain of the host school were the other winners. In Ad Mart, Mehak Thareja of the host school shared the first place with Vidit Narang of DPS, Dwarka, while Kunwar Ankush of Gyan Mandir and Meenakshi Bansal of Mont Fort bagged the second and third place respectively.
e-learning for schools
Mysmartschool.com online interactive virtual school has collaborated with the Indian School to provide Computer Aided Learning (CAL) and e-learning for all classes and disciplines. This collaboration provides comprehensive e-learning to students at the school level in India.
Mysmartschool.com is a beneficial tool that helps the school students, teachers and parents as it provides a unique virtual lab feature, which comes with chapters on Physics, Chemistry, Biology and Mathematics, where concepts can be visually explained.
Speaking on the occasion, Mrs. Anjali Roy Choudhary, managing director, Super Infosoft said, "Mysmartschool.com is a beneficial tool with unique features like provision such as online examination system that helps teachers to carry out regular evaluation of students. The generation of question papers and its results are done within a few seconds. Question bank can be prepared not only in English but also in Hindi. Online contests, cultural results and performance tracking and global languages also form a part of the website".
The portal provides Computer Aided Learning (CAL) and e-learning for all classes and disciplines. Under this synergy, computer labs of schools have been divided into three levels, namely pre-primary, primary and senior labs.
Sangathan at Amity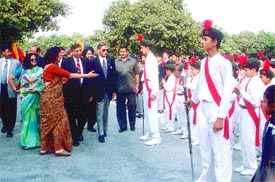 Students of Amity presenting a guard of honour to Dr Ashok Chauhan, founder-president of the institute.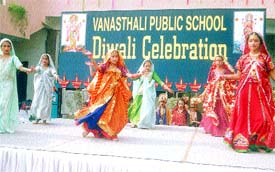 Children of Vanasthali School, Madhu Vihar, performing a cultural programme as part of the Divali celebration.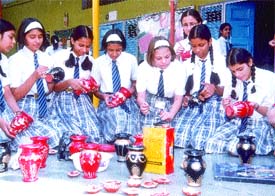 Participants at a workshop organised by Bal Bhavan, Laxmi Nagar.
The valedictory session of 'Sangathan 2003', the founder's day celebration, was held in Amity Campus, Noida, with over 1,800 students participating in various events, including basketball, squash, karate, judo, cricket and other sports to take home the trophy.
Students from the primary, secondary and higher sections came together with folk dances and other events. The exuberance of the students was matched by that of the school management that joined in the celebration.
Divali creativity
Bal Bhavan School, Laxmi Nagar, organised a workshop for children wherein they were taught the art of making diyas and candles. Students of classes V to VIII participated in the event.
Apart from lamps and candles, the students were also taught to make greeting cards. Students enjoyed making candles from the moulds and also kept their promise of saying no to crackers.
In Vanasthali School, Madhu Vihar, students decorated the building with hand made festoons.
The chairman of the school performed a 'Laxmi Poojan' and cultural events highlighting the life of Lord Ram were also staged. Students also participated in Rangoli competition, deepak decoration and card making contests.