Hamara School
Where games are must for all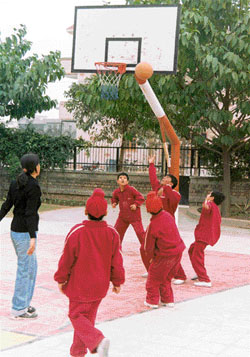 Students of Shemrock Senior Secondary School, Mohali, play basketball on the school campus.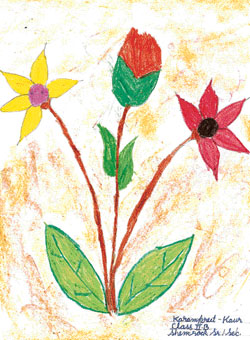 Karampreet Kaur, II-B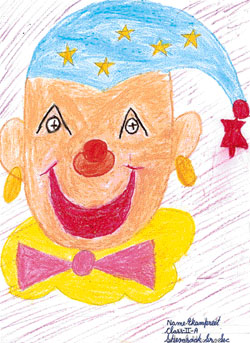 Ekampreet, II-A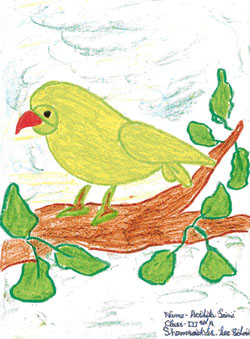 Aeshita Saini, III-A
SHEMROCK Senior Secondary School, Mohali, is part of chain of Shemrock schools. It is a young school which started functioning on April 1, 2002. Located on a vast area of 1.6 acres in Sector 69, the school is built on the most modern concepts, suitable for perusal of education in stimulating environment. The building is open, airy and functional. The aesthetic appeal of the school campus has been well taken care of.
Presently, the school has classes from pre-nursery to Class V. The school is being upgraded every year with Class VI being introduced from April, 2004.
Shemrock stands for a colossus on a bed rock of long years of innovative teaching coupled with gentle care for children. Shemrock is characterised by ever producing better results.
The foundation of the adult personality is laid during the school age. The environment during the most elastic and impressionable period provide the experience for physical, intellectual, aesthetic, emotional and social development. The educational system should enable the child to cope with the ever growing challenges of life. Shemrock aims to provide these experiences through creative and modern education the school's inspiring and caring environment.
The school is managed by a team of dedicated and qualified educationists and academician for whom the very mission in life is to emit pearls of wisdom and metamorphose their pupils into proud citizens committed to the concept of excellence and all-round disciplined environment.
The school endeavors to develop strong value system and character of each child. The school emphasises on self-discipline more than authority and encouragement more than punishment. The school has commitment to innovation and the best contemporary practices.
Games are compulsory for all children to gain the advantages accruing out of them. Games not only improve the physical appearance and functioning of internal system — digestive, respiratory and cardiac — but also improves the basic character/personality by imbibing the qualities of team spirit, capacity to share, respect for others, seriousness of purpose. They also teach equanimity to accept victory and defeat as they come and sportsmanship – true sportsmanship is not being better than others bit it is to better ones own achievement in every venture, every situation. There are qualified coaches training children for handball, basketball, table tennis, taekowondo, carom and kho-kho.
The children take part in maximum activities and competitions, may these be calligraphy, poetry recitation, declamation, kho-kho, football, volleyball, maths-olympiad or quiz. This is being done to train them to win/lose without losing balance of mind. One fails more often in life than one succeeds. Failure should not dishearten an individual. One should take failure in ones normal stride. And this can be taught only by making children participate in many activities. Getting upset after losing is natural but the important thing is the time taken to become normal – lesser the better.
Tours and treks are in built in the school routine. Children go on tour and treks, which are compulsory for students for particular age group. This is done to ensure that children learn self-help and also to gain confidence to solve any problems, to "win" over any situation. During winter vacation, the students went to a tour to New Delhi, Mathura and Agra. On the way they visited historical places at Kurukshetra and Panipat.
There is in-built programme for hobbies for each child. Children must know how to fruitfully employ themselves by following a pursuit other than which they normally pursue. Computers from Class I onwards keep students in line with the times. The multi-coloured library tables, designed in shape of books with colourful chairs attract students to read books – so necessary to expand awareness.
The importance and utility of computers in today's scenario and in the environment of tomorrow is unquestionable. It is said: "Computers will rule the world". The school has latest computers with coloured monitors and multimedia system to prepare computer whiz kids of tomorrow. Music is in built in the regular time table. Music integrates personality.
Hobby classes are another regular feature of the school. Hobbies offer to students freedom to express themselves, leading to a sense of accomplishments and also providing a pleasant past time. The children do not have to bring hobby material. It is provided by the school.
"Quality" than "quantity" work is the aim. What purpose gets served when a student does page after page of homework with help of parents? At Shemrock children of Classes I to III generally finish their homework in school itself. Parents are requested and made to realise that they should not teach their wards at home nor send them for tuitions as they become too dependent on outside crutches. It is felt here that academic pressure on a child who is less than 12 years, saturates him soon and slows him down and makes him disinterested in studies, later which is a common sight today.