TELEVISION
Of corporate control & star trek in the desert
One from the heart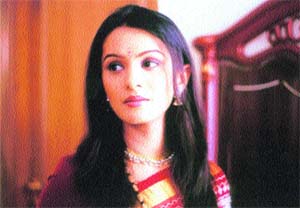 Pallavi as Karishma in Kehta Hai Dil… Spreading magic.
KARISHMA may not be the favourite word at Sahara Manoranjan but it sure is spreading magic at Star Plus. Pallavi Kulkarni who plays Karishma in Kehta Hai Dil is over the moon as the serial's popularity pushes northwards. " I am overjoyed with the way my character has shaped up. I have a lot to thank God for," says Pallavi.
Indeed she has. Life took a dramatic turn when this hotel management graduate got her portfolio clicked by Gautam Rajyadhaksh. Assignments started rolling in instantly— LG, ICICI, Cadburys, Kodak, Nerolac, Dabur Amla, Limca and more. And then came Had Kar Di, Aaj Bhi Ateet, Kya Hadsaa Kya Haqeeqat and now Kehta Hai Dil.
But Pallavi says she's had her heady tryst with stardom and is now slowing down. " I am only doing Kehta Hai Dil which occupies me for 15 days a month."
What about the remaining 15 days? " Oh, those are for myself. I do ads, read a lot, spend quality time with my family and catch up with friends. I don't want work to burn me out." Which is why she is cold to the idea of hot new offers.
Business of films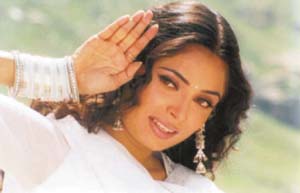 Scene from Sahara-produced Sheen... Corporatising
The coming years in Bollywood are going to witness not just star wars but also corporate clashes. Led by Sahara Manoranjan, a number of television and media companies are entering the realm of film production.
After Zee Telefilm's Gadar, it is now the turn of Sahara India which has produced Sheen on the pain and agony of victims of terrorism. It is also presenting Ram Gopal Verma's Ab Tak Chhappan. The company has commissioned around 15 more film projects.
Applause Entertainment, a media company floated by the A.V. Birla group is creating ripples by producing two big-budget starers—-Dev and Sanjay Leela Bhansali's Black. Though the first film by Tata Infomedia, Aetbaar couldn't set the box office on fire, the company has ambitious plans. Reliance Infocom too is planning to enter the tinsel town in a big way. And why not? With some 1,000 multiplexes coming up around the country, corporate giants are eyeing the huge potential of instant name, fame and moolah.
Not on cue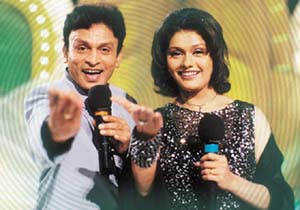 Antakshari: New wine in old bottle.
It may be well past its prime. A considerable amount of its urban viewership may have chipped off and it may have lost its freshness. Yet Aantakshri in it's eleventh year is still on-air and still popular in rural India. Aired Fridays at 8.30 pm on Zee, there now seems a renewed effort to once again attract the all-important city eyeballs—-the real yardstick that decides ad support.
So in come sections like Musical chair , Parde Main Rehne Do and Bonous Dhun. Alas, all old hat. Someone ought to tell the producers that Antakshri was a good idea when it came, it had a good run and now it may time to say alvida.
On his own terms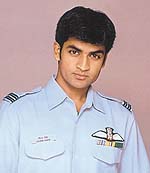 Manish in Sara Aakash: What women want
He's getting a reputation of being a no-nonsense star. Delhi boy Manish Goel sure doesn't mince words where roles are concerned. When he felt that his part was sagging in Sara Aakash he simply gave the makers a piece of his mind and walked out of the serial.
Manish who shot to fame with Dil Le Gayi Kudi Gujarat Di says, " The focus started shifting to just a few actors. What started so promisingly began degenerating into a mushy soap. When the serial makers didn't listen to my protests I opted out."
With hits like Just Mohabbat, Hip Hip Hurray, Aahat, Yeh Hai Raaz, Kahani Ghar Ghar Ki , Kasautii Zindigi Kay and Bhabi to his credit, Manish has just the right credentials and confidence to walk out in protest. But it's not with just Sara Akaash. The star feels the general focus on TV is shifting to female actors. " Scripts are being specially written for women. That's because a majority of viewers are women." Sure Manish. Didn't you know, Kudiyon ka hai zamaana!
Taking up the call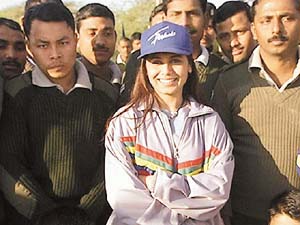 Rani with the troops: Morale booster.
She might have refused his invitation to go to Khandala. But now Rani Mukherjee is following the footsteps of Aamir Khan and has been busy regaling Indian troops.
Jai Jawan ll on NDTV India and NDTV 24X7 takes a trip to the hot sands of Rajasthan where soldiers on the border get the chance of a lifetime to meet the Rani of Bollywood.
If Aamir showcased his cricketing skills in Kargil, Rani displays her deft ability with a throw ball leading her team to an impressive win. She also cooked her favorite Bengali dishes at the langar and tried her hand on a machine gun and took a ride atop a tank.
Rani made it a special day not just for the soldiers but also their wives whom she met in Jodhpur. " It was a journey of a lifetime. I will cherish every moment of it," says Rani almost sure of walking away with the award of the best television event of the year.
Script for success
He calls himself the most under-rated star on TV. An underdog as far as performance appreciation goes. That perhaps explains why Varun Badola, who plays the lead in Desh Mein Nikla Hoga Chand on Star Plus and Aastitva on Zee TV is looking to pastures new.
Instead of the grease paint, Badola is now putting pen on paper and scripting his own film. Yes, the star says he wants to take control of his destiny and make Bollywood his destination.
"I should be forgiven for having an actor's ego," admits Badola. Despite good cameos in Banegi Apni Baat, Koshish—Ek Asha, Star Bestseller and the currently running Desh Mein`85and Astitva he's going to become very choosy form now onwards.
"Sure, I am open to all challenging roles on TV but till those come along, I'd at least like to call the shots on the big screen." Ever heard of putting the cart before the horse? — Newsmen Features