The trailblazer tycoon
by Parshotam Mehra
(JRD's intriguing & insightful letters)
Edited by Arvind Mambro. Rupa & Co. Pages 504. Rs 495.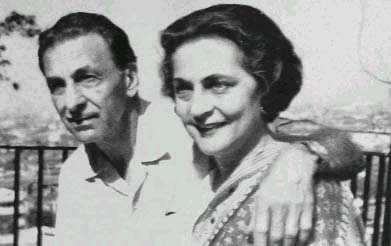 J.R.D. with his wife, Simone Tata
Few men in Indian public life in the recent past have left such a deep, indelible imprint as Jahangir Tata, 'Jeh' to many of his friends but perhaps best known by his initials JRD. Scion of a distinguished Parsi family, JRD (1904-93) was at the helm of affairs of one of India's largest industrial houses for the best part of the 20th century. An active Chairman of Tata Steel and later of Air India International, he had a wide sweep of interests amply demonstrated by this wonderful collection of his 300 odd letters.
Apart from politicians and statesmen such as the Mahatma, Nehru, CR, Patel and Indira Gandhi, JRD's friends and acquaintances included Henry Kissinger, Chester Bowles, Yehudi Menuhin and David Rockefeller. And nearer home Homi Bhabha, VKRV Rao, P.N. Haksar and Malcolm Adisehia among a host of others.
It would be difficult to pick and choose from a collection as rich and varied as this, and the few listed are by no means representative of the whole. Writing to General (later Field Marshall) Cariappa, JRD bemoaned our inability "to differentiate between what is important and urgent and what is not so that one hears as much about prohibition, urine therapy and Coca Cola as about rural development and finding employment..." Invited by David Rockefeller to serve as a member of the International Advisory Committee of the Chase Manhattan Bank, JRD was characteristically modest.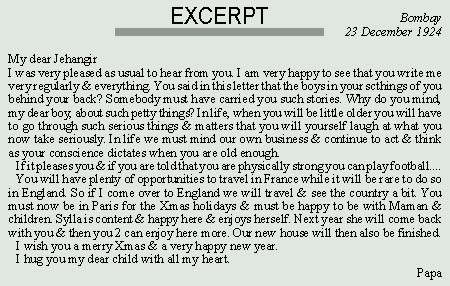 "I know that I shall greatly enjoy meeting and talking with such a distinguished group of men and that I shall myself gain much from attending these meetings." In a letter to Henry Kissinger in the wake of the 1971 war, he strongly repudiated the suggestion that but for US intervention, New Delhi was all set to launch an attack on Western Pakistan in the aftermath of its victory in the East. "I still believe", he told his correspondent, "that no such adventure was seriously contemplated." When Russy Karanjia, editor of Blitz, invited him " to renew our old contacts", JRD ruled it out as a futile exercise. "There is such an abyss between what you and I stand for", he wrote, "that we would only waste each other's time". Life is short and difficult as it is, he added, and there is enough tension between peoples and individuals "without creating occasions to add to it."
Despite its large, and not easily manageable size, and its weight that easily exceeds a kg and more, here is a delightful compendium which the combined efforts of the editor and the publisher have put together. Whatever one's field of interest — economics, politics, industry, aviation, and management — one or the other of the seven sections into which the letters fall should answer the needs of most readers. One marvels the sterling qualities of their author: his kindness, forthrightness, sense of humour, deep concerns as a citizen, the values he lived by and the catholicity of his tastes and personal interests.
The editor, Arvind Mambro is associated with the Tata Central Archives while R.M.Lala who appends a brief introduction, is a biographer of JRD. His study, Beyond the Last Blue Mountain makes for excellent reading. As does this collection.