Tuesday, September 21, 2004
STEPS TO SUCCESS
"Patience and hard work help in long run"
Manoj Kumar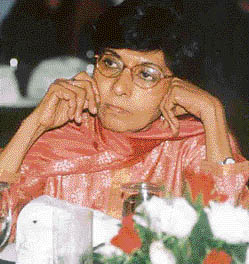 Bondana Dutta, Director (North and Eastern Region), CRY
BONDANA Dutta, Director (North and Eastern Region) of the— Child Relief and You (CRY), says, "CRY has given a new meaning to my life and me a mission to work for the rights of the children."
CRY is an Indian trust that has been working for underprivileged children for the past over 25 years. It has transformed the lives of over a million Indian children by supporting more than 200 local communities besides working for a change in the laws and policies that affect children.
Dutta, a graduate from Mumbai University, worked at the Mother Teresa's Centre before joining CRY about 18 years ago. She says, "I wanted to work with an organisation whose impact was quite visible in society. That's why I joined the CRY, which was a very small organisation at that time. Though we used to face a financial crisis almost every month at the time of salary payment, I enjoyed my work."
The turning point in my career
She narrates a small incident that had a major impact on her life.
"About sixteen years ago, while working with CRY, I had gone to Ferozabad in UP regarding a project for children working in the bangle industry. While visiting some localities, I met a boy, aged about 7, who worked in a small unit. I was so disturbed when I looked into his eyes. There was no expression, no dream, no hope for the future. I was shocked at how a small child like him could be so expressionless and without any smile.
"I tried to remember my childhood while standing there. Usually, children his age are full of energy, but here was a child before me who had no future. I have not forgotten his eyes till today. They haunt me, and force me to rededicate myself towards my work whenever my spirits are low.
What I learnt from the experience
"At first I felt very bad about this experience and was quite angry for some time. But after thinking it over, I decided to devote my life to the cause of these children. I have experienced many challenges and difficult situations in my career, like how to keep talented people with the organisation and motivating people to contribute to the cause of children. But I think that particular incident posed the biggest challenge to me and proved to be a turning point.
My role model
"Whenever we approach people, some of them say why should they take up the responsibility of poor children when their parents failed to adopt family planning measures? But experience has taught me that they will respond positively if you are able to convince them about the genuineness of your work and institution.
"I have also learnt from many people and incidents that patience and hard work definitely pay in life. Besides common people, I have been deeply influenced by late Rippan Kumar, founder of CRY, who encouraged us to work for underprivileged children without any discrimination and despite all odds. I now firmly believe that despite the indifference shown by government agencies, it is our duty to take care of children's basic rights — survival, protection, development and participation," she adds.