fiction
Worth the money
Gayatri Rajwade
Q AND A
by Vikas Swarup. Doubleday. Price. 395. Pages 302.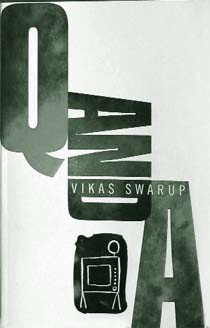 Itís an enthusiastic debut worth devouring. The author seems to have taken inspiration from the fantastical, unreal plots of Hindi films that captivate and enthral millions.
Drawing from potboilers of the 1970s and commingling it with the small screenís Kaun Banega Crorepati, Vikas Swarup weaves a delightful yarn. With an easy style reminiscent of the New York Times bestseller The Curious Incident of the Dog in the Nighttime by Mark Haddon (incidentally this book was also published by Doubleday), Q and A is sweet, sorrowful and funny.
It is a chimerical fable of a young boy, Ram Mohammad Thomas, who is arrested for winning a quiz show that promises the winner a billion rupees as prize money.
How can a young orphaned, uneducated waiter at a bar possibly know answers to the varied questions so as to win a contest of such magnitude? This is what the police ask him when they take him away for questioning in the middle of the night. With each chapter, the answers are unfolded. As the stakes in the show get higher, Ram Mohammad Thomasís dappled life gets unravelled. The answer lies, perhaps, in the protagonistís belief: "I begin to think of myself as a mongrel peeping through a barbed window into an exotic world, which does not belong to me."
Swarup offers different shades of life. He talks of poverty and the will to survive by relishing each experience of existence. "I had only Rs 50,000 but every rupee had a technicolour dream written on it and they stretched out on a cinemascope screen in my brain to become 50 million."
Written as a first person account, the book combines a series of coincidences that flow from one unbelievable quest to another, some tumultuous, some exhilarating. And laced with masala from Hindi movies, thereís the fate-determining coin that reminds one of Sholay, and there are glimpses of the eternally suffering mother, tragedy queens, dacoits and war.
With these hackneyed images of movies are whimsical tales etching fragments of the real world of homeless children, incestuous fathers and hopeless love. The endearing tales of Ram Mohammad learning how "to do barbies and make fondue" and the way he shows off the new Kasio watch to the girl in the blue salwar kameez ó all make for a heart-warming debut fiction.
Swarup intersperses his pages with small eager stories of loving and significant sacrifices.
The book may not be sending any deep messages but it stays with the reader for its remarkable and magical story of a young boy who believes that "a waking dream is always more fleeting than a sleeping one."
To write anymore would kill the curiosity of the reader. So go ahead and read this enchanting tale of the good over the baneful.