Punjab's Unhoye
Roopinder Singh
The Survivors
by Gurdial Singh. Translated by Rana Nayar. Katha India Library, New Delhi.
Pages 248. Rs 250.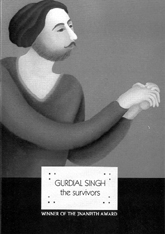 Gurdial Singh is now a much acclaimed writer and winner of Jnanpith Award. Much of his life, this was not so—he is very much a son of the soil who struggled as a school teacher, taught in college and then became a professor at the Bathinda Regional Centre of Punjabi University.
He has written nine novels, with and his first one, Marhi da Deeva, has been much acclaimed. Besides novels, he has published 11 compilations of short stories, three works of prose, three plays and eight books for children.
Unhoye is his second novel. First published in 1966, it is a moving story of two brothers, Bishna and Bhagta, and their confrontation with the blunt edge of the pre-Independence colonial state in the readily recognisable form of a self-important puffed up thanedar and constables. The latter have been sent to evict Bishna, the elder brother, from his home, a move that he and his wife, Daya Kaur, resist.
Bishna later confronts self-important and pompous local dignitaries. He can't but help remember their origins, the unholy way in which they got to the stage of being minions of the administration. In rural India, there are no secrets and memories are long, often unforgiving. The novel is set in Mandi, a town in the Malwa region, but the ambience is rural.
Such minions as vazirs and chaudhris dispense flawed justice. Bishna is outspoken and for this he is not forgiven. In a short order, he is imprisoned, along with his brother. All attempts by Bishna to say that he alone is the culprit and not his younger brother fall on deaf ears.
The relationship between the two brothers, who are carpenters by trade, is already strained since the two sisters-in-law can't get along. Daya Kaur, giving and loving, whereas Kartari is quite the antithesis of these virtues. The split scars both families, while subsequent imprisonment adds to the strain.
What comes across powerfully in this book is the author's grounding in the harsh realities of life, in the dynamics of relationships as they work at the very basic level—love, greed, jealousy, hatred, longing. The reader feels them all, mostly in a raw, unalloyed form. Another confrontation, another jail sentence, the brothers drift further apart.
Budha, a sidekick who is much more, Hetiya, a self-trained accountant with a dream and a secret, Santu and his family adopting Bishna and Daya Kaur when cataract claims her eyes…the book is rich as it weaves a realistic tapestry of a slice of life in Punjab untainted by urbanisation.
Gurdial Singh's work has been translated well by Rana Nayar, who has earlier translated two novels and a collection of short stores by the same author. He has made this book available to a far wider audience than the Punjabi original could have reached out to. This endeavour is both worthwhile and appreciable. The book also has a list of Gurdial Singh's works and awards.
In the introduction Rana Nayar gives an overview of the Punjabi language, literary tradition and novel as well as the author and his writing. This is instructive, though the small type size makes it look daunting, and is a flaw in the otherwise well-produced book with an excellent cover, which has a painting by Manjit Bawa.