Personal account
Cookie Maini
Silent Life: Memoirs of a Writer
by Chaman Nahal. Roli. Pages 285. Rs 295.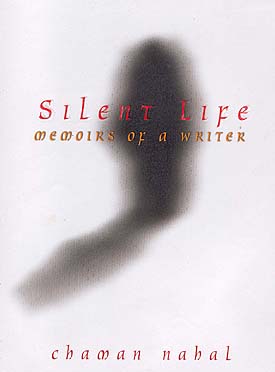 I look forward to reading memoirs as opportunities for treading paths traversed by others and simultaneously elapsing from the ennui of my predictable pattern of existence. Undoubtedly, the drudgery ceases as one can gasp with awesome fascination at achievements and similarly, feel a vicarious glee at the follies and foibles imbued and gloat over fallibility as being unanimous.
The memoirs of Chaman Nahal, an English Professor at Delhi University, begins with his saga from the small town of Sialkot in the pre-Partition Punjab, to the bustling streets of Delhi, on to the erudite environs of Cambridge and the bistros of Turin. He recapitulates a life rich in literary scholarship, yet packed with a terrific sense of humour.
Even though among the Indo-Anglian writers, his contemporaries—the triumvirate of R. K. Narayan, Mulk Raj Anand and Raja—were better known, Nahal did carve a niche of his own on the literary map. He specialised in imaginatively churning out post-Partition epics like Azadi, which won him the Sahitya Academy Award.
Unlike many others of his genre, he professes that he abhors the usage of similes or metaphors he wants to communicate without "leaning on crutches". His logic—"the sky is a sky, a barren stretch of land just that. How does their meaning become clearer by comparing the sky to an ornate umbrella and the barren stretch of land to a horrendous desert?" Even though he refrains from the copious usage of the similes, his writing remains captive. He crafts beautifully his encounter with Gandhi, particularly the mesmerising spell he cast upon people.
"A sense of directness in style also came to me through the most unlikely of all courses—Gandhiji. I had for some years been subscribing in Sialkot to Harijan, Gandhiji's weekly paper. He was in his articles most plain and uncomplicated. When our family came to Delhi after Partition, he was staying at Birla House and I would go and attend his prayer meetings in the evenings.
"I will never forget the first sight of him, as flanked by his two young nieces he walked out of the building—now a national monument—to the lawns outside where the gatherings were held. Here was the author of the greatest misery in our lives, as we youngsters who had come out ruined because of Partition saw him. We had nothing but disdain for him, for we believed he had done nothing to prevent that tragedy. As he walked by me, I remember touching the hem of his white shawl and saying, 'Gandhiji'. I meant to speak in anger but awed by his aura, his neat and compact bearing, what came out was only a gentle cry. He stopped in his tract and looked at me through his thick glasses.
'What, my son?'
There was immense empathy in those few words.
'We've suffered so badly,' I said, almost sobbing.
He could guess where I was from.
'So have I,' he said softly, placing his hand on my shoulder and walking on."
This experience probably prompted him to write his definitive but fictional The Gandhi Quartet. Begun in 1981 and completed in 12 years, the four novels are a philosophical contrast of violence and non-violence as embodied in the "Mahatma himself".
An unusual feature of his writing is that he formed a template for his characters and moulded them accordingly, "men and women who had the capacity to face their own contradictions and still forge ahead". No doubt we all have in built dilemmas and compulsions tearing and compelling us and our heredity is sometimes inimical to our environment, however, his writing is peopled with those with an aggravation of such a disposition. He says his characters would go for the wayward and yet come out with a tremendous affirmation. His Partition-afflicted syndrome is manisfested yet again as such characters are the symbolic of the annihilation at Partition and the subsequent resilience. Through his book he evinces the evolution of Indo Anglian writing as he spells out his endeavours at publishing, the obstacles, the initial insularity he sensed and possessiveness in the West over English being their language. By the time he winds up, the genre of Indo-Anglian writing has morphed into a force to reckon with.
Though such writing that spans over decades, one is acquainted with interesting anecdotes, which reflect the attitudinal change from probably the early 60s his stories were rejected by publishers such as Chatto and Windus as being too "Indian". What a sea change! Today, when the depiction of the ethnicity and multiplicity of India have conjured celebrities like Arundhati Roy and Vikram Seth, publishers vie with each other to publish their scripts.
By the time the memoirs concluded, the author is 70. But this certainly is not a finale to his writing or his joie de vivre, which sustains in his familiarity with the likes of Arundhati Roy. A regret that I wish that the author had spelled out the specific years of occurrence, perhaps in a literary refrain, i.e., 60s or 70s. However, this is a minor freckle in the larger visage of an interesting memoir, spanning a major episodic saga. As the author's life symbolises the emergence of a modern India, donning her independent identity and struggle off her colonial shackles. An interesting read for litt`E9rateurs but not hardcore enough to detract those interested in social history.