M A I N N E W S
2 days before bridge opened, tragedy struck
Ajay Banerjee
Tribune News Service



Lt-Col Amardeep Rana

Chandigarh, September 9
About a month ago, a column of 200 men of the Army led by Lt-Col Amardeep Rana, moved out of Zirakpur, 7 km from here, to reconstruct bridges on the crucial National Highway 22 (Hindustan - Tibet road). Their families and friends could not have imagined that 30 men, including Colonel Rana, would meet a watery grave in the Sutlej while carrying out the arduous task.
After sending their equipment in trucks to Kinnaur, these men had been busy building the bridges, working under trying circumstances while risking their lives to reopen the road that is vital for defence and also the economy of the area. On September 10, the first bridge at Kharo was to be opened to light traffic. Just 48 hours before its opening, the bridge collapsed yesterday killing the men. The bridge, if completed, would have restored vehicular traffic on the road between Reckong Peo (the district headquarters of Kinnaur) and Pooh. Three days ago, this correspondent spoke to the authorities in Himachal Pradesh about progress on reconstructing the road links that had been damaged during the floods in the last week of June. Officials said Colonel Rana would be in a better position to speak on the matter and provide more details. On September 7, less than 24 hours before his death, the Colonel spoke to The Tribune and sounded confident of completing the bridges in accordance with the schedule. Being an Army man he was cautious while talking to the media. "I cannot give you all details but things should go as per schedule," he said.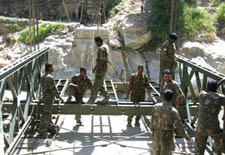 Men of the Army busy making the bridge that collapsed in Kinnaur on Thursday. This photograph was taken on September 3. Lt-Col Amardeep Rana is second from right (facing the camera).
Since the plan was to do a story on the latest condition of the roads in Kinnaur, photographs were procured of the ongoing work. Tragedy struck yesterday morning. The same day a news item detailing the latest on the roads in Kinnaur was being prepared but was held back when news filtered in that the bridge had collapsed. After the tragedy, the photographs were enlarged on the computer to read the name tags of the officers and identify them.
The risk in building these bridges can be gauged from the fact that death stares one in the face. One wrong step and it means a drop into the swirling Sutlej below. In these areas of Kinnaur - bordering Tibet - the river cuts through sheer rock and runs through deep gorges where no one ventures. The river has a depth of more than 20 ft and flows furiously through this rocky terrain. Workers have to be perched at difficult locations virtually overhanging the river when they carry out their work.
In the past the Army has successfully built Bailey bridges in this remote Himalayan region.