COOL STUFF
Designer kitchen appliances
Hind ware, the unprecedented market leader in sanitary ware, has unveiled its imported Italian Collection 'Hoods & Hobs'- a range of aesthetically designed kitchen appliances. Economically priced, this new range comprising of decorative hoods and hobs is a complete solution to a long lasting hygienic kitchen. Hind ware offers for the first time in India Cooker Hoods made from non-magnetic and anti rust 304-grade pure stainless steel, these hoods come with a life long body warranty. This feature is particularly suitable for costal areas which are prone to rusting and corrosion of metal objects. These offerings blend and integrate well with all kinds of kitchen interiors imparting fresh look and appeal to ones home.
The unique hoods conform to the latest and best international designs and quality standards. The wind tunnel is specially designed to give a really clean, smoke-free and extra fresh environment in your kitchen. Available in a wide variety of styles and sizes with prices to suit every pocket these appliances are also a convenient option to the modern day housewives.
These elegant looking Italian Collection - Hoods are available in different variations with interesting features like combination of glass and steel, single motor and twin motor, halogen and incandescent lamps, electronic and manual controls, tempered glass, multi layer anodized aluminum high efficiency filters, etc. Priced in the range of Rs 3,990 to Rs 30,990.
Tommy Hilfiger presents Retro inspired sunglasses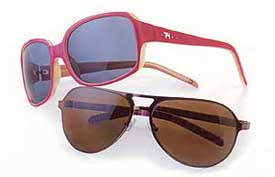 This valentine, Tommy Hilfiger has introduced retro inspired sunglasses for both Men and Women. These sunglasses define the youthful style of American tradition. Constructed with fine materials, the frames are clean and sleek and prove to be an excellent gift for your valentine.
They also feature 100 per cent of the recommended ANSI Z80.3 UV for sun protection. A wide range of colors include: Silver with Blue Lens, Silver with Pink Lens, Gunmetal with Grey Lens and Brown with Brown Lens.
Tommy Hilfiger eyewear comprising of over 70 styles across Men's and Women's, are priced between Rs 3,000 and Rs 5,800.
Fevicol Speedx
Pidilite Industries Ltd, market leader in adhesives and sealants, has launched Fevicol Speedx, the key to all your carpentry needs. Besides, saving time and energy, this innovative adhesive offers superior water resistance and makes finished carpentry works all the more durable. Using Fevicol Speedx simplifies the work of a craftsman, increasing overall productivity.
A technologically-advanced "superior" product, Fevicol Speedx is a brand extension of the popular, time-tested synthetic while adhesive "Fevicol". Under rigorous testing, Fevicol Speedx has proved extremely successful in time-bound projects: It has achieved its handling strength in just 11/2 hours-2 hours.
Available in convenient 5 kg packs and 10 kg plastic containers, Fevicol Speedx can easily be applied with a spreader for bonding wood, plywood, laminates, veneers, particle board, blackboard/ hard board or MDF, as needed.
MP3 Players
Sony India has taken memory based MP3 players to a new level by making it easy and affordable. The company has launched its exciting range of memory based MP3 players in the country. This range has mo0dels that have a unique ergonomic design and memory capacities ranging from 256 Mb to 20 Gb. The 256 MB player is priced at Rs. 5,990.
Speed Dry Nail Enamel
Avon launches Speed Dry Nail Enamel. Avon's intuitive technology helps save you time. It's fast and smart. This fast-paced formula goes from apply to dry in less than 60 seconds. The full colour, yet highly fluid nail enamel is easy to apply and glides on smoothly without streaking. It provides the color, coverage and shine of long wearing nail enamel and wears up to 6 days.
Available in 11 exciting shades like Crystal Calm, Innocent Violet, Rose Amour, Creamy Coral, Pearly Queen and more.
Priced at Rs 170 for 8ml, it's available with Avon Beauty Advisors
Eagle Shoes unveils Club Wear Collection for men
Eagle Shoes, the premium Russian Footwear brand — has unveiled its extremely contemporary and very urban, club wear leather footwear range. These classic comfort shoes make it a very fashionable choice in men's casual shoe.
Donning these shoes will immediately up your fashion quotient, and are a perfect match with jeans or your partly ensemble. Available in a range of shades like beige, brown-tan dark blue, camel, dark brown, gray etc. Different shade in suede leather look very rich with Eagle styling. Eagle's Club wear Collection is styled and accessorised for different occasions — casuals, party or formal get together.
Priced between Rs 3590 to Rs 4990 each shoe from the Eagle's Club wear Collection incorporates the fitting qualities and style expected by the discerning Indian customer and further embodies the essence of urban sophistication and a lifestyle which is uniquely its own.
Motorola has unveiled its C168. Stylishly thin and lightweight, the C168 is designed primarily for users who are on t5he go. It includes a 65K colour display, Multi media Messaging service, zoom font, and polyphonic and loud ring tones.
With a storage upto 600 phonebook entries and 250 sms messages. It also has a FM radio along with pre-loaded games. Its priced at Rs. 3990.