fashion
Sway with jhumkas
Dipti Rai
Chandelier earrings or danglers as they are affectionately called are not new to the Indian fashion scenario. For centuries, they have been known as jhumkas in North India and jimkis in the South. It was one of the essential ornaments of the bride.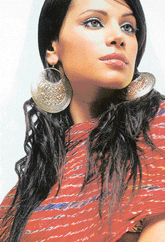 Danglers lend oomph to an outfit

In the West, chandeliers have a respected place and eminent jewellers like Cartier and Swarovskis have been making these for the elite families to be handed over as heirlooms. Celebrities like Oprah Winfrey, Sandra Bullock, Julienne Moore and Jennifer Lopez have been known to wear signature chandelier earrings at public events.
Like kurtas and churidars, jhumkas have also made a comeback in the Indian designers world. Chandrika, a college student from Chandigarh, says, "It is their ethnicity and the fact that they go well with all my outfits makes it interesting".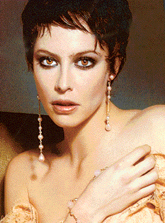 Long earrings enhance facial appeal

Uma Mehta, another youngster, says, "Jhumkas transform my looks. The whole persona is changed for the better". Fashion designers like Manish Malhotra like to show off trendy jhumkas in their shows.
Chandelier earrings, made out of fine threads of silver or gold, can brighten up any formal occasion. In addition to gold, crystal beads are very popular.
Modern jhumkas are large and usually 1`BD to four inches long. The danglers come in a variety of materials, often festooned with small bells, in some case with sequins.
Jhumkas are also available in black metal, silver, gold wood and terracotta. These earrings seem to alternate for gold in formal functions.
Jhumkas come in many forms. The chandelier cut designs with an elaborate web of coloured stones and metal are quite popular. The rule is that they can reach far down the neck areas but should not touch the shoulder. You can have jhumkas with a long stem and a large coloured stone at the end of it. But popular fashion considers this too plain.
Jhumkas help to accentuate the length of the neck. These earrings emphasise feminine curves and give grace to movement. Style icon Rina Bhandari says, "Large jhumkas, a combination of bangles and an exceptionally heavy choker, is traditionally perfect for a wedding".
Riya, who heads the design team at Modern Jewellers of Bombay, says, "As far as earrings are concerned, the bigger the better. Though jhumkas have been associated with Indian weddings since time immemorial, chandelier earrings are the rage this season".
Chandelier earrings have become part of the formal wear. Your collection of ornaments should have at least one pair of these jewels. You can wear these with your black suit to the boardroom meeting or with your jeans and sexy top to the beachside party.
However, while buying jhumkas, keep in mind that the pair you choose is not too long for your neckline. Measure the distance from your earlobe to your shoulder to decide the maximum length they are to dangle. Also keep in mind the face size while wearing these.
With a large face, long earrings look striking but a smaller face requires smaller of these fashion accessories. Change your ear rings often from the danglers to smaller ones. This will be easy on your earlobes and ensure that they do not get overloaded. — MF