Ah here it is, this season's delightful 'caper'! For as 'Celebrations Fiesta' meanders through the 'haloed' portals of Hotel Shivalik View, Sector 17, and splashes over onto its lush greens there is a veritable carnival for the senses, waiting to enchant.
In fact, splurge has a new name, 'scrumptious'! For the mantra is simple 'shop-till-you-drop'! Let the credit cards droop with overuse, let the pockets spill out with goodies for what is on offer is, in one simple sentence, smart, sassy, chic and spiffy!
Pottering through the stalls galore here are some of the funky bits and bobs, odds and ends and objet d'art that we spotted:
Gorgeous Kutch embroidery on linen, bedcovers, bags and cutwork festooned on fabric, beautiful wooden jharokas and elegant statuettes dancing in joyous poses embellished with rich colours, all opulently crafted at Kutch Handicrafts (Delhi).
Not to be outdone in the 'filigree' department is Haveli, with its plush antique furniture, polished splendid till it glows with a lovely selection of wooden home-furnishings for the discerning eye.
There is, of course, a dazzling array of fabrics, materials, saris, suits, outfits aplenty but Surabhi's kalamkari, block-prints and fine cotton caught our eye for their collection that is simple yet elegant. Along with the kurtis matched with lovely block-printed chiffon scarves, there are durries and bedcovers too, all mixed and matched and really quite classy.
Riwaaz's (Lucknow) stall resonates with a vibrant bridal collection in chikankari where pink and yellow sits pretty with powder blues, delightful reds and 'verdant' greens!
Striking for their grace are the jackets and outer-wear by Yasmine (Nepal) made to measure with the colour and fabric of your choice. "These are not fashion pieces, these are classic designs with a twist," says designer Yasmine promises you a piece worth investing in!
Nepal comes amply represented in another form, hand-made paper, paper ribbons and even paper cloths from Nepal Woman Crafts which is definitely worth more than a peek!
.Peer into Sajawat Handicrafts for wedding cards, trousseau packing and elaborate packaging or into Juneja Design Studio for all that's hot this festive season. Says Rohini Juneja, "understated and all out are both in this season along with colour coordination right from the envelope to the wedding outfit," so think purple girl, is that what you want?!
So if the packing is in, where's the jewellery and yes there is plenty to riffle through but do check out Ashima (Delhi) for lots of bronze, gold and leather, very funky, very 'in'.
Then there is Shivranjani (Gurgaon) bringing with them the most lovely chattais replete with block-prints and edgings in brocade, zari, block-prints along with natty silk, tissue and organza lampshades with the most delightful embellishments.
Aquariums, churan, tarot and nightwear even an amazing little stall selling Orchid blooms!
Designer Weavers with their home-made chocolates, junk jewellery, paintings, silver knick-knacks and even telephone mats is a must-peek for the sheer youthfulness of the stall!
.And finally two 'must-visit' stalls—Pooja's mehndi stall for the sheer eloquence of her craft. Pooja is a 'special' girl, with a penchant for the most exquisite mehndi. From her Karva Chauth special mehndi of a woman holding a sieve in her hand to emulating bangles on the wrist, she is sheer delight to watch, the other, Vatika School's candles and cards, clothes and hankies, the proceeds of which all go towards the betterment of the deaf and dumb children at the school.

A date with God
Gayatri Rajwade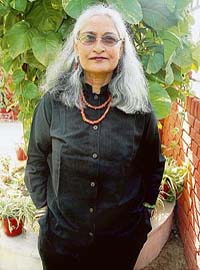 CALL OF DIVINITY: Kamla Kapur. — Photo by Parvesh Chauhan
Writer-poet Kamla Kapur is back and this time she is gambolling amidst the Gods of the Indian Pantheon!
Emerging As of a Fountain in a Garden, her book of verses written to assuage her anguished soul after the suicide of her husband, poet Donald Dean Powell in 1993, she comes back transformed, retelling Hindu myths this time round.
And no colourless portrayals here, for the Gods speaking in an easy narrative style say so much of the universal truths of humanity, but without the sting of sermons.
'Ganesh Goes to Lunch' is Kamla's 'chant' to an ongoing passion in myths and legends. In fact her first book of poetry Radha Sings published in 1987 comprises of Radha talking to Krishna through a series of love songs.
However, this book happened quite by chance. For one, after being in semi-retirement from teaching writing courses at Grossmont College in San Diego in California, she finally resigned to write full-time.
At this time, three stories, one each from Hindu, Sikh and Sufi beliefs, were published by 'Parabola, A Journal of Myth, Tradition and Search for Meaning' in New York and Raoul Goff Publisher for Mandala Press read them, met with Kamla and the book was commissioned.
The result is 24 stories, 'developed from India's rich and vast ocean of Hindu myths, legends, and folktales and whose timeless quality lends itself to reinterpretation in every age' writes Kamla in her preface.
"It is easy to see how Indian myth has become the repository of all our wisdom and solace. The gods, like us, are all perishable, yet timeless, like Vishnu asleep on the primeval ocean, appearing and disappearing in his incarnations, like bubbles in the river of time," she writes.
So what does Kamla bring to these ageless tales? "A lot" she laughs, "The oral3 tradition of mythology means that every story has several different versions and some of them were told to me in just one line. I have given these fables a narrative and a context, developed the characters and have also tried to modernise them," she explains.
Yes it was difficult because researching these 'mirages', in a sense, were not easy since the deadline given by the publishers was just a few months. "What made it tolerable was I enjoyed doing this so much and there was so much I was taught," she smiles.
In the course of her study she found hundreds of little tales worth telling but selected those she "resonated" with. "There is nothing rational about the process of intuition. It happens sub-consciously and you have to trust it," she elaborates. But now when Kamla looks back at the book, she sees each aspect, each little learning sparkling like "separate beads but strung together by a single thread."
Next in this magical series are stories of the ten Sikh Gurus or Janam Sakhis, six stories that have a narrative fibre but which can also be read individually and perhaps a similar book on Sufi tales.
'My inspiration is the hologram. Where every little bit contains a whole of the same image," says Kamla. Just like the myths themselves, present everywhere around us, in the names of trees, rivers, villages and temples and within each one of us, as an essence of a higher being.

Chandigarh Rocks!
Saurabh Malik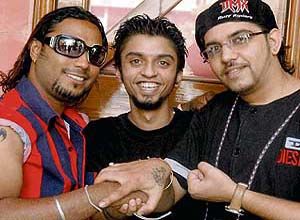 Bollywood latest remake Don's music does not find favour with them. For, the disc jockeys and musicians, in Chandigarh all the way from Delhi and other places for mixing some cool music during Bacardi B-live, do not believe in "remaking" melodies. Remixing is justified. But remaking or re-singing — it is nothing less than a musical sin.
As DJs Blade and Chinx repose on comfortable chairs in a Sector 17 fast food joint, opening remarks are just not required to tell you that the two know what they are saying. For, even their appearances are enough to acquaint you with the fact that they are deep into music.
Black meticulously fitting beret, a tattoo, bracelets and heavily ringed fingers — the ensemble is complete. And when they hand over the copies of their resumes, even the remaining doubts disappear from your ever suspecting discordant mind like the dying notes of a song.
DJ Chinx or Maneet Oberoi has been spinning different genres of music for over 10 years now. Electronics music is his specialty and he plays for an Australia-based trance record label "Psypneumatix Records". It sounds too musical, but the fact is that he has played with "the best" national and international DJs    
Anshuman Chawla aka DJ Blade's credentials too are impressive. A hotel management diploma holder, he has been editing, remixing and composing music. He specializes in retro, commercial, Punjabi, even international music, and operates from Delhi.
The two, along with dhol player Bobby, are performing at a resort near Panchkula Friday night. Bobby, incidentally, has worked with Remo Fernandes, Daler Mehndi, Mikka, Shankar Sahwney, Bhupi and Dr. Zues. This is not the end of his harmonious saga. Bobby has also traveled across the globe and has performed in countries like the UK, Malaysia, Switzerland, Dubai and Canada. Globally sound indeed!
As DJ Blade speaks about the ethics of music and wrongdoing on part of the musicians in making new singers croon old numbers, you realise that the youngster just does not spin music. He gyrates intelligence, undoubtedly.
"If not artistically, remaking or resigning is ethically wrong," he asserts. "For, the action amounts to tampering with the song, which is just not acceptable! On the other hand, proper remixing simply means adding new beats to the old numbers. It does not take away the flavour".
He adds with a smile: "In remixing, the lyrics and the singers remain the same; just the music is changed to save the song from the gallows of time, to pull it out of memory's recycle bin for you to sing along. Well, folks, the debate goes on and on while Chandigarh rocks to their tunes!

Wine, saag-meat and cricket
Pradeep Tewari
When cricket and cricket stars come to town it is party time. Well partying does brighten cricket and cricketers and a taste of it could be had on Thursday night at the Chandigarh Golf Range with high-profile doctor of PGI, M.S. Dhillon, throwing a lavish party to welcome the cricketers from Sri Lanka.
The occasion was, of course, the doc's birthday bash and the cake was there too but with the presence of the Sri Lankan cricketers, the mood was sporty and upbeat. Ace international golfer Jeev Milkha Singh, who is the doc's friend and patient, was there.
The preferred drinks of the Sri Lankan players were sparkling white wine and gallons of beer. Local brands were well appreciated. Special northwest Indian food was prepared for the occasion and it added more spice to the party with Jayasurya and Vaas making spicy comments. The cricketers loved the saag-meat and butter-chicken, both dishes that are favourites of the Punjabis.
Doc Dhillon's Sri Lanka connection with Sri Lanka dates back to the time of his tenure as Chief of Orthopaedics at Apollo Hospital, Colombo. The city kids present at the party had fun with the cricketers as they went about collecting their autographs. Younger cricketers hit it off well with the city youth and plans were being made to visit the city night clubs on Saturday night.
Australian coach Tom Moody, physiotherapist C.J.Clark and other support staff were heard planning an early morning round of golf with Bunny Grewal and Capt Sidhu, prominent local golfers.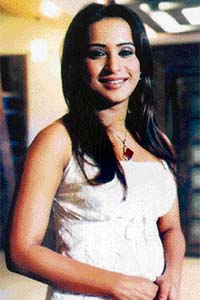 Poonam Joshi
Some actors struggle to get a chance to work with big banners but some are just plain lucky to lap up such offers at the beginning of their career. Young and vivacious Poonam Joshi is one of those lucky one, who has bagged Rajshri Banner's most acclaimed serial Woh Rehne Wali Mehlon Ki on Sahara One.
Poonam chats up with the Lifestyle on her new project. She plays a strong character called Sanjana.
How did you bag this role of Sanjana in Woh Rehne Wali Mehlon Ki?
Well…I auditioned for the part. Apparently it was appreciated and chosen for the character.
What made you choose a negative role like that of Sanjana in this serial?
I have played a lot of positive roles earlier. I wanted to try out something different. Sanjana's role, I figured would allow me to showcase my talent to the audience and thus I grabbed this opportunity. I want to be known as a versatile actress.
Did you have to prepare yourself for the role?
I had a definite idea in my head about Sanjana and her emotions. Thus I did not have to go out of the way to prepare myself.
How similar or different are from the character?
The only similarity would be that like Sanjana I am willing to do anything for love. Other than that we are miles apart. I don't think I am as negative and dark as my character. In real life I am an easy going, fun loving person.
What expectation you have from the audience?
I hope the audience accepts me as they have accepted me and loved me in my other serials.
How was your experience working with a big banner such as Rajashri Productions?
This is my first encounter with Rajashri Productions. I've already worked with most of my co-actors in my earlier ventures thus the environment was very friendly and easy- going.
Are you doing any other projects right now?
No, I am now focusing only on Woh Rehne Waali Mehlon Ki.
What are your future plans?
I don't plan and believe in taking tins as they come. I wish to keep doing good work and will cross the bridge when I come to it.
— D.P.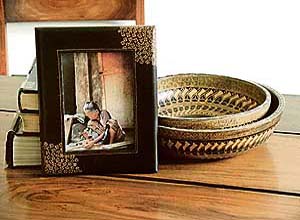 We all know the jingle 'Indonesia, Truly Asia' by heart. Now here is an opportunity to see the finest art and craft from this country. Courtesy Fabindia, Sector 9, which is holding an exhibition of Indonesian Art and Craft starting from October 6.
According to Diltaj Grewal, Zonal Manager, Fabindia, Chandigarh, it is an endeavour to bring the finest craft products to the city, which is made for utility, or to embellish, the splendid arts and craft produced by the people of Indonesia, is known for its richness and diversity.
The exhibition highlights the extraordinary diversity, skill and creativity of Indonesian contemporary artisans and craftsman. Indonesia has traditionally been a host to a myriad of cultural and religious influences that have resulted in an astonishing diversity of decorative arts.
A unique Indonesian craft is the Batik woodcraft. Batik, essentially a textile craft, has been adapted to create beautiful utility items by applying the batik technique directly on finely sanded wood. — TNS

Hearbeats for everyone
Anuradha Shukla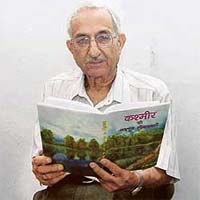 Dr Jai Lal Handoo
"There is only one language that is language of the heart and there is only one religion that is the religion of love which is spiritual", says the writer with a big heart Dr Jai Lal Handoo. His only wish is for a world where no one is hurt by any other human being either by word, deed or by feelings. But all his writings are born out of the pain and anguish born out of the human failings causing suffering on the world. Recently awarded the 'Sahit Varidhi' award in Allahabad, this writer is happy to have got the same award given to the likes of Mahavir Verma. Born in Kashmir Dr Handoo began writing poetry at age 19 and later shifted to prose. Besides writing his passion is social work and many in the city know him for the extent he and his friends go to help out the needy and the poor. Having worked on Kashmiri, Himachali as well as Hindi literature Dr Handoo says that the social lives one can experience through the various literary forms are different but there are many humane factors binding the expressions in all forms of literature. The varied symbolism does carry with it the transcending spirit of unity imbibed in all literatures.
A Sanskrit scholar, Dr Handoo taught English in Government colleges to the post graduate classes and is a known critic of Hindi literature. His work draws heavily from life and times he lives in. "My experiences as asocial worker have born many stories like the man I knew served upon his wife with ninety percent burns with greatest of devotion in hospital only to find that he was the one who had burnt the women as she opened her eyes. This and many such experiences of failings of human relationships shape my expressions", says Dr Handoo. Writings can only qualify as literature when it has the good of the majority and it touches your heart, says Handoo. Currently this crusader is ready with collection of 23 short stories called Peele patton ka Ashiana. Aim of literature is to make a man into a human being.

FILM & FASHION
Playing Extra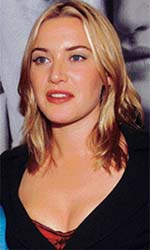 Titanic beauty Kate Winslet has revealed that she was in splits while shooting for the Extras, due to Ricky Gervais' farting antics on the sets.
The Hollywood beauty made a cameo appearance during the last series of the BBC comedy.
"I think that was one of the best things I have ever done in terms of an experience. It was just so hilarious. Absolutely eye- watering hysterical. I don't think I ever got through a take without peeing myself laughing," she was quoted by the Mirror, as saying.
Kate said she got more reaction from the public over her role in Extras than blockbuster Titanic.
Jlo's latest love
Singer Jennifer Lopez revealed that her latest album has a special place in her heart, for she found making the album a cathartic experience.
Lopez, who sings about the mistakes she's made in relationships in her new album - her first in Spanish titled Como Ama Una Mujer, said she had realised that she had made mistakes while falling into relationships, but realises that her only 'sin', is that she loved the men in her life 'the way a woman loves'.
"It just talks about maybe I've rushed, maybe I've made mistakes, but you know my only sin is that I was loving the way a woman loves," Contactmusic quoted her, as saying.
The 'Waiting For Tonight" singer is currently married to Marc Anthony, and is all set to star opposite him on the big screen in "El Cantante", a biopic about the troubled but brilliant Puerto Rican performer Hector Lavoe.

COOL STUFF
Sensuous range of nightwear
Pretty secrets has come out with the sensuous range of nightwear in its new fall collection. The stunning range includes nightgowns, stylish chemise, short wraps, cami tops and comfortable PJ sets. The collection ranges from hot favourite polkas and stripes to wild tropical and curacao and finest floral prints. The prices range from Rs 399 for a satin cami top to Rs 3299 for intricate bridal set and the range is available at Inner Secrets Sector 8-B.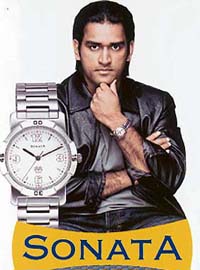 Solid steel from Sonata
Solid Steel collection from Sonata one of the country's largest watch brands has come out with the collection in consultation with youth icon Mahinder Singh Dhoni as a reflection of his personal style and attitude. TSonata aims at making its brand more attractive to the 20-30 age group the solid style collection comprises 24 models and the large in shape watches come with stylish features such as sporty dials, thicker leather straps, dual finish metal bracelets and enamel filled coloured indices. The collection will be priced between Rs 645 to Rs 795 and is available at all World of Titan Stores.
Sush relaunches Pantene
The global re-launch of Pantene is reflected in its New Logo – the Shirra, new premium white & gold packaging, new association with India's biggest beauty icon, actress and former Miss Universe Sushmita Sen as Brand Ambassador, and the new brand philosophy of 'Shine. I Believe I Can'. Pantene with Pro-Vitamins provides radiance and shine, in addition to strength and conditioning benefits, so as it nourishes and protects each strand, giving 10 times stronger hair. Its new identity presents itself with a new logo - the Shirra, named after a North African wind, symbolizing transformation, energy and confidence of womankind. Pantene Pro-V shampoos are available in an all-new slick black and white with gold packaging, at general and chemist stores, and modern retail outlets. Priced at Rs 99 for a 200ml. bottle, Rs 54 for a 100ml bottle, Rs 3 for a 7.5 ml sachet and a new 400 ml bottle at Rs 164.

Bon Appetit
Chinese Feast
Kandla Nijhowne
In China they have an ancient custom that whenever a new baby is born in a family, the young arents perform this name-select on ritual which indicates what the infant will finally be called, They enter their kitchen and take out all the cutlery from the drawer-spoons, knives, forks, ladles, tongs, the lot….With much fanfare, only short of trumpets, handfuls of the cutlery are flung up into mid-air with great gusto. As they free-fall to the floor, the couple listen, all ears, and agog with excitement, for the first clanging sound. This sound is crucial indeed, for THAT will be the name of their little bundle. It could be Ping, Tang, Ching, Lang, Chong, Ling or Wong! If you're laughing, then maybe…just maybe, I've cooked this up too! How we all love our Chinese food! I say OUR, because that's just what it is most of the time—un-authentic and punjabified, with an overdose of Ajinomoto. In true Chinese cuisine, meats and vegetables are stir-fried quickly. This ensures that minimal nutrition is lost during cooking, Food is seasoned with salt, pepper, star-anise, soya sauce and vinegar derived from rice. Ajinomoto? They wouldn't even dare use the word!
Ginger Chicken
400 gm boneless chicken cut into thin strips
3 tbsp rice wine or sherry
250 gm spring onion, sliced
200 gm red peppers, cut into strips
1-2 egg whites
5-6 tbsp corn flour oil for frying
3 tsp minced garlic
2 thumb sized pieces of ginger, cut into matchsticks
2 tbsp vinegar
½ cup chicken stock
1 ½ tbsp sugar
3 tbsp tomato sauce
Salt and pepper
Method
Place chicken in a bowl and stir in some salt and pepper and the rice wine. Set aside, allowing it to marinate for half an hour (though longer wouldn't hurt). Place the vinegar, stock, sugar, ketchup and some salt in a pan and let it simmer on a slow heat for 5-10 minutes. In the meanwhile, heat oil for shallow-frying the chicken and mix 2 tbsp cornflour and enough egg-white into the chicken till the pieces are just about coated. Stir-fry the strips in batches only to a point when the chicken changes colour, Heat 2 tbsp of oil in a wok or a kadhai and fry the garlic till it releases its aroma. Add red peppers, spring onions and ginger, tossing around only for 30 seconds. Stir in the chicken and the simmered liquid and thicken it with 3-4 tbsp cornflour mixed with ½ cup of water.