The child remains innocent
Though a child born out of wedlock is not considered illegitimate any more in the eyes of the law, the same child is not entitled to a share in the property that is inherited by his parents, writes Shoma A. Chatterji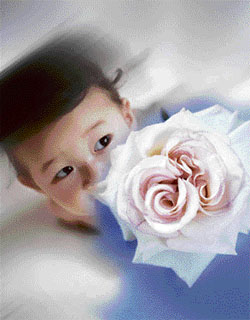 The illegitimate child's innocence is victimised by the sins committed by others. A child born out of wedlock or of a void or illegal marriage is considered illegitimate. Children pay for the decisions taken by the parents and are denied inheritance rights in principle, if not in terms of the legal statutes, that they now have access to. Even worse, a child born of rape is stigmatised and is treated as illegitimate both by society and by law because it is difficult to ascertain the paternity of a child conceived in rape.
Till this day, the law in many societies continues to deny illegitimate children the same rights of inheritance as legitimate ones, while in some societies, even civil rights are denied to them. Till the late 1960s, illegitimacy carried strong social stigma in UK and USA. Young unmarried mothers are still encouraged and sometimes even forced to give their children up for adoption or to get the foetus aborted. Literature of all cultures is replete with stories where an illegitimate child is reared in an extended family as a 'sister' or a 'nephew' of the unwed mother.
"A child born out of wedlock is said to be illegitimate," said lawyer Bharati Padmanabhan. "I strongly feel that the concept of legitimacy and illegitimacy destroys the stability of any existing social structure." This leads to the piquant question of whether the so-called 'existing social structure' needs to remain within its patriarchal norms. Doesn't this social structure need a thorough revamping in the light of the shifting perspectives of a woman's place in society? "Parents of illegitimate children," says Padmanabhan, "should have equal parental rights and duties. The mother would then be able to apply for maintenance, notwithstanding the fact that she is not and was not married when the child was born." Thankfully, the Indian legal statutes have made way for illegitimate children to be heir to their father's estate. But that is confined to inheritance laws and does not ensure social acceptance or legitimacy.
Social activist Sonal Shukla says:"Justice for women suffering within their own families was not part of the traditional legal system. So, now they do not know how to come to terms with it. The present legal system too has not taken a more realistic view of the woman's situation. We need to think in terms of restructuring the entire ideology. Structural changes will not fit into their old liberal framework of making laws. Even women lawyers and judges are not necessarily opposed to these values because their mindset is constructed within the patriarchal framework."
In India it is very unfortunate that though the illegitimate child has been granted the status of legitimacy, the Amended Hindu Succession Act and Hindu Marriage Act have failed to protect the interests of innocent children who have no control over their birth. Though a child born out of wedlock is not considered illegitimate any more in the eyes of the law, the same child is not entitled to a share in the property that is inherited by his parents. Vikramjit Sen, Judge, Delhi High Court, known for his progressive rulings, says that a provision of the amended Section 16 of the Hindu Marriage Act "bestows the same legitimacy rights on the offspring of a voidable marriage provided the conception had not occurred after the voidable marriage was declared to be a nullity."
The amendments to the Criminal Procedure Code that allow illegitimate children to force their biological parents to pay for their upkeep has had more teeth added to it by an Andhra Pradesh Bill proposed last year that suggests simplified prosecution and enforcement. The Bill says that illegitimate children now have the right to take shelter in the homes of either of their biological parents. Illegitimate children now enjoy all the rights of legitimate children and can claim them from their official parents. If these children file a police case with the help of friends and relatives or NGOs, an alleged biological father can be forced to undergo a DNA test to establish paternity. This new provision gives additional protection to the illegitimate children of rich and philandering persons.
The Daya Vihar Girls Orphanage in Kudipatty, Perayoor, in Madurai district, Tamil Nadu, takes in girls abandoned, neglected or abused because of their illegitimate state, along with orphan girls. It also runs its own English medium school where girls of school-going age are provided with education. Though the institution is designed mainly for girls, it also takes in infant boys left without care.
Dr Har Dev Kohli, author of Law and Illegitimate Child-From Sastrik Law to Statutory Law, suggests a society where the illegitimate child will not be victimised for the sins of his parents. A possible remedy, he points out, lies in the vigorous implementation of the most sacred ideals of human rights and social justice. Some statutory provisions are present in Hindu law. But they remain at best, half-baked provisions, which keeps the distinction alive. He suggests legislation in India on the pattern of English Legitimacy Act. But in the largest democracy of the world, where no school readily admits a child who cannot fill the blank asking for the father's name, what legitimacy are we talking about?