THIS Christmas, Rose will give her heart to someone special. Last Christmas, she had given it to a man, who gave it away the very next year.
Come December, as Ramesh Venkatesan, aka Rose, signs off a Tamil television talk show saying "Ippadikku Rose" (Yours Rose), he - who has now turned into a she - will be the first transgender to host a chat show in the country.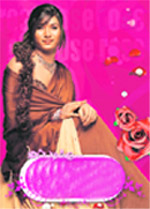 SITTING PRETTY: Rose will host the show in traditional finery
Her "someone special" will be the Tamil population not only in India but also abroad, particularly in North America, Europe and South-East Asia.
The Tamil talk show will initially focus on homosexuality and alternate sexuality, phobias and mania and later on socio-economic issues and politics.
With her long hair tied in a bun and wearing a printed capri and a striped top, 28-year-old Rose said, "I will be the first transgender anchor in India and after the announcement by Star Vijay, which will produce my programme, many are treating me like a star."
At five feet eight inches and with an athletic figure, Rose can be the envy of any item girl in Bollywood. Wearing red nail polish and her eyes laced with a black eyeliner, as Rose rides into a petrol station, the attendants address her as "Madam" without realising she is a transgender.
"I was born a boy in a conservative Chettiar business family on May 6, 1979, with one sister and two brothers. From the age of five I would wear my sister's clothes and play with her dolls. When I went to school, the boys would tease me because of my feminine behaviour but I remained quiet," she recollects.
Made fun of and abused verbally by male friends in school, she withdrew into her shell and concentrated more on studies. This paid dividends and she ranked in the top 10 in Ramakrishna Mission School and went on to obtain a degree in mechanical engineering in Chennai.
"Deep inside I always knew I was different but I did not dare reveal my real identity. I could not disclose I felt like a woman because I was scared my parents would throw me out of home and I would miss out on my education. After graduating as an engineer, I wrote the GRE and scored a very high percentile, which enabled me to go to the US in 2001 on a scholarship.
"While I was doing my MS in bio-medical engineering at Louisiana Tech University, I gradually started dressing like a woman but strictly only in private. Contrary to popular belief, Americans are hypocrites and do not accept alternate sexuality so easily. There have been incidents of violence against people of the third gender, so I never dared to come out in the open in the US," Rose narrates.
Her mother broke down and her father was scandalised and shocked when Rose informed them over telephone from the US of being a transgender. They immediately consulted a psychiatrist who said that being a "young boy in a different culture and environment, he was confused and it was just a passing phase".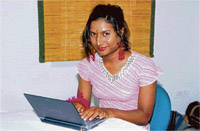 THE WORLD IS HER TARGET: Rose is looking forward to her chat show, which will be launched next month
After getting a master's degree, she returned to India but did not take up job as a professional engineer. She instead worked as an American accent trainer with a call centre in Chennai
"I gave up the job after a year and went to London since I had a work visa. I knew that because of my new identity — with which I had decided to come out in open — I would not get a proper job in India. So I decided to be a web developer for foreign clients as I had also studied web designing. I managed to get some foreign clients while in London and now work as a web developer from home without my clients knowing about my alternate sexuality," said Rose, explaining how she attained economic independence.
It wasn't easy for Rose to take the final decision about her sexuality. "At times I treated this phenomenon as an illness. There are clearly defined roles for men and women in society. I cried and asked myself why God had done this to me. I wondered what was in store for me? But finally, I decided to take the plunge," she said.
Early this year Rose won a transgender beauty contest in Chennai and after that, around six months ago, she approached Star Vijay with the idea of hosting a television talk show as a transgender. Star Vijay approved the proposal and decided to produce it.
Draped in a turquoise blue embroidered saree with matching jewellery and coiffured hair, Rose attended the press conference, held to announce the show. Her glam look worked, and she was a big hit. Overnight, she became a celebrity.
Though her show will be in Tamil, the producers are expecting a high TRP with an audience worldwide. Said Star Vijay programming head Pradeep Milroy Peter, "We hope to get some new eyeballs and definitely some raised eyebrows.
"We have never shied away from such themes. We covered the transgender annual get-together at Koovagam (a Tamil Nadu village) in a big way. But this programme is not going to be on just transgenders. It will cover a gamut of sensitive issues. The idea is not to shock anyone, but to present such themes in a sensible way for the general audience."
The aim was not just to create mere sensation, Pradeep said, adding that the show would have a lot of real life incidents and analyses, with experts and celebrity guests.
"After the formal announcement by Star Vijay, there was mixed reaction within my family since they still do not approve of me dressing up like a woman and putting on make-up but they did notice the programme with awe. However, some old friends and my former trainees did call up to appreciate my effort," said Rose proudly.
Her show, she explained, would dispel a lot of myths about lesbians, gays and transgenders and also be a platform to fight for their rights in society.
Talking about her future plans, Rose said that she wanted to begin her show in Tamil but was also looking forward to conduct one in English for one of the national television channels.
"I know Hindi but am not very fluent in it. However, Star News did a live question and answer programme with me and they said I answered pretty well. But I will be more comfortable with English, as I first want to address the urban audience in India which harbour wrong notions regarding sex and gender. I might start discussing social issues but if the show becomes popular, I will like to discuss even politics," she said.
Talking about transgenders, Rose disclosed, "It is first to do more with the mind than only the body. Around five per cent of the human population in the world is transgender. There are many who suppress their feelings and even get married and have children and much later come out in the open. I think that is bad because of the trauma the wives and children face."
Rose feels there is a lot of confusion about transgenders and transvestites. "There is a marked difference between a transgender and a transvestite. The latter is a pervert who gets a sexual kick by dressing up like a member of the opposite sex, whereas a transgender changes his or her sex out of love," she clarified.
"It is the western influence on our society which led to the hate culture against members of the third gender. In the Mahabharata, Arjun was a transgender for a year and sported long hair and dressed up like a woman. He was then known as Brihannala. Transgenders existed in Hindu mythology but it is the British who imposed their stupid laws on us and such archaic laws continue in our country," Rose pointed out.
Rose is hundred per cent positive about the success of her talk show. "My eyes and mind are open. The world is my target. I intend to host international talk shows and this is just a small beginning.
"I will concentrate more on the audio-visual medium than take to writing. In distant future I will like to act, direct and produce movies under the banner of 'Rose Productions.'"
And, why not? After all she has been a brilliant student and a professional engineer with a degree from abroad!
For the last few months Rose has been taking hormone injections to feminise her body. She had already removed the hair growth which males usually have on their bodies and face. Once the medication is complete, she will undergo a sexual reconstructive surgery in Thailand to get rid of the male organs and have a vaginal implant to be a full woman.
However, she will never be able to bear children due to lack of a womb and ovaries.
Has she ever been in love?
"I never dated girls or women, but certainly fell in love with men. I had four relationships but I did not dare reveal my feelings to those men. Men want transgenders at night but during the day, they will not only not recognise them but also run away.
"I did fall in love last December and was physical with a man. But he treated me like a sexual fantasy or a toy and I refused to accept such treatment. The affair lasted till the middle of this year when I decided to break-up. I am looking for love from a man who will love me for what I am and publicly accept me. Till that happens, I will give my best to the television talk show," said Rose with a glimmer of hope and confidence in her beautiful eyes.
Merry Christmas and good luck, Rose!