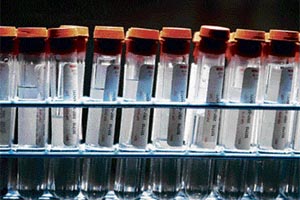 Chemistry works
Usha Albuquerque
As many students prepare for the all-important school leaving exams, many begin to worry about the options available to them after school. What if…. I cannot make it through the competitive exams, or cut-offs, or…? Many who take up science in school, wonder — what can I do with science, other than engineering or medicine. There are many who enjoy studying science and may, or may not, want to sit for competitive exams.


Careercature
Sandeep Joshi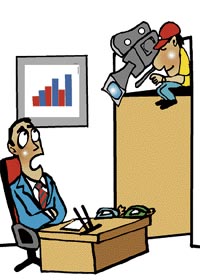 Is this the way to appear before an interviewer? Looks like you were a sting operator earlier.
Wage war
Women workers get a step-motherly treatment more in cities than villages and in private projects, as is evident by a wage disparity brought out by the NSSO survey released in New Delhi recently.
Second chance
A new website opens up post-retirement career opportunities for senior citizens
S. Satyanarayanan
Whether you call it economic compulsion or their keenness to keep themselves busy and use their expertise, these days a lot of senior citizens in the country are looking out for a second career post-retirement.
Career Hotline
Toothy task
Pervin Malhotra
Q Are graduates in dentistry eligible to sit for the for CMS exam?

Homoeo horizons
Anthropology avenues
Height of investment
Niceness works
A little kindness can make workplace better
Patricia Kitchen
Every office, if it's lucky, has its Bonnie Boynton. Boynton is a customer service representativ in a firm., and she's the person who bakes cakes for people's birthdays, brings in the plug-in air freshener when the office is smelling a little musty, says good morning to everyone and gets her husband to come in after work to help put up the office Christmas tree.
Foreign varsities to fill gap in higher studies
S.C. Dhall
Over three dozen international universities are understood to have submitted their proposals to our government for setting up their campuses in India. This is likely to address the huge demand for quality higher education.
BPO jobs head North-East
Rituraj Borthakur
India's north-east, so far clouded by insurgency, is bracing for an economic and employment boom with some of the country's top IT and BPO companies making a foray into the region.
'India not stealing western jobs'
Countering the rancour in the West against outsourcing of jobs, the chairman of IT major Wipro has said India was not stealing their jobs and its businesses were moving into developed countries which did not have enough skilled graduates to compete in the global economy.
Smoky ambience
More than 50 per cent of BPO workers smoke: study
More than 50 per cent of the BPO workers smoke and are not aware of the ill-effects of smoking despite being educated, says a study being carried out by the Tata Memorial Hospital in Mumbai recently.
Resume writing
State destination, then highlight milestones
Mary Ellen Slayter
Naomi Tranen has graduated from college and wants a job in which she helps people directly, perhaps in healthcare or education.
Bits & bytes
Top colleges on mission to foster entrepreneurial spirit
Students across Mumbai have caught E-Week India fever! This week, more than 60 entrepreneurship events are being hosted by 20 colleges in Mumbai, reaching out to thousands of students.
IIM-L starts consulting services
Cisco, NIIT tie-up for infrastructure mgmt training