Five Musketeers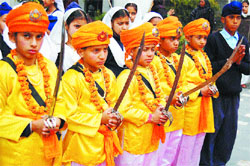 Kids dress up as 'Panj Pyaras' during a function at Bhai Gurdas Hall near Kotwali in Amritsar. Photo: Vishal Kumar
Experts: Pb needs better radiation processing technology
Amritsar, February 8
The distinguished scientists of international repute, who participated in the two-day national seminar on applications of radioisotopes and radiation technology which concluded at Guru Nanak Dev University on Friday, were of the unanimous view that Punjab government needs to focus more on radiation processing technology.
No Entry
City woman alleges house grab
Amritsar, February 8
Local resident Sharanjit Kaur has been running from pillar to post for more than a month to get possession of her house which has been allegedly locked by some of her neighbours.
Jail talkers: State to urge Centre for IPC amendment
Amritsar, February 8
The Punjab government would soon urge the central government for an amendment to the Indian Penal Code (IPC) for registering a case against the mobile phone users in various jails of the state.
Lok Sabha Poll
NSUI to strengthen student base in state
Amritsar, February 8
Keeping an eye on the parliamentary elections to be held next year, the National Students Union of India (NSUI), student wing of the Congress, has launched cadre building in the state.
Play Way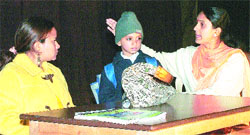 Staff and students of DAV School stage a play, "Armaan," in Amritsar. — A Tribune photograph
Creative Side
DPS goes arty
Amritsar, February 8
A week-long art workshop concluded at Delhi Public School here recently. As many as 120 students from class I to X created exciting compositions at the workshop. The grand finale saw a wide-ranging exhibition of multiple "works of art" on the school premises. Gen J.S. Bawa (retd), chairman, school management committee, was the chief guest on the occasion.
'Stroke second leading cause of death'
Amritsar, February 8
The three-day 3rd National Congress of Indian Stroke Association, being held under the aegis of World Stroke Organisation, kicked off here on Friday. The event witnessed participation of more than 300 neurologists from across the world for discussing the latest trends of paralysis.
Pak poets arrive in city
Amritsar, February 8
A delegation of eight poets from Pakistan arrived here to participate in the two-day poem festival being organised by Kendriya Punjabi Lekhak Sabha at Ferozepur from February 9. The group was welcomed by Talwinder Singh, vice-president KPLS and Amandeep Singh at the Wagah check post.
Layer Wear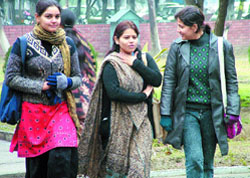 With mercury hitting the deck in the region, residents depend on heavy winter gear, including jackets and gloves, for protection. Photo: Vishal Kumar
Workshop on patent services
Amritsar, February 8
The Amritsar College of Engineering and Technology, Manawala, and the Punjab State Council for Science and Technology, Chandigarh, held a workshop on patent awareness. The workshop was sponsored by TIFAC, Department of Science and Technology, New Delhi. Dr S.K. Aggarwal, dean, academic affairs, welcomed the delegates, while Dr H.N. Chandrawat, director of ACET, inaugurated the workshop.
'Men more keen on facelift'
Amritsar, February 8
A growing number of men are keener to get a facelift to look more attractive and are beauty enhancement techniques more than their female counterparts.
Tech fest at Khalsa College
Amritsar, February 8
An inter-college tech fest was organised at Khalsa College, Amritsar, by the department of computer science and application of the college. The chief guest for the occasion was Dr Raghubir Singh, dean, academic affairs, Guru Nanak Dev University (GNDU).