Moral crisis facing youth
Everything is fair in love and war. This saying these days is being misused by urban youth. This is no way chewing lifestyle of the West. Indian youth are playing wrong cards by bluffing, befooling themselves.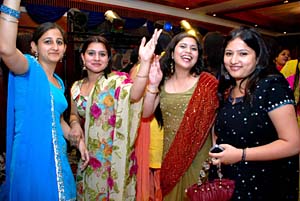 Young World
Sports industry must reap benefits of advanced materials: Experts
Jalandhar, May 27
A seminar on advanced materials and their application was organised by the department of industrial and production engineering at the Dr BR Ambedkar National Institute of Technology.
Students of St Soldier College of Education hold a farewell party for their seniors. — A Tribune photograph
Defence Diary
Vajra medicos hold fashion show, dance party
Jalandhar, May 27
Vajra medicos organised a fashion show and a dance party, "Krazy," at the Jalandhar Club in the cantonment here last evening. Doctors, their families and students of the Army College of Nursing joined hands for the splendid performance.
RCF may get DMU order from Kenya
Kapurthala, May 27
Rail Coach Factory (RCF) is hopeful of getting an order from the Kenyan railways in the near future.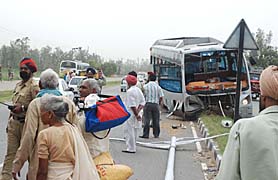 Close Shave:

Passengers of a private bus en route Vaishno Devi had a miraculous escape when their vehicle hit the road divider at Liddran village on the Jalandhar-Amritsar road on Tuesday. Tribune photo: Pawan Sharma

Ordinance protecting docs: PCMSA hails govt proposal
Jalandhar, May 27
The Punjab Civil Medical Services Association has hailed the state government for proposing an ordinance to prevent attacks on life and property of doctors and medical staff by relatives of patients.
Dhan Mohalla woman ends life
Jalandhar, May 27
A 26-year-old woman allegedly committed suicide by hanging herself at her residence at the Dhan Mohalla area of the city on Monday, the police said. The woman's body was found hanging by the family in the morning and they immediately informed the police, sources said.
100 sacks of bio-fertiliser seized
Jalandhar, May 27
The police seized 100 sacks of bio-fertiliser from near Sutlej Chowk here. The fertiliser was being brought from Ludhiana to Jalandhar in a Tata 407 truck, which has been impounded by the police. Bus stand police station SHO Jatinder Singh said truck driver Gurpreet Singh has been arrested.
Senior scientist praises electric engineer's work
Kapurthala, May 27
Dr S.R. Gowarikar, head of the technical physics division, Bhabha Atomic Research Centre, Mumbai, appreciated the work of a Jalandhar-based electric engineer's work during a function held to mark national technology day at Pushpa Gujral Science City in Kapurthala recently.
Hockey trials on May 29, 30
Jalandhar, May 27
The Punjab and Sind Bank would be conducting selection trials for the junior (15-18 years) and sub-junior hockey academies (12-15 years) at Burlton Park, here, on May 29 and 30.
New SAGES member
Jalandhar: City surgeon Gurvinder Singh Jammu has been elected member of the Society of Gastrointestinal and Endoscopic Surgeons (SAGES).
Letters
Rain and roads
Rains have started in Jalandhar very early this year. The rains give relief to the people from heat but, on the other hand, bring problems also.