If only…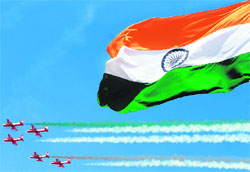 … this Independence Day brings you an absolute freedom to be able to do what you always wanted to, how would you utilise it?
As the nation get set to celebrate the 61st Independence Day, we decide to join in the celebrations with a generous spirit. So, we give the residents of the city a day of absolute freedom to do what he or she wants to do. Then we toss them the question: "What would you do if you were given the absolute freedom for one day?' Here's what we got to learn, the young and not so young ones redefining the meaning of freedom.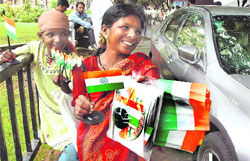 For some, it's just another day
WE all know about the shining India and its well-heeled young Indians. But there's a class of people living amongst us for whom this day is nothing more than another day of struggle for living.


15 Agast ko angrezon se azad hue the, to jhande bahut bikte hai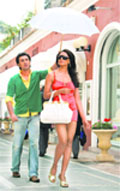 New releases
Love triangle
Bachna Ae Haseeno
Starring: Ranbir Kapoor, Bipasha Basu, Minissha Lamba, Deepika Padukone
Director: Siddharth Anand
WHY do girls always fall for the wrong guy? Their mothers warn them about him. Their friends shake their heads disapprovingly. Their minds tell them to escape while the going is good. But no! Oh no! Their hearts are another story altogether. You see, they are always sending all the wrong signals.
God of all things!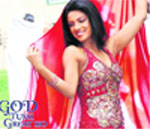 God Tussi Great Ho
Starring: Salman Khan, Priyanka Chopra, Amitabh Bachchan, Sohail Khan
Director: Rumi Jaffery
ARUN Prajapati (Salman) has been trying to be a successful TV anchor but success has always eluded him. He only blames God for this. Arun is head over heels in love with Alia (Priyanka), who is a TV anchor and well-known star working in the same channel but he has never been able to express his love for her.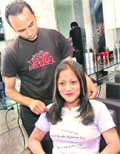 For better or worse
FOR some, change is the essence of life and they would make all the effort to reinvent themselves time and again. Read Madonna. The pop diva changes her looks to be in fashion. Be it a haircut, contact lenses or going extreme with cosmetic surgery, a little change is what they ask for. Talking trend, we speak to people who share the passion of reinvention. Ruhi, manager, Lakme-35 says: "People of all age-groups come to us for makeover, from haircut to skin makeover. Some want it instantly while want a gradual change."
Youth speak
Bhuvan Bansal


Home Ground
THERE are always two sides of the coin. Similarly, there is positive and negative impact of western culture on India and especially on Indian youth. Whether we live in a small town or a metro, the substantial influence of western culture on Indian youth is as visible as an elephant. Mention the word 'India' and it signifies a place of cultural heritage as well as diversity. But our metropolitans suggest an entirely different story.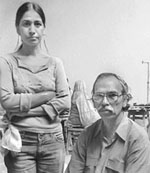 Bhawani Shankar Sharma makes an attempt to revive
this ancient popular art form
Fresh Frescos
WITH no kings or princely states to patronise, frescos have lost their appeal after 19th century. After all, it is a cumbersome process, quite expensive too and with no artist willing to experiment, the art of wall mural or frescos remains what it was- soothing that decor the walls of old temples and palaces.

The spirited duo: Bhawani Shankar Sharma & Sharan Bhool — Photo bt Vinay Malik
Little Interview


Caught in the act
KRUTIKA DESAI. The name immediately strikes a bell and conjures up an image of a girl who was craving for her husbands' attention in Chandrakanta. And then we saw this dusky beauty in various shades in serials like Zameen Aasmaan, Hungama, Superhit Muqabala, A Mouthful Of Sky, Mansi, Lipstick, Kkusum before we heard the next from her. The actor with a liberal outlook is back with serials, Dahej and Anu ki Ho Gayi Wah Bhai Wah. With all the appreciation and increasing fan list, we share notes with the actor on how TV is treating her.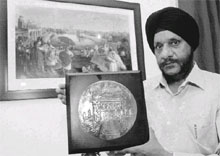 Golden restoration
HE boasts of being the third generation artist to be associated with the College of Art, both in the capacity of a student and a teacher. So, when one interacts with D. S. Kapoor, it is a new learning experience every day. Our latest discovery, a golden plaque at Kapoor's living room leads us to an interesting series of historical events, which were enacted in the recent past.
B.S. Kapoor

Sidelanes
The Empty Nest
IT is that time again when the nest is emptying. Baby birds are trying out their wings and often fall prey to pet dogs. Our six month old Cocker Spaniel mauled a babbler to death, then buried it amongst the yellow crocuses. She refused to eat it. The second time she did this, we saved the terrified chick and put it on a tree beyond the boundary wall. Whether it learnt to fly or was gobbled up by the watchful falcon, is a mystery.
Object d'art
Commonplace objects that inspire painters
Splash of colour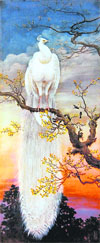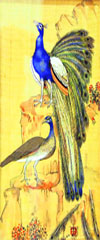 FOR someone familiar with Pahari paintings, the peacock becomes a tad too familiar a sight, for the bird is bound to come up in the foreground, which gently sets the mood for the romance of Radha and Krishna. — Photos by Vinay Malik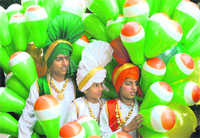 Youngistaan
AUGUST 15. A day of freedom. Freedom of thought and mind. Though times have changed but not the idea of freedom, and one thing that remains as it was is a generation that wears patriotism on their sleeve. Emerging as the new affluent young Indians their mode of expression may be different from the textbook method, but the feeling is no less than a devoted patriot.
Defining moments
n Born after Independence, the city is considered by many a utopian dream.
n Life Style checks out the events that marked the city in the past 50 years
Conceived to be a modern utopia, Chandigarh came into being after Partition when the East Punjab was left capital-less as Lahore went to Pakistan. An ardent search for a capital at that time saw politicians see-sawing between options of restructuring some old city into the state head quarters and developing an all-togther new city which symbolised modern India.
Scarlett plans second album
ACTRESS Scarlett Johansson is planning to work on a second album, just months after her first music record was released. Johansson, who released her debut album Anywhere I Lay My Head, admits that she is eager to do it all over again, even though she has received disappointing reviews from critics. "It was fantastic to do that album. Not only live with the music that I love everyday, but I just worked with such wonderful musicians who are so talented," she said. But Johansson has admitted that she's not in any rush to do the album, as she has yet another career path in mind. "I would love to do another album. Right now, though, I'd like to focus on developing something to direct," she added.
Lindsay's 'great', says Samantha Ronson
CELEBRITY DJ Samantha Ronson has finally opened up about her much publicised relationship with Lindsay Lohan, insisting that the actress is "great." "She's great. She's also 22 years old. I think people forget that," People quoted her, as saying. In fact, she is amazed at the interest generated by her so-called love affair with Lohan. On the other hand, Lohan wrote in an email: "I love the Ronsons. They're close to me and I respect all the work they do." But, she added: "Samantha and my relationship is a private matter." — ANI
Aniston 'dumped'
AFTER weeks of whirlwind romance, Jennifer Aniston has been dumped by her rock singer beau John Mayer, say reports. The pair initially decided to spend some time apart, before making the break official. — ANI