Autumn hues in Kashmir
Humra Quraishi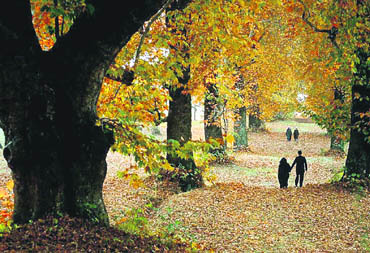 As autumn peaks, the fallen chinar leaves form a rust-coloured carpet

IN autumn thereís a heady change spreading out in and around the Kashmir Valley. Itís hard to describe the transformation that takes place when leaves begin falling off from those tall chinar trees, which stand out majestically at every turn. And as autumn peaks those rust-coloured leaves continue to fall, spreading on the roads, avenues and stretches around the Kashmir Valley `85the cracking sounds of the dried leaves adding to the bustle around.
At this time now thereís something absolutely different about the Valley. In fact, yesteryear poet Abuíl Fazl had stated, "The praises of Kashmir cannot be contained within the confines of the language."
The Kashmir Valley had attracted travellers, sufis and saiyyids from as far as the Central and West Asian countries, who came and never left. Their pagoda-style dargahs, ziarats and graves are a testimony to that.
Those days are gone but the fact remains that till date we have not been able to realise the potential, which the Valley offers. In fact, historian G.M.D Sufi has used various travellersí inputs to compare the Kashmir Valley to Switzerland and Greece.
Itís a pity that even today the tourists remain in the primitive stage of not going beyond the shikara and pony rides. An average Indian tourist will either hang around the Dal Lake or at best go sightseeing along the Nageen or picnic at Mughal gardens or meadows.
A shade more adventurous go for a day-long visit to set destinations like Pahalgam or Sonamarg, little realising thereís more to the Valley. It is time we realise that it should not be treated as just about one of those typical getaways.
Come autumn thereís more awaiting. Starting with some practical positives thereís a noticeable comedown in the tariff and most hotels and houseboats readily offer discounts. Prices are down for everything, right from lodging to food to dry fruits to even winter clothing.
Thereís quiet and solitude. For those who are not lazy and want to move around thereís much to see. There are many villages on the outskirts of the Srinagar, their scenic beauty can cast a spell. These villages had shawl embroidery-cum-weaving centres, with entire families engrossed in work in backdrop of an enchanting landscape.
The autumn gives the entire atmosphere and landscape a different shade. It is also the time when saffron flowers begin to bloom, emitting a strong fragrance. Historian Sufi describes it as a fragrance, which is "delightful to the senses and produces a subtle vivacity of spirits.
And as autumn peaks into full-fledged winter the Valley can be made into a prime spot for winter sports. It is a pity that Gulmarg has not been converted into South Asiaís most sought-after skiing resort despite having all infrastructural facilities, including connectivity from the Srinagar airport, several affordable tourist huts and hotels, gondola cable car, and sufficient arrangements for hiring skiing equipment and instructors.
The paeans about the valley can go on and on. In fact, thereís a line from one of the tourism brochures, which conveys the crux. "They say a visit to Kashmir can divide your life into two halves `85..before and after Kashmir."