Superman Routh enters Bollywood
Rajesh Ahuja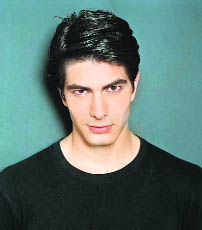 Brandon Routh will be seen in Sajid Nadiadwala's Kambakkth Ishq

AFTER years of Bollywood filmmakers and actors looking up to "big brother" Hollywood for roles and story ideas, the scales seemed to have reversed with directors and actors from Hollywood increasingly taking a fascination for Indian films and actors. Close on the heels of Snoop Dogg appearing in a rap song with Bollywood khiladi Akshay Kumar in Vipul Shah's Singh Is Kinng, a host of big stars from Hollywood will appear in another film featuring Akshay Kumar.
After getting Hollywood action man Sylvester Stallone and Denise Richards to make an appearance in his next film Kambakkht Ishq, its producer Sajid Nadiadwala has managed to rope in another Hollywood biggie Brandon Routh in the star cast of Kambakkth Ishq, which features Akshay and Kareena kapoor in lead roles.
Better known as Superman from the Superman series, Brandon Routh has just finished shooting an extensive action portion of the film with Akshay Kumar.
Trade sources and those associated with the film say Akshay and Brandon recently performed a stunt scene together which was also the most crucial as also the most dangerous scene for the film.
The sources said watching Akshay perform the most dangerous of action stunts for Kambakkht Ishq has left the Hollywood actor highly impressed.
"Brandon was very impressed with Akshay after watching him perform dangerous stunts for the film. He was surprised that in Bollywood, actors performed the stunt scenes themselves," sources revealed.
They said that while on the sets of the film, both Akshay and Brandon exchanged tips on fitness, action and martial arts.
"It was fun to see them bond. Brandon was very happy working with the team of Kambakkth..," they said.
Trade sources said roping in Brandon for the film was indeed a coup of sorts for the filmmakers movie given his phenomenal popularity as Superman.
In fact, kids loved Brandon in the Superman returns. The sources also said after Sylvester Stallone and Denise Richards, the presence of Brandon in the film could boost the popularity of the film.
"While Brandon's name spells box office gold in Hollywood, Akshay's presence in a Bollywood films today ensures a big draw for it as was seen in the case of Singh Is Kinng.
Further, the presence of Brandon will ensure that the film grabs interest of children in India and abroad since the film will be a rare opportunity for them to see their Superman sharing space with Indian action king Akshay Kumar," the sources said. In recent years, Hollywood actors and filmmakers have showed an increasing fascination for Bollywood films and actors.
Recently, Hollywood actor Will Smith expressed an interest in working with former Miss World Aishwarya Rai Bachchan. Will Smith, who has always maintained that he is an Aishwarya Rai fan, said she was his first choice as co-star in Hancock.
Will Smith has also expressed his wish to act in a Bollywood movie and predicted that the future would see the marriage of Hollywood with Bollywood.
More recently, Hollywood singer 'Snoop Dogg' teamed up with Akshay Kumar to record a hip-hop video for Singh Is Kinng. Snoop even swapped the du-rags and pimp-suits for a turban and became a traditional 'sardar' for the video.
The project was the first-ever collaboration of its kind between a big international music artist and the Bollywood film industry.
In fact, Singh Is Kinng producer Vipul Shah has said Snoop Dogg is keen on wowing the Indian audiences and that he's talking about appearing in a movie with Akshay Kumar. — UNI