Mela Raja Sansi Da: A fair deal for historic village
Amritsar, December 16
A two-day cultural fair "Mela Raja Sansi Da" was organised by the Socio-Economic Development Programme (SEDP) at Rajasansi village under the endogenous tourism project of the United Nations Development Programme (UNDP) through the government of India to promote community tourism.
Computer knowledge boon for students, says Majithia
Amritsar, December 16
Keeping in view the ever-increasing demand of computer professionals in the national and international job markets, information and public relation minister Bikram Singh Majithia has urged the people to make their children computer savvy.
Soni group wins YC (U) poll
Amritsar, December 16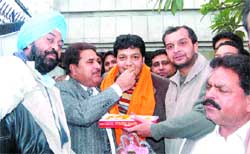 Despite strong opposition from within his own party, MLA O.P. Soni has proved himself as the strong candidate for the next parliamentary elections with his group grabbing majority of seats in the Amritsar Youth Congress (urban) election, the results of which were declared here today.
O.P. Soni, MLA, offers sweets to Dinesh Bassi on his victory in the election to the president of the district Youth Congress (U) in Amritsar on Tuesday. Photo : Vishal Kumar
37 inmates of central jail pass vocational course
Amritsar, December 16
As many as 37 inmates, including 16 women of Amritsar Sudhar Ghar (Amritsar central jail), today got certificates after successful completion of their vocational courses run by Guru Nanak Dev University under the aegis of its department of adult, continuing education and extension.
Three vehicle-lifters nabbed
Amritsar, December 16
The police yesterday nabbed three vehicle lifters in two separate cases and recovered three motorcycles from their possession. The arrested persons, Jagjit Singh of Batala Road, Hira Singh of Sandhu Colony, Batala Road, and Des Raj of Gali Fatwali Haveli Mai Tony.
Young World
Mathematics project contest held
Amritsar, December 16
To help and provide exposure to students in understanding mathematics, first sahodaya mathematics project contest-2008 was held at Sri Guru Harkrishan Senior Secondary Public School here on Tuesday. School manager Dr Ranbit Singh inaugurated the contest. Students displayed their models and showed various concepts on mathematics. District education officer Neelam Bhagat, who was the chief guest, gave away the prizes to the winners. Harkrishan school and Bhawan's S L Public School jointly won the first prizes in the primary and middle sections, while DAV Public School, Lawrence Road, and Harkrishan school were jointly declared winners in the secondary section. A cultural programme was also organised on the occasion.