Raising the bar
The tricity's pub and lounge culture is seeing a growing presence of youngsters, especially the fair sex
Jigyasa Kapoor Chimra
My word!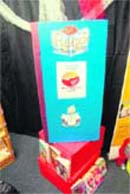 If an invitation were required to take to the reading habit, this cover laid out on World Book Day makes for an attractive one.
Lifestyle photo: Vinay Malik
The cocktail lounge has re-emerged on our cultural map as a popular site for socialising and spending an evening out, particularly among urban trendsetters in their twenties and thirties. Having become a philosophy for many, to our surprise and, probably yours too, in contrast to the so-called lazy or no-lounge or pub culture in some towns, the young and not so young in our city are gung ho about it.
"People usually perceive bars and lounges to be one and the same thing. But both have a subtle difference. And when we talk of a lounge and pub culture and the trend of boozing out, the tricity is definitely high on both. But unlike other cities, we are open to girls and boys both visiting them. And when we talk of a lounge culture, more than a place to drink, the lounges have become socializing sites where friends catch up and working couples let loose the load of work," says Ashutosh Kapoor an employee of a telecom company in Mohali.
"We are blessed to be in a city that is open to change," says Gaurav Gupta, a student of UIET, Panjab University. And hey, we wanted to know how about girls visiting pubs and lounges? He says, "We live in a democratic country where everyone has his/her right to live. And if it's not wrong for boys to visit pubs, it's not wrong for girls too." "Girls lounging in a bar with a glass of drink was almost a taboo in the past, but today, it is a different scenario, with many girls visiting the bars to unwind over a few drinks," says Kirti Karol, BA student of GCG-11.
Ask the people who are in the F&B business and they too agree that we are more open to changes and the city is opening up to nigh tlife.
"We were considered to be more conservative as a society but I guess, we are now opening up," says Aman Bir Singh, director, Hot Millions. He adds, " If you talk about night life, Chandigarh had little or, for that matter, no night life some years back. But we are definitely shifting towards a metro culture and are more open to a pub and lounge culture now.
With the pubs getting popular here, the owners are in no mood to spare any possible effort to woo women customers. One can notice a lot of woman becoming regular tipplers at the pubs and lounge bars. "Girls visiting pubs is a common site here in the city and people don't mind it too," says Eitika Garg, assistant manager, public relations, Taj-17. She adds, "It's only considering the number of girls and ladies who visit the bar that we have a ladies night every Wednesday."
Opened some months back, Hard Rock Café-43 sees a lot of young crowd. Ask the MD Arun Grover about the lounge culture and he says, "I cannot say its limited to boys or to girls, we see a mixed crowd from both the sexes." And what does our city rock to? "The city is high on music but not on hard rock. We started as a hard rock café but have now changed to a karaoke lounge."
In the end, we can say our city is definitely high on sipping spirits and that too in the right spirit.
jigyasachimra@tribunemail.com