Youth takes on the khap might
Chandigarh, July 25
With the dissemination of education and increasing opportunities of interaction among youngsters, a healthy concept of inter-caste marriages has evolved, but some sections of society, in the name of traditions and culture, find it hard to adjust to this phenomenon.
Degree fake
Kharar, July 25
Lucknow University has declared the PhD certificate of Col Amar Jit Singh (retd), former principal of Sachdeva Engineering College for Girls, as fake. The Tribune had sent his degree to the university. "We have scrutinised the certificate and it is fake. The signatures of the VC, AS Brar, are also fake," Prof Surendra Kumar Dwivedi, director of the Institute of Publication and Public Relation of the university, said.
Corporal Punishment
Tardy probe: Admn under pressure?
Chandigarh, July 25
The city administration has seemed to come under pressure from vested interests to go slow on the enquiry in the corporal punishment case against a teacher of St John's High School, Sector 26.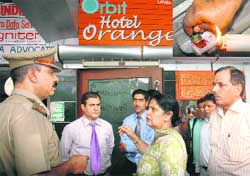 Lack of fire-fighting equipment
Fire dept seals hotel
Chandigarh, July 25
The city's fire and emergency department today sealed two multi-storied buildings in Sector 34 for ignoring its directions regarding fulfilling the fire safety norms.



Owner of the Orbit arguing with a team of fire officials at Sector 34 in Chandigarh on Saturday. Tribune photo: Manoj Mahajan
Ajay Goyal launches Lokmantra
Chandigarh, July 25
"Chandigarh, the 20th century city can bring about a change in the political as well as the social set up", opined Ajay Goyal, who fought the last Lok Sabha elections as an Independent candidate from here.
Talwars admit to tax evasion?
Chandigarh, July 25
Tax evasion to the tune of Rs 16 crore has, reportedly, been admitted by the proprietors of Sector 22-based Talwar Jewellers here today. Income tax officials had conducted raids yesterday on at least 12 commercial premises, including houses of the Talwars and their relatives at several places.
Civic Amenities - V
This rot won't go away
Mohali, July 25

The state of sanitation in Mohali is unsatisfactory with the Municipal Council failing to ensure the daily cleaning of localities.
An uncovered drain; and (right) a heap of garbage lies on the road separating Phases II and IV in Mohali. Tribune photos: Vicky Gharu
Policemen record false statement
Mohali, July 25
Role of certain Mohali police officials has come under the scanner for recording false statement to facilitate issuing of a passport by the Regional Passport Office, Chandigarh. On the basis of false verification, a married woman, Jasmine Sandhu, was able to get two passports — one issued by the Regional Passport Office, Gaziabad, and the second from the Regional Passport Office, Chandigarh.
No breakthrough in missing realtor's case
Panchkula, July 25
More than one and half months after Deepak Rai Saggar, a local property dealer, was kidnapped, the family of the victim has said to have received two letters regarding the whereabouts of the realtor.
Dhillon's sisters, too, join in
Mohali, July 25
The Congress candidate from Banur, Deepinder Singh Dhillon, completed first phase of campaigning today at Haripur Hinduan, Jolly, Batouli, Juharpur, Nagla, Sanouli, Singhpura, Bhoota, Satabgarh, Dialpura, Jhuggian and Nabha villages.
Trinamool Cong leader attacked
Chandigarh, July 25
Shambu Banerjee, a Trinamool Congress leader, in a complaint lodged with the police alleged that a few unidentified persons attacked him with sticks and swords near the Mauli Jagraon police post.
Now, book railway tickets at post office
Mohali, July 25
Mohali residents can now book railway tickets at the Phase I post office as the facility of reservation of tickets through passenger reservation system was launched here today.
Property agents meet DC
Mohali, July 25
A delegation of Mohali Property Consultants Association today met (Regd) the Deputy Commissioner, Prabhjot Singh Mand, to demand registration of the Conveyance Deed at the allotment price to the re-allottees on the pattern of original allottees.


Placement drive at engg institute
Dera Bassi, July 25
Sukhmani Institute of Engineering and Technology organised a joint placement drive on the campus of the engineering college here yesterday.
From Schools
DPI told to make newspaper reading mandatory
Chandigarh, July 25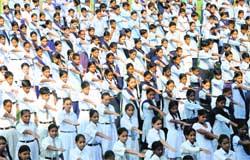 As a part of the ongoing campaign of administering Anti- Drug Pledge in all Government Model and Non-Model Schools of Chandigarh, UT Home-cum-Education Secretary Ram Niwas today administered the pledge at Government High School, Sector 24, and Government Girls High School, Sector 25.

Students take a pledge during a drug awareness programme held at Government Senior Secondary School, Sector 25, in Chandigarh on Saturday. Tribune photo: Vinay Malik
Booklet on environment released
Chandigarh, July 25
The Sohanjana Eco Club of he GMSSS, Sector 46, celebrated the tree plantation day on the school premises here today.
Vanmahotsav celebrated
Chandigarh, July 25
Plantation of saplings, along with an entertainment programme on various environmental issues, marked the Van Mahotsav celebrations in Sacred Heart Convent School, Sector 26, here today. The chief guest Dr Kakoli Biswas, head of the bio-technology department at DAV College, talked about the importance of conserving the environment and planting trees.