Delhi plunges into darkness
New Delhi, August 21
The heavy rain in the Capital not only brought zero visibility on the roads but also inside the houses, as power supply was badly affected in many parts of the city.
ICICI Bank booked for circulating fake currency
Gurgaon, August 21
The Gurgaon police has registered an FIR against a south Delhi branch of the leading private sector ICICI Bank on the charge of possessing/using counterfeit currency notes as original ones.
Cousin kidnapped minor girl
New Delhi, August 21
The police has rescued a seven-year-old girl who was kidnapped from Khanpur on Wednesday. Two persons, including the girl's relative, have been arrested. They have confessed to the crime.
Swine Flu: Doctor's presence must in functions
Noida, August 21
In view of the increasing cases of swine flu, the district administration has asked people and social organisations not to hold any public function unless the presence of a doctor is ensured for the occasion.
Residents tense as high tension wires hang low
Noida, August 21
The traffic situation in front of the group housing societies in Sector 50 is chaotic, though the road is two-way and about 50 m wide.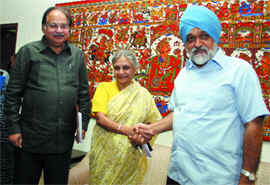 Rs 10,000 crore for Delhi
New Delhi, August 21
The Planning Commission on Friday approved Rs 10,000-crore plan outlay for Delhi for the 2009-10 fiscal. The annual plan for the Capital was finalised in a meeting between Delhi Chief Minister Sheila Dikshit and Planning Commission deputy chairman Montek Singh Ahluwalia.
Sheila Dikshit, urban development and finance minister A.K. Walia and deputy chairman of Planning Commission Momtek Singh Ahluwalia in New Delhi on Friday. Tribune photo

Crime File
Farmer shot at in Gt Noida
Greater Noida, August 21
A farmer guarding his farm in Alauda Jagirpur village under Dankore police sation was shot at and wounded by criminals on Thursday evening.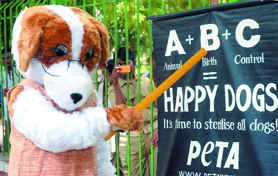 An activist from the People for the Ethical Treatment of Animals (PETA), dressed up in a dog suit, gives a lesson on animal birth control at Jantar Mantar in New Delhi on Friday. Tribune photo: Manas Ranjan Bhui

48 birds set free
New Delhi, August 21
As many as 48 birds that had been caged for the last five years due to the ongoing proceedings in a 2004 case were finally released in the open sky today when the Tis Hazari district court directed
Soumya Case: Accused denied bail
New Delhi, August 21
The Patiala House district court today dismissed the bail application moved by Baljit Malik, one of the accused in the murder case of TV journalist Soumya Vishwanathan.
70-yr-old doctor honoured for helping arrest burglar
Gurgaon, August 21
The police today felicitated a 70-year-old doctor who helped the police arrest a burglar.
Woman raped by landlord
New Delhi, August 21
A 22-year-old woman was allegedly raped by her landlord in the Mandawali area of east Delhi last night.
3 held for peon's murder
New Delhi, August 21
Three persons have been arrested for loot and murder at Vikaspuri in West Delhi.
Now, pay for power at Metro stations
New Delhi, August 21
Power distribution company BSES today installed cheque drop boxes at 30 Metro stations.