Verse for better Ramlila
Instead of dialogues written in prose, Rama and Ravana of Kumaoni Ramlilas sing out their lines
BD Kasniyal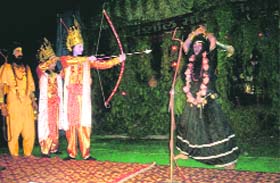 Pitthoragarh, September 21
Come Navratras and every nook and corner of the country stages its own Ramlila. Kumaon has its unique style which has originated from 'nautankis' and 'raslilas' of Mathura.
Centuries ago, devotees of the bhakti cult communicated their feelings of attachment with their Lord through ballet.
This gave rise to the form of 'nautankis' and 'raslilas' which spread the cult of Krishna bhakti all over the subcontinent.
"Initially, Parsi theatre companies used to perform on various religious topics. When these companies reached Kashipur in the Kumaon region, these troupes started enacting Vaishnav themes like the raslilas and Ramlilas," said Dr Ram Singh, a noted social historian of the region.
The Ramlila in Almora and Pitthoragarh districts were influenced by these 'nautankis' and this form of musical ballet is still prevalent in all over Kumaon.
"Ramlila celebrations began in Pitthoragarh in 1895-96 when Devi Dutt Makaria came as a Sub-Divisional Magistrate (SDM) to Pitthoragarh that was then a sub-division of Almora district.
"He erected a small stage near Pitrota village and staged the first Ramlila in 1897," said Padma Dutt Pant, a retired principal.
In Almora, the tradition of Ramlila and Dussehra is one of the oldest in the Kumaon region. Almora is only place where effigies of 20 members of Ravana's family are displayed and then burnt on Dussehra.
"But the Ramlila which started in Almora in 1831 is based on song and ballet. The delivery of dialogue is through singing and music while the steps are based on the ballet dance form of Uday Shankar, the famous dancer who stayed in Almora for some time," said Rajendra Bora, a Kumoani poet and artiste associated with Ramlila in Almora for more than three decades.
Organised by the Sri Laxmi Bhandar Hukka Club, Ramlila in Almora has also been influenced by 'raslila' and 'nautankis' of Mathura.
During the initial years, the script of the Ramlila being staged in Pitthoragarh was based on a book made available by SDM Devi Dutt Makaria.
The staging of the Ramlila in Pitthoragarh promoted inter-communal harmony where a Mohammedan used to play the sitar with Jait Ram, a Dalit, who accompanied him on the tabla while Brahmins used to play the lead roles.
During the initial days, mustard oil lamps were used to illuminate the stage. This system continued till gas stoves were introduced by an unknown trader from Bareilly in 1916.
When petromaxes were introduced in Pitthoragarh, the timings of the Ramlila underwent a change. The performance, which till then started in the afternoon, came to be opened at night. After 1940, the new script of Ramlila was evolved.
Ramlila has a long past in Nainital. The town witnesses four stagings of the Ramlila - Tallital, Mallital, Narayan Nagar and Sher ka Dhanda. While the Ramlila of Mallital enters its 91st year, the Tallital Ramlila is over 100 years old.
"A totally musical Ramlila is our uniqueness. Our other specialities that no other Ramlila in the Kumaon region has are our background scenes, music based on Radheshyam Ramayan and participation of female actors," said Ganga Prasad Shah, a member of the Ramsevak Shabha that organises Ramlila in Nainital.
In 1960 when Pitthoragarh became a district, classical music was introduced and several classical singers started taking part.
The artistes who have enriched the Ramlila with their talent were Lali Ram, Mohan Bhatt, Bhairav Jung Thapa and Rajnikant Joshi.
Ustad Bulaki Ram started imparting classical music lessons to the artistes. This initiative strengthened the musical aspect of Ramlila.
Pitthoragarh Ramlila has seen a change in instruments from time to time. Initially, it was the sarangi and tabla. Harmonium was introduced in 1916. And now, modern musical instruments rule the music scene.
"At first, the sarangi based on sub-classical ragas was the only instrument. Local organisers like Ganga Ram Punetha, Govind Lal Gupta, Harkishan Lal Shah, Bahadur Pal, master Bulaki Ram and master Intiya Ram developed their own script and based it on pure classical ragas.
"We are different from the ballet prevalent in other parts of Kumaon as they are based on the Bimtal script and recite on mixed ragas. We are a bit more classical," claimed Jagdish Punera, secretary of Ramlila committee of Pitthoragarh.
"We have a taleem (training) committee comprising old artistes and musicians. The committee starts selecting artistes for Ramlila two months in advance and impart training in acting and classical singing," said Punera.
Mahendra Matiyani, leading theatre artiste of the Kumaon region, relates that the Ramlila enacted in Kumaon region was influenced by the ballet introduced by noted classical dancer Uday Shankar in late 1950s.
"Although the influence of Uday Shankar is same on every Ramlila in Kumaon, but Pitthoragarh Ramlila is different in terms of script and tunes," said Matiyani.
Besides 36 places in Almora, Pitthoragarh and Nainital, the musical Ramlila of Kumaon is also staged in Ramnagar, Haldwani, Khatima, Champwat, Lohaghat and Bageshwar.