Shopian Case
BJP opposes strike call against CBI report
Jammu, December 16
BJP spokesperson Ramesh Arora has opposed the strike call against the CBI report in the Shopian incident saying the protest call was meant to mislead public and save the real culprits.
Peace must for regional growth: Governor
Jammu, December 16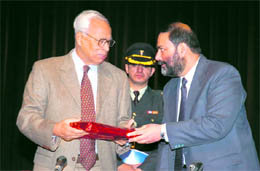 The Governor, NN Vohra, said today that India's centuries old relations with Afghanistan were deeply embedded in commonalities in the civilisational and cultural context. Referring to the purposeful support being provided by India to assist the Afghanistan government in infrastructure building, the Governor observed the historical relations between the two countries could not be easily thwarted by vested interests.
Jammu University Vice-Chancellor Varun Sahni presents a memento to Governor NN Vohra in Jammu on Wednesday. Tribune photo: Anand Sharma

Senseless bloodshed must stop: Mehbooba
Srinagar, December 16
PDP president Mehbooba Mufti has condemned the killing of a young girl at Keller in Shopian district of south Kashmir by unidentified gunmen last evening. In a statement, Mehbooba called for an end to such "senseless spilling of blood" and regretted that the government had failed to curb crime in society in spite of a decline in militancy.
Tribune journalist bereaved
Jammu, December 16
RK Raina, a local political leader and senior advocate of the J&K High Court, died of cancer at Tata Memorial Hospital in Mumbai today. He was the elder brother of Ashok Raina, a reporter working with The Tribune posted at Kangra. The cremation would take place at the Shakti Nagar Ghat here at 3 pm tomorrow. — TNS
NDRF unit sought in valley
Srinagar, December 16
Demanding a unit or a company of the National Disaster Response Force (NDRF) to be set up in the valley, participants on the concluding day of the orientation conference and mock drill excercise on earthquake said the valley deserved a special consideration as it falls within the seismic zone V.
Thieves steal LPG cylinders meant for midday meal
Udhampur, December 16
Thefts of LPG cylinders meant for cooking midday meal has become a cause of concern for the district education authorities. It is particularly so because the police is either not interested in lodging complaints and even if it does, the complaints gather dust in its records. This is the reason that no recovery has been made in any case so far.
Spurious Drugs
Reward scheme for whistleblowers
Jammu, December 16
The Central government, in its endeavour to expose anti-social elements indulging in the manufacture and sale of spurious drugs, has framed a whistleblower scheme to reward those who will provide information about such elements/activities to the regulatory functionaries so that the present problem of spurious drugs could be tackled effectively.
Highest number of top militants killed this year: DGP
Jammu, December 16
The security forces have killed top commanders of different militant outfits this year, first time in two-decade of militancy, when about 40 per cent of militants gunned down were district or divisional commanders.
Distributors to help check sale of spurious drugs
Jammu, December 16
The pharmaceutical distributors have reiterated their pledge to fight the menace of spurious drugs in the state. Rakesh Gupta, president of the Pharmaceutical Distributors Association, assured during a function that the association would do every thing to ensure that spurious drugs were not sold in the state.
Kids learn firefighting techniques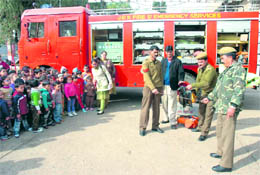 Jammu, December 16
Taking a cue from the recent fire incidents in the city, a private institute has taken an initiative to teach firefighting techniques to kids. The aim of teaching kids firefighting techniques was to develop a fascination with them to learn this art in a play-way manner.
A fireman displays firefighting techniques before children in Jammu on Wednesday. Tribune photo: Anand Sharma
Jawan dies in accidental fire
Jammu, December 16
An Army soldier posted at the Artillery Brigade camp in the Tanda area in the Akhnoor border Tehsil was killed when he was hit by a bullet fired 'accidentally' from a guard's gun at the camp today.
12 farm technocrats hurt in lathicharge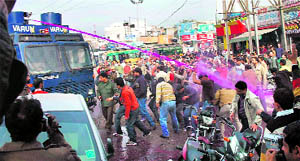 Jammu, December 16
At least 12 agricultural technocrats were injured in police lathicharge at Dogra Chowk here today while they were taking out a rally from the Press Club demanding the regularisation of their services.
The police uses water cannon to disperse farm technocrats in Jammu on Wednesday. — PTI
Militants gun down girl
Srinagar, December 16
A spell of relative lull in Keller, which has seen several civilian killings this year, in Shopian was broken when militants killed a 20-year-old girl Sherazah Akhtar last night, as her wailing family members watched her die.
Vohra, CM greet people on Losar
Jammu, December 16
Governor NN Vohra and Chief Minister Omar Abdullah have greeted the people of Ladakh on the auspicious occasion of Losar, Ladakhi New Year.
Minister snubs doctors, staff at Udhampur hospital
Jammu, December 16
Health Minister Sham Lal Sharma today snubbed the management of the district hospital, Udhampur, and directed the doctors and staff to keep their bags packed for the remotest areas, saying that "Only performers will stay and dead woods will go to home."
Man run over by train
Jammu, December 16
A mentally challenged man was run over by a passenger train at Chowadi, near here, today. Official reports said 70-year-old Tara Chand of Jallochak was run over by the Uttar Sampark Kranti at Chowadi and killed. The victim had gone missing from his house around 5 am today.