M A I N N E W S
Is your ATM card safe?
Ruchika M. Khanna
Tribune News Service


Banking on the ATM Card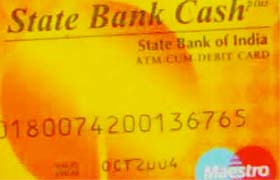 No, your ATM card may not be safe after all
Inspite of the convenience of use, the ATM- cum- debit card can easily be cloned.
The security features can be cloned on the ATM machine by inserting a magnetic strip reader on the base of the card slot, or through a merchant Point of Sale (PoS) terminal.
A button camera placed on the ceiling of the ATM can record the PIN when entered by a gullible customer.
A card reader can also be fixed on the cable connecting the computer keypad to the CPU. This can record the PIN when you enter it while making a payment through the ATM cum debit card at a PoS terminal.
Precautions while using ATM
Maintain the secrecy of your Personal Identification Number (PIN).
Do not let anybody inside the ATM, lest the on looker sees your PIN code or exchanges your ATM card on the pretext of helping you.
Avoid using ATMs which have messages or signs pasted on them indicating that the screen directions have been changed.
Shield the keypad with your hand when entering your PIN.
If the ATM is not functioning normally, press the cancel key and report the matter to your bank.
Change your PIN periodically.
Regularly check your account balance .
Retain your ATM transaction slip for reference.
Subscribe for SMS alerts on all banking transactions.
Chandigarh, August 26
The recent incidents of cloning of ATM cards in Chandigarh have once again thrown the spotlight on how safe ATMs really are.
With 10 persons having lost their money because of someone cloning their ATM cards (issued by the State Bank of India) in Chandigarh, the public outcry has now forced various banks on securing their offsite ATMs (those which are away from the bank branches).
While it is an individual decision of a bank regarding providing security guards at all offsite ATMs, most banks have now decided to depute security staff at all offsite ATMs in Chandigarh, Panchkula and Mohali.
The SBI has already issued instructions for deputing security guards at its offsite ATMs. Punjab National Bank is now ensuring that the access lock on the doors of all ATMs are secured, so that no one other than an ATM cardholder can enter these ATMs.
Since it is mandatory for banks to have CCTVs installed at all ATMs, many banks are busy ensuring that the CCTV system at all their ATMs are in place. Many banks, like PNB, have in-built CCTVs in their ATM machines, so that the footage of all users can be taken from the front. Almost all ATMs now have a list of do's and don'ts for their users, advising them on precautions to be taken while using ATM cards.
"Though we are taking all precautions, we believe that the ATM cloning could not have been done at an ATM, but at a merchant Point of Sale (PoS) terminal. Each bank has an ATM security system in place, but there is no check on the PoS terminal. There are no CCTV cameras at most terminals and it is easier to lure a merchant or an employee at a fuel retail outlet to install cloning devises on his terminal. It is here that the security systems have to be checked," said a senior official in the SBI.
Interestingly, banks have also started issuing advisories to their Net banking users, cautioning them about the phishing attacks. The websites of all banks are now warning their customers to be aware of any emails purported to be originated by the bank to gather username and passwords or any other personal information, as it could be a phishing mail.
do I get my money back?

There are varying points of view on this issue. While some legal experts feel that the banks are liable for any fraudulent transactions taking place in their customers' account, others feel that the bank cannot be held responsible for financial loss. Harpreet Singh Giani, a leading corporate lawyer, says that the maximum a victim of ATM cloning can do is to hold the bank responsible for giving him an insecure ATM card. "Banks are not liable to reimburse the lost amount as they cannot be held responsible for theft or misuse of card at the customers' end," he says. Banks, however, are mum on this issue and have preferred to maintain silence on their liability, if any. All legal aspects are being considered before we decide on anything, say officials in most banks. So this means that the only hope for the victims of ATM cloning is that the law enforcers catch hold of the accused and physically recover their stolen money.

What the victims have to say

"The bank will have to reimburse the money, as it has been stolen because of the insecure ATM card provided to me by the bank,"
Kamlesh Kumari

"I will not let my hard eared money go away like this. The bank will have to reimburse the money back as I have lost my money for no fault of mine,"
Dr Sangeeta Arora

"I got an SMS alert about the withdrawal of the money through my ATM. I myself took the CCTV footage, which showed the culprit, to the police and the bank authorities. I have lodged a complaint with the police and hope that the culprit is caught. But I feel that the bank is liable to pay me the damages and reimburse the lost amount,"
Ankur Trigunayak