Two naval bases okayed in Orissa, Tamil Nadu
* New naval bases to come up on the Eastern sea board at Paradip and Tuticorin
* These will be the first major naval bases other that Vizag on the eastern coast
Ajay Banerjee/TNS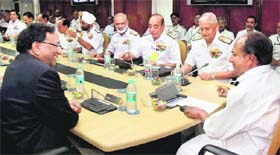 Defence Minister AK Antony addresses the Naval Commanders' Conference, in New Delhi on Wednesday. — PTI
New Delhi, October 27
In an apparent bid to counter China's growing presence in the Bay of Bengal, especially its new forays in Bangladesh and Myanmar, the Indian Government has okayed two new naval bases on the Eastern sea board - Paradip and Tuticorin in Orissa and Tamil Nadu, respectively.
These will be the first major naval bases other that Vizag on the eastern coast. The Navy has smaller stations but no big bases that typically provide all logistics support like supplies, replenishment, repair and maintenance.
Paradip has a commercial port. Though the east coast as a host of Coast Guard stations, the decision was taken to ramp up Naval presence, sources said.
China has announced its intention to build a deep sea port at Sonadia near Cox Bazar Bangladesh. It is also building ports in Myanmar. All these are in the Bay of Bengal and face India.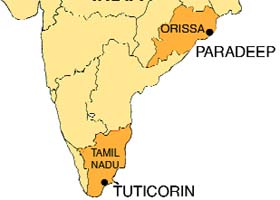 Most of country's missile tests are conducted off the east coast. India's "look east" policy aims at engaging smaller navies that are east of India. For them this will be a huge morale booster as all of them regularly conduct exercises with India, said sources.
Defence Minister AK Antony today told top Naval Commanders that "due priority" will be given to creation of new operational and administrative infrastructure in the Andaman and Nicobar Islands and Lakshadweep & Minicoy Islands.
Antony, while addressing the top brass of the Navy at the bi-annual commanders conference, asked the Navy to further strengthen professional ties, mutual trust and streamline capacity to inter-operate with the navies of countries of the Indian Ocean.
China's main oil supply routes pass through these waters and it is very fidgety about India's control over the Indian Ocean.
Antony called for "…a state of perpetual operational readiness".
The Defence Minister said Navy's responsibilities in the Indian Ocean Region are crucial as well as sensitive from the point of view of economic prosperity and security of the nation.
Antony told the Navy commanders "…engage like-minded African states in the western Indian Ocean Region, such as Mozambique, South Africa, Tanzania and Kenya, to enhance strengths and stability".
He made specific reference to Sri Lanka saying there was a need to sustain the momentum of cooperation with Sri Lanka to ensure peaceful fishing on either side of the International Maritime Boundary Line and to prevent a possible resurgence of the LTTE.
Earlier, Naval Chief Admiral Nirmal Verma commended the Naval commands for integrating coastal population into the coastal security architecture through widespread campaigns — 33 in this year alone.