M A I N N E W S
Varun Gandhi's marriage solemnised
Shahira Naim/TNS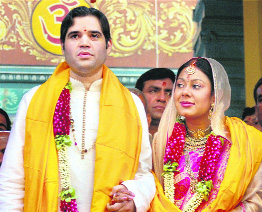 Pilibhit MP Varun Gandhi with his wife Yamini after their marriage in Varanasi on Sunday. — PTI

Varanasi, March 6
The much-awaited marriage of firebrand BJP leader and Pilibhit MP Varun Gandhi to Yamini Roy Chowdhury was solemnised with full Hindu Sanatan rituals early this morning ushering in the first Brahmin bride of the Nehru-Gandhi family since Kamala Nehru. The private ceremony began at 6.30 am at the flower-bedecked Kashi Kamkotishwar temple near Hanuman ghat with the shehnai playing in the background and the conch being blown as a part of Hindu rituals. Floral fragrance filled the air as tonnes of flowers had been flown in from places as far away as Kolkata and Mumbai.
A band of priests chanted Vedic hymns and rituals began under the watchful eyes of Kanchi Shankaracharya Swami Jayendra Saraswati. The ceremony concluded at around 8.30 am, after which the Shandracharya blessed the couple and the visibly blissful couple briefly appeared for a media-op at the temple gates.
While bride Yamini wore a pink Banarasi sari, covering her head with a golden tissue dupatta, the bridegroom Varun wore a silk 'kurta' and 'dhoti' with a saffron orange ruffled 'angvastram'. The sari donned by the latest 'Mrs Gandhi' belongs to Varun's grandmother Indira Gandhi that was gifted to his mother Maneka at the time of her wedding.
The select band of guests was seated at a pandal near the temple watching the live telecast of the ceremony. Aunt Sonia Gandhi and cousins Rahul and Priyanka were conspicuous by their absence.
Responding to a question on their absence Maneka commented that all who wanted to come had indeed arrived.
The March 8 wedding reception in New Delhi has been cancelled due to the sudden death of Varun's 77-year old maternal grandmother Amteshwar Anand in New Delhi on February 28.