...TARGET PUNJAB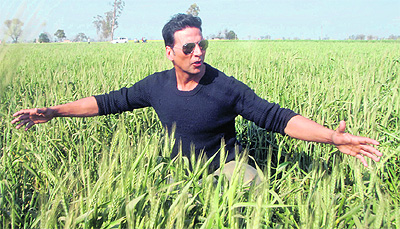 Script, themes, characters or songs…more and more B-town directors are shooting at various locations in Chandigarh and Punjab Visit to the Golden Temple was a turning point for Samir Karnik, director Heroes and Yamla Pagla Deewana

Welcome Home: Akshay Kumar was recently shooting for Joker near Chandigarh. Photo: Vinay Malik


Sonam is the new gadget guru
Bollywood actress Sonam Kapoor was named the brand ambassador of the year at Gadget Guru Awards 2011 held by a television channel in Gurgaon on Monday night. "I am a gadget freak. You will find everything from laptop, cellphone to iPad and iPod in my closet. They remain with me all the time. I can't leave my mobile even for five minutes. Gadgets have become a way of life today for any generation," Sonam said in a video message after receiving the award. She is the brand ambassador of Spice mobiles.

New-age patriotism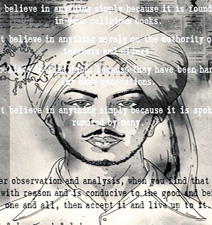 Sometimes courage is a little act of standing up for oneself; sometimes it is a voice within that tells you - 'one more try'. At other times, courage is calling a spade a spade or an act that gives you self-satisfaction. Definitions vary; however, it takes a day like March 23 to stir up the feeling of courage in us, in most of us to be precise. It sometimes takes the picture of fearless martyrs Bhagat Singh, Rajguru and Sukhdev on Faceebook to remind us that we need to find the meaning of courage in our own lives. And how…


It is a humble request…
There you go, some worthwile use of a social networking site Facebook other than Farmville! As many as 2,200 communities on Bhagat Singh were created from March 19-22 by youngsters across India.



Pun'jab' Sandeep Joshi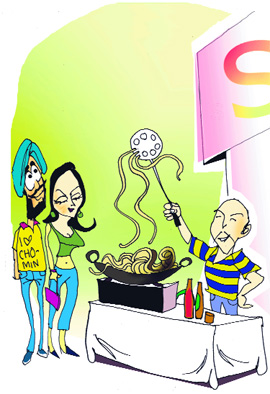 Going global: You want noodles in rajmah flavour or kadhi flavour?

Chatter Box
What's your lucky charm?
All of us have certain things that we consider lucky for us and actors are no different. We get actors to reveal all about their lucky charms.
Alisha Khan: My home is full of feng Shui items that I consider as my lucky charms because I am a strong believer of feng shui. I have things like Wind chimes, showpieces like horses and other animals and also an aquarium. All of them bring luck into the house.

Dj Sanjana's song of the day
Beat it
On The Floor
Artist: Jennifer Lopez
On the floor from Jennifer's seventh studio album Love is a peppy number with Latin beats with a sample of Kaoma's 1989 hit single Lambada. She has in incorporated both the singing and dancing elements.

How the stars function...
Shah Rukh Khan, Aamir Khan and Akshay Kumar have their ways of working. We tell you how.


Shah Rukh Khan: He is very insecure and constantly wants to prove that he is number one. He wants to make money but he wants to do so by making memorable and substantial cinema. He feels the need to better himself and prove something with every film. He wants Ra.One to be absolutely spectacular and is leaving no stone unturned in ensuring that all his efforts are made at his end. He is a sharp businessman and knows what sells, what people want to see, and how to attract his target audience. He uses his charm to his advantage. He turns his flaws to his favour with his sense of humour.
Item number: Bipasha Basu owes a part of her success to Bhatt films such as Raaz, Jism, and Footpath. She might do an item song in Murder 2. The film stars Emraan and Jacqueline. She is looking into her dates and is most likely to do the sizzling track. Razzle dazzle: Bipasha Basu

Water nymph:
Neha Dhupia
Sexy swimmer: Neha Dhupia loves the summer season. She says, "I love summer because this is the one season when we start pampering ourselves. I love swimming and I hit the pool everyday. But more than that what I love is to sit back at home with the air-conditioning on and watch some good movies."

Super woman: Actress Liv Tyler poses as she arrives for the premiere of her new film Super in Hollywood, California. — Reuters

Mallika challenges Munni and Sheila
Move over Munni and Sheila, the husn-ki-'Mallika' is here! After the music charts went ablaze with Munni Badnaam and Sheila Ki Jawani last year, here is yet another sound track from Reliance Entertainment and Maruti International's Double Dhamaal, directed by Inder Kumar, which will set the screens on fire. News is that the sultry Mallika Sherawat just finished shooting for a sexy and steamy number titled Jalebi Bai for the movie.
Kashmera to do an item number
Bollywood actor Kashmera Shah, who has been in the news for her topless calendar shoot recently, has shot for an item number for NRI filmmaker Manan Singh Katohara's 9 Eleven, touted as the first Hindi film shot entirely in Washington.
Trend Setter
Elegant yet perky…
Every person has a sense of style. Yet, there are only a few who warrant a second glance, or make heads turn. The magic could lie in tousled hair or torn jeans! This week's face in the crowd, Daisy Mirza, a fashion student in Panjab University, Chandigarh, believes in understated elegance.
Learning, off-shore
Nineteen students from classes IX, X and XI of Vivek High School are set for an exchange programme to the US, South Africa, Germany, Australia, Peru, Canada and Jordan
IT'S ROCKING
The first time you hear this song, you can't help wondering at the lyrics. There are ample songs dedicated to the hourglass figure of women but none has ever been this specific with statistics.
GET PHYSICAL
Curve out the perfect figure
People, whose jobs require them to be seated all day tend to develop a lot of fat in the lower back area. This is due to the fact that these areas are not getting worked out. Try these yogic movements and shed those extra kilos.
Heart talk
I suffer from panic attacks when faced with emotional issues. They started when my first relationship went wrong? Now, I face commitment phobia. I have jitters meeting people and whenever there is any scope of relationship building, I chicken out from the situation?
Robots that can fool you
Researchers at the Lockheed Martin's Advanced Technology Laboratories have developed a robot that could operate around humans without being detected. The robot takes a zigzag path to avoid well-lit areas and sentries, and approaches the target building under the cover of darkness, reports New Scientist.
Try a bindi with Western wear
What is common between Hollywood icons Miley Cyrus, Alecia Keys, Gwen Stefani, Katy Perry and Madonna? They have of late been spotted wearing an Indian fashion accessory — the bindi.No Indian attire is complete without an appropriate bindi, and over the years it has turned into a fashion statement not only in India but in the West as well. The number of young girls sporting bindi abroad is noticeable.
West learning from East?
Eliminating boundaries and overcoming barriers, the youth has the ability to eradicate differences between countries, cultures and nationalities. It was this feeling that was highlighted at the foreign exchange programme, run under the aegis of YFU — youth for understanding.

Astro Turf
ARIES: The Ten of Pentacles reveals that the fortune can be made or lost in a fleeting moment. Do not argue with people. Superiors will be contrary. Keep your expenses down. Do not gamble or speculate. Tarot message: Do not divest assets or transact in uncertain matters. Lucky colour: Rust. Magic number: 65.

If your birthday is March 23...
Relationship bond with whom you are involved shall flourish and remain result oriented. If looking for a life partner, 2011 will prove to be the final destination. May and June may keep you busy in seeking credits from financial institutions to purchase the dream house. July to September will be the period to finish the pending issues, start new projects to touch the targets. Work pressure in job or in own business may shoot up during winter season but you will overcome with more dynamism, active plans.

Tusshar is fined
Tusshar Kapoor, Nikhil Dwivedi and Pitabosh, who are part of an ensemble cast of the keenly-awaited Shor In The City were at the receiving end of the cops' wrath. The trio was caught for riding triple seat on a bike and that too without helmets. The scene was being shot in one of the many by-lanes of suburban Mumbai when the cops fined them for breaking traffic rules. The production unit tried to reason with the police, but since prior permission hadn't been taken for the shoot, the cops were in no mood to relent. The film is slated to hit the theatres on April 28 this year. It also stars Sendhil Ramamurthy and Preeti Desai.

Is Aamir a ghost?
The recent rumor about Aamir Khan's new film, which is still untitled, is that he is playing a ghost in the film. The paranormal subject has him die in the first half only to resurface in the second as a ghost! We wonder what lengths of perfection he will go to play a ghost!