Short Takes
The classical and the correct
Reviewed by Randeep Wadehra
Sachin: 500 things You Don't Know about the Master Blaster
By Suvam Pal
HarperCollins.
Pages xiii+145. Rs 175.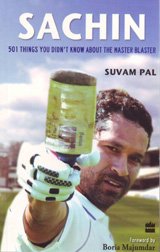 Sachin Tendulkar is the epitome of correctness, both on and off field. His conventional, almost copybook batting style plus his skill, stamina and determination have taken him to the heights never before scaled by any other cricketer in the world. Adjectives like "great", "master blaster" etc fail to give a comprehensive picture of this man from Mumbai who has done India proud. He is courage personified – recall his persistent reiteration placing India above Mumbai, contradicting the Shiv Sena supremo's parochial exhortations to the contrary.
This book has come up with a riveting quiz on different aspects of Tendulkar's personal and professional life. However, through strategically placed brief paragraphs the book also provides us with glimpses of Sachin's multifaceted life — as cricketer, family man, friend and philanthropist, among other things. The language is lucid. The contents are well researched.
The Kabab Maker and the Consultant
By Arun Sikka.
Rupa.
Pages ix+188. Rs 150.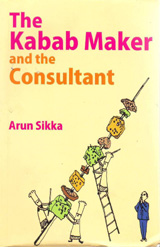 The 12 stories in this collection envelop one's senses and transport one to a world one thought had long vanished, thanks to the new assembly-line concoctions that have gripped the publishing industry as some sort of mania for dense narrative style that comes up with allegedly creative metaphors, loads of sex, violence and crime, not to forget dollops of sleaze and invectives, put together to manufacture set-piece storylines that leave you wondering about the message.
This book's characters look so real, and their worlds so familiar, that you get immersed in the action without realizing it. Whether it is Satish's simple dreams in Derailed, Sunita's encounter with Kumar and Munni in A New Moon, or the resolution of caste prejudice of an upper-caste maid in Three Women in the Kitchen the tales are incredibly credible as is the corrupt and artful babu in Oh, to Sing the Songs I like and The Savior. Although my favourite is A Holy War many readers will find the Ambush!! entertaining. In fact, there are quite a few with philosophical slant that leave one wondering at the ways of destiny.
Blossom Showers
By Giselle Mehta.
Frog Books.
Pages 440. Rs 395.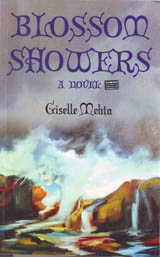 The novel's title conjures up images from Karnataka's Coorg, Chikmagalur and Hassan districts, where eco-friendly shade- grown coffee is produced. Rainfall during March is considered good for the crop as it facilitates healthy blossoms that result in quality beans – hence the name "blossom showers". The story is set in an early 20th-century fictional town, Manjooran, (probably today's Mangalore); its narrative travels to Coorg and Goa, too. The characters are Catholic Christians who have descended from Gaud Saraswat Brahmins on the West Coast. Its protagonist Rex Edward is born in a rich landlord family but, since his father dies before his birth, he is gypped out of his share in the property by his scheming paternal uncle. His maternal uncle, too, ill-treats him. Fortune takes a turn for the better when Rex goes to work for an Englishman estate owner in Coorg.
This is one of those novels that have been written in the long-forgotten classical style. The story meanders through the pages like a rowing boat on a placid river. This is as it should be, considering the period in which it is set. Excellent characterisation adds to its readability quotient. However, the passage where Herbert Balmforth narrates the story of coffee's discovery and its subsequent spread to the rest of the world may not be every reader's cup of coffee but adds to the novel's atmospherics.