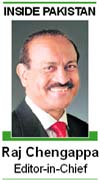 FROM Islamabad, the Line of Control at Chakothi in Pakistan occupied Kashmir is a breath-taking 45-minute journey by helicopter. Flying at 8,000-feet and looking down at verdant valleys and snow-tipped massifs, with fresh mountain air rushing through a porthole and the roar of rotor blades muted by bright-yellow ear muffs, I experience a fleeting sense of regret. This part of Kashmir could still have been with India had the 1948 aggression by Pakistan been anticipated and thwarted.
Then as the helicopter descends, reality sets in. Three wars - in 1965, 1971 and 1999 - saw no significant alteration in the LoC. Sixty years later, Kashmir and the territory it occupies remains as much a bone of contention between India and Pakistan as it was at Independence.
We fly low past Muzaffarabad, the capital of PoK or Azad Jammu and Kashmir (AJK), as Pakistan terms it. It is a sprawling town nestling at the confluence of the rivers Jhelum and Neelum. From the air, it looks a poor cousin to the jewel that Srinagar valley is. Little wonder that Pakistan covets the Valley and so much blood has already been spilt to wrest control over it!
Yet to say that there is no change in either the two countries' positions or the ground situation would be misleading. As the helicopter lands at the army base in Chakothi and we are driven to the LoC which is barely 1.5 km from the helipad, change is visible. In November 2004, when I first visited Chakothi, a dirt road connected the village to the LoC. Now it has been widened and freshly tarred. Milestones have given way to sky-blue highway signs that state 'Uri 11 km' and 'Srinagar 121 km'.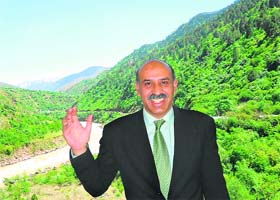 In 2004, Chakothi villagers still lived in fear of Indian artillery shells destroying their houses and crops and even taking lives. Now despite the crazily fluctuating tension levels between the two countries, there has been no major violation of the ceasefire that had been observed since 2003 - an achievement by itself.
Colonel Khaled Khan, the strapping commander of the Jhelum Valley Brigade that oversees this stretch of the LoC, told me that there has been virtually no incident of exchange of fire between the two armies in the past few years. The Pakistan army does hear occasional gun fire but he says that its mostly Indian troops firing at civilian intruders on the LoC.
Another sign of the change is that this time around the Pakistan army doesn't take me to their bunkers and tree-top posts where they kept vigil over the other side of the divide. Instead we are led to a newly built facilitation centre that acts as both visa check-point and a dry port for trade - another symbol of the change in relations.
A short walk away is the observation centre where Colonel Khan draws an imaginary line with his staff to indicate how the LoC zig-zags through the valley. There is, as he points out with a wry smile, no line drawn on the ground. "The mountainous terrain and the score of valleys and nullahs make it difficult for us to monitor cross-border traffic," he says. The Indian side has erected fences wherever physically possible and both armies have planted mines at vulnerable points.
When the Chakothi-Uri crossing was to be opened both sides took over a month to carry out a demining operation. The bridge across the Kalyana Khus Nallah, which was a rickety structure when I saw it in 2004, has now been rebuilt with firm steel-girders on which trucks can cross in single-file. On either side of the bridge large hoardings have come up. On the Indian side one of them painted with the tri-colour reads: Sare Jehan Se Achcha, Hindustan Hamara. On the Pakistani side a hoarding with the Pakistan flag emblazoned on it says: : Home to Home - Warm Welcome to Our Kashmiri Brethren."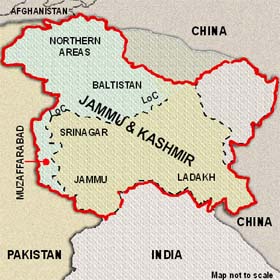 Since April 2005 visits between the residents (or state subjects as they are officially termed) of the two Kashmirs had been allowed at three points - Chakothi-Uri, Taitri Nath-Chakan Bagh near Poonch and Nauseri-Teetwal in the Neelum Valley. Since October 2008, the Indian and Pakistan governments have permitted cross-border barter trade at the Uri and Poonch posts allowing trucks from either side to offload goods.
At the facilitation centre, a team of the AJK government officers led by Syed Asif Hussain, secretary, local government and rural development, informs us that over 15,000 visitors permits have been issued from both sides and on an average 2,500 people cross the Chakothi-Uri checkposts annually. Permits can be obtained by applying to the trade and travel authority and after verification which takes an average of 45 days these are issued. The norms for entry are being steadily relaxed. Earlier it was for a single entry and only 15 days were permitted. Now three trips can be made with the same permit and the period of stay is a month. Hussain says that requests are growing to make the permit valid for six months.
Trade too has been picking up though the figure is still far short of the potential. Since the two check-posts opened in 2008, around 23,000 trucks have been permitted of which 12,000 have entered India from PoK. While PoK exports largely moong dal, carpets and dry fruit, from India it imports "mainly chillies," says Hussain with a smile. Now he says there is a growing demand to monetise the trade rather than settle in barter and introduce a banking system to facilitate it. There is also a demand to open two more check-posts across the 970-km-long LoC in the Jammu and Kashmir sector.
Perhaps most revealing is how Pakistan administers AJK. Since 1974, AJK has opted for a Parliamentary form of governance. The 49 MPs, 29 of which are elected through direct elections, choose a Prime Minister. The state also has a President. Pakistan exercises iron control through an AJK Council chaired by its Prime Minister Yusuf Reza Gilani.
All the top official posts, whether that of the chief secretary, Inspector General of Police or the Accountant General, are selected from the Pakistan civil services cadre. Telecom, tourism and taxation issues are decided by the Pakistan government and it is also responsible for AJK's defence and security. The Pakistan rupee is the common currency.
Since 1971, just before the Indo-Pak conflict, the Pakistan government had passed an order stating that for all "practical purposes" the territory of AJK is to be administered as a province of Pakistan. In 1994, to quell the restive Northern Areas that included Gilgit and Baltistan it passed another order stating that these two provinces would no more be administered by the AJK government and would be controlled directly by the Federal government.
The ostensible reason for the takeover was that there was no land link between AJK and the Northern Areas and so administration was getting to be a problem. Effectively it took 75 per cent of the territory and almost 40 per cent of the population of 5.8 million out of the AJK government control. Post the 1999-Kargil war there has been rising tensions in the Northern areas as the brunt of those killed and injured in the war came from the Northern Light Infantry drawn mainly from residents in the region. Apart from promising greater self-governance to stem separatist movements, the Pakistan government has pumped billions of rupees in development projects in the past decade.
But it's in AJK that Pakistan has gone out of the way to pamper the state and woo the residents. Of the state's annual budget of Rs 35 billion, Pakistan government contributes almost Rs 11 billion in planned and non-planned expenditure. Another Rs 200 billion has been pumped in to develop hydro-electric and irrigation projects.
When the region suffered a devastating earthquake in 2005 which affected almost half the 3.7 million people, both the government and the Army mounted massive rescue and rehabilitation programmes. Over Rs 60 billion have been already spent and from all appearances a remarkable job has been done. Hussain says that the owner-driven approach of rebuilding the collapsed houses is now being cited as a model by international relief agencies. Each affected family was given an amount ranging from Rs 75,000 to Rs 1.75 lakh to rebuild their houses with technical assistance from the government. Over 1 lakh houses have already been rebuilt and most of them are earthquake resistant.
The Indian government too could learn a few things from Pakistan as to how to administer the sensitive region. Compared to Pakistan, AJK's literacy rate is higher. There are now three universities and over 50 colleges in the state apart from 600 high schools. Most of its 1,600 villages are electrified. The state has expanded its primary health care services and its infant mortality is much lower than that of Pakistan.
With the dialogue process back on track, there is hope that there would be greater interaction between the two Kashmirs. With the Pakistan Army busy fighting the Al-Qaida and the Taliban on its Western front bordering Afghanistan, its keen that the Kashmir front remains relatively stable so that it can deploy its forces more effectively.
Asked whether he would see a solution to the Kashmir problem in his lifetime Hussain, who holds a doctorate in agriculture, and is one of AJK's most accomplished and articulate civil servants, says simply: "Yes and No." He concedes that there has been much forward movement in recent years that included permitting exchange of visitors and trade. But as he points out, "The narrative should change from the focus on territory to that on development. People do not want confrontation. Instead they want food security, job security, water security and security from threats. The process of globalisation too has been having an impact. So there has to be a paradigm shift in the approach."
As we leave Chakothi, a Pakistani major tells me, "I have had a few interactions with Indians and I now realise, we look the same, we eat the same food and we are as emotional. It's only a matter of time before we can settle our differences. War is not a solution." It's something to reflect on as we board the chopper back to Islamabad.

A Pakistani soldier stands guard at the Aman Setu on the LoC at Chakothi in PoK
— Photo: Raj Chengappa




The Muzaffarabad-Srinagar bus at the Aman Setu on the LoC at Chakothi in PoK.
— Photos: Raj Chengappa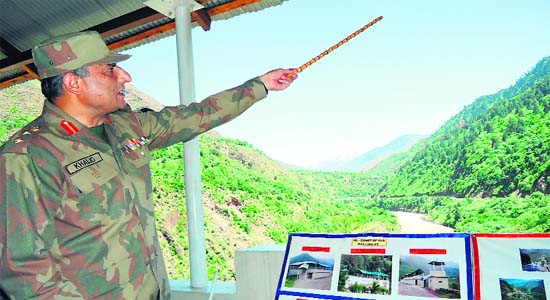 Col Khaled Khan, Commander, Jhelum Valley Brigade