PUNJAB

HARYANA

JAMMU & KASHMIR

HIMACHAL

REGIONAL BRIEFS

NATION

OPINIONS

LETTERS

BUSINESS

SPORTS

WORLD


M A I N N E W S
tribune special-part IV

Anganwari workers, helpers get peanuts
Bihar, Nagaland, Arunachal pay them nothing; Meghalaya pays Rs 50 a month!
Aditi Tandon/TNS
New Delhi, July 24
Launched in 1975, the Integrated Child Development Services (ICDS) has covered 7.6 million expectant and nursing mothers and over 36 million children in less than six years. It would not have been possible without the services of anganwari workers and helpers, who have a target to achieve six goals of child health and nutrition.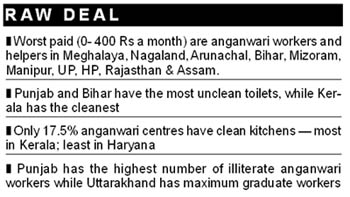 But even after all these years, the condition of anganwari workers and helpers remains pitiful. Most states do not compensate them for their services let alone improve the infrastructure at anganwari centres. As on July 8, 2011, over 60 per cent anganwaris did not have safe drinking water sources and were depending on non-treated water while only 40 per cent had toilets.
Although a major duty of the worker is preparation of meals for children daily, a whopping 75 per cent anganwari centres do not have kitchen facilities and cooked food is often left exposed to hazardous materials. Only 17 per cent anganwaris were found to have clean kitchens. Haryana had the highest number - 84 per cent - unclean centres; while Punjab had the dirtiest toilets, not one surveyed toilet being clean.
As if that was not enough, as many as 11 states do not consider an anganwari worker and a helper's worth more than zero to Rs 400 a month! They make no additional payments to these workers, who must manage with the salary the Centre gives. Since ICDS is a centrally sponsored scheme implemented through the states, bulk monthly salaries come from the Centre, which recently revised the anganwari worker's monthly salary from Rs 1,500 to Rs 3,000 and a helper's salary from Rs 750 to Rs 1,500. Every state was expected to top this up with Rs 1,000 for a worker and Rs 750 for a helper, taking the overall salary to Rs 4,000 and Rs 2,000, respectively.
But Nagaland, Arunachal Pradesh, Mizoram and Bihar pay nothing additional to workers. Meghalaya, Manipur, Uttar Pradesh, Himachal Pradesh and Rajasthan pay Rs 100- 300 a month. Helpers are worse off, with Meghalaya, Nagaland, Arunachal, Bihar, Mizoram paying them nothing, Manipur paying Rs 50; Uttar Pradesh, Himachal Pradesh and Rajasthan paying Rs 100, Rs 150 and Rs 200 a month respectively.
Only Goa, Haryana, Tripura and Delhi are making respectable monthly contributions to anganwari workers giving them Rs 4,200, Rs 1,563, Rs 1,568 and Rs 1,000, respectively.
Since anganwari workers and helpers are important to the success of ICDS, the Planning Commission's review states: "Anganwari workers in India are overburdened, underpaid and mostly unskilled. Although their job is about six hours a day, they are asked to perform works of other agencies with or without incentives. An assessment of their time disposition should be done to see if they can carry out anganwari centre-related responsibilities."